The Message Publisher
It is wonderfully appropriate that we open our Diocesan 75th Anniversary Year with the dedication of St. Benedict Cathedral, for it is the mother church of our diocese.  Designated our cathedral in 1999, it has been the place where we gather as the Diocesan Church, clergy and people together with the bishop, to celebrate special liturgies throughout the year, including the Chrism Mass, ordinations, the Rite of Election and Call to Continuing Conversion and many others. It is also the home of a vibrant parish community dating back to 1912.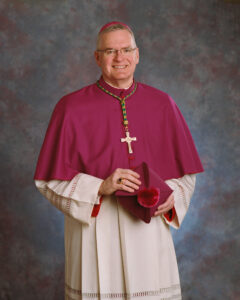 I want to recognize and congratulate the members of St. Benedict Parish for their initiative and generous financial commitment in renovating the interior of the Cathedral. I also thank the people of the diocese who contributed to this effort through the Stewards of God's Grace capital campaign. Under the careful supervision of Father Godfrey Mullen, OSB, Cathedral Rector, this extensive remodeling project has renewed this venerable sacred space as a truly beautiful edifice for the worship of God.
The Dedication Mass will include our diocesan clergy, representatives from all the parishes of the diocese, Archbishop Thompson, a representative of the papal nuncio, area bishops and archabbots. It will be a wonderful celebration of our unity as the family of the Evansville Diocese as we begin our Jubilee Year. If you are unable to come to the ceremony, I hope you will make a pilgrimage to the Cathedral during the coming months.
I pray that God may continue to bless St. Benedict Cathedral Parish and the entire Diocese of Evansville as we gather to dedicate this holy place to His glory and honor.