By Rev. Tyler R. Tenbarge
Director of the Office of Vocations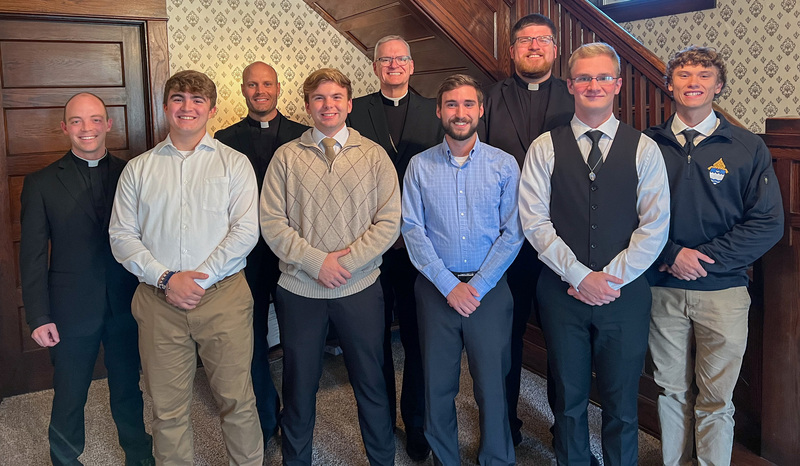 In 2016, the Vatican issued a new "Ratio Fundamentalis" from the Dicastery for the Clergy. This guiding document casts the vision for how seminarians are accompanied and formed for priesthood throughout the global Catholic Church. Each conference of bishops around the world took that document and, after many years of prayerful discernment, discussions, drafts and revisions, produced a program to concretely implement the larger Ratio. 
In the United States, our bishops finalized and disseminated the "Program for Priestly Formation, Sixth Edition," which took effect on Aug. 4, 2023 – the Feast of Saint John Vianney. Many dioceses and seminaries have been discussing how they would implement the coming changes for seminary formation. Here in our diocese, the Father Deydier House, which was established under Bishop Siegel's leadership in August 2018, was the Lord's way of anticipating a need He knew would come.
Five new seminarians – from Dubois, Gibson, Posey, and Vanderburgh counties – had been hearing a call to priesthood. Instead of moving straight into a seminary campus in Indianapolis or at Saint Meinrad, these young men will spend their first year of formation and discernment in our own diocese. 
It has already been a tremendous blessing.
The program at the Father Deydier House has transitioned into a more intentional formation program this year. Whereas, in the former House of Discernment, men could choose their majors, have a job, and only be expected to pray, meet and do formation part-time, the men this year are now full-time seminarians. You could say it is now a House of Formation.
The two college graduates have parish assignments Monday through Thursday; they get to learn, from our pastors and parish staffs, the beginnings of what life is like as a priest in our diocese. The three men still in college take their classes on those same days, knowing they will be able to transfer to seminary the following year without being behind their peers. 
Morning prayer, evening prayer and night prayer are the fence posts upon which daily life at the House is hung. Daily Mass, adoration and meals fill out the rest of the day. Each seminarian also meets biweekly for spiritual direction with the Program's Director of Spiritual Formation (and St. Mary, Ireland Pastor) Father Luke Hassler, and they also meet biweekly with me for human formation. 
Senior priest Father Don Dilger teaches a Scripture class every Friday at the Catholic Center to our men after our morning formation conference together, and one weekend each month is spent on a Day of Recollection. 
The men also travel with me to visit a new parish in the diocese on a biweekly rotation. There, one of the men will speak about his discernment story, and we can meet many of the faithful who make our diocese so faithful, generous and strong. A few other major formation offerings include pilgrimages, leading Savio and hosting Discernment Weekend Retreats for young men in our diocese; all of which help these new seminarians evaluate their own call and mentor others who may be hearing the Lord's voice.
We have been at the Father Deydier House in this new stage of formation for just more than two weeks as I write these words. I cannot describe the blessing that it has been to have this group of men under our roof, on our soil and with our people as they enter seminary formation for the first time. Their eyes are wide open. They are firm of heart. They are responding generously to the call of Christ to follow Him.
And they are doing all of that at home.