Special To The Message
January 20 marked the beginning of an AmeriCorps volunteer team being stationed in Evansville to help build homes with Habitat for Humanity of Evansville. This partnership comes at a time when volunteer help is limited but extremely needed.
Habitat's construction director, Patrick Landry, said, "Habitat is very excited about the partnership with AmeriCorps. We are planning on building 20 houses this year, and AmeriCorps will be a huge help in achieving this goal. Even before the COVID-19 pandemic, we have always needed volunteers who come out on a consistent basis; and that is exactly what AmeriCorps will be for us. They will help us in almost all aspects of the building process from framing and installing siding to painting and interior trim work. This is an opportunity to get much-needed help in providing affordable (housing) right here in the Evansville area."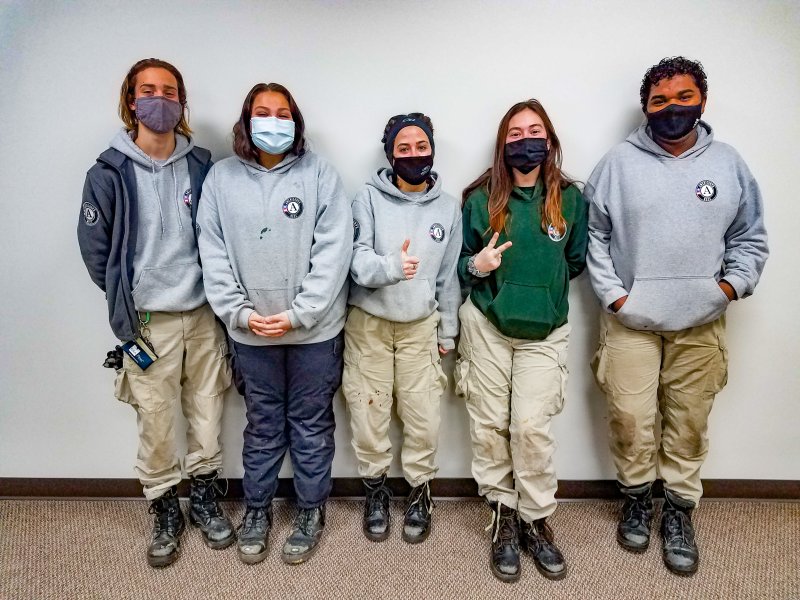 AmeriCorps is a national organization that connects individuals and organizations to help communities tackle their toughest challenges. The five-person team stationed in Evansville for the coming 10 weeks works under an AmeriCorps branch called AmeriCorps National Civilian Community Corps.
AmeriCorps NCCC is a residential national service program for men and women between the ages of 18 and 24. Approximately 1,200 members participate nationwide each year in NCCC. Its mission is to strengthen communities and develop leaders through direct, team-based national and community service.
For 10 months, NCCC teams meet urgent community needs through service-learning projects that focus on natural and other disasters; infrastructure improvement; environmental stewardship and conservation; energy conservation; and urban and rural development. Projects operate through partnerships with nonprofit organizations, state and local agencies and other community and faith-based groups. Teams of 5-8 members serve on a series of different projects, allowing members to experience a variety of service experiences as well as different communities and cultures. Team leaders receive training in CPR, first aid, leadership, team building and disaster services, in addition to many other topics throughout the year.
Habitat for Humanity of Evansville has been actively growing over the years to meet the high demand for affordable housing in the Evansville and Mount Vernon areas. From expanding construction to increasing grants, developing homeowner resources and finding alternative volunteer opportunities, Habitat is working to better serve our local community. Currently, Habitat seeks to build 20 homes per year to maintain a strategic goal of building 100 homes for 100 families in five years. This is a stretch goal; so to attain it, alternative methods of building had to be implemented – including applying for an AmeriCorps service team.
The Habitat construction staff applied in 2020 for AmeriCorps assistance to help better meet Habitat's goals and match the local demand for affordable housing. Following review, Habitat was approved and matched with the AmeriCorps NCCC team for 2021. The team would first complete training at the AmeriCorps regional campus before arriving in Evansville to begin their service. Following Covid-19 protocols, the team has been quarantining prior to their start date on Jan. 19.
The team lead, Alexis Mehringer, said, "We are here to get things done! This is my second term serving in AmeriCorps NCCC. My projects have ranged from helping with summer feeding programs for kids to building a trail. I have loved traveling, meeting new people, and helping different communities."
During their time in Evansville, the AmeriCorps NCCC team will be working on several service projects with Habitat for Humanity of Evansville including, building Habitat houses, organizing the Habitat Warehouse to maximize functionality, completing yard barns for Habitat homeowners, and volunteering at the Evansville Habitat ReStore once a week.
The AmeriCorps team will be volunteering with Habitat in Evansville from Jan. 19 to April 2. Each member will be contributing 40-45 hours of service each week.
Individuals interested in getting involved with the Habitat for Humanity of Evansville should contact Meredith Dixon, Habitat's Volunteer Coordinator at [email protected].
More information regarding this partnership will be released on an ongoing basis as the projects progress. Please follow @HabitatEVV and @AmeriCorpsNCCC for additional updates.