By John Elcesser, Indiana Non-Public Education Association
Special to The Message
Editor's note: This is part of our series on the 10th anniversary of Indiana's Choice Scholarship Program.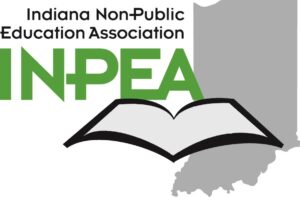 The Indiana Non-Public Education Association has been around since long before Indiana ever considered any type of school-choice program. At INPEA's inaugural meeting in 1974, school choice wasn't even a thought, let alone a topic on the agenda. Now, 47 years later, school choice has become a key area of focus for the INPEA staff and board.
I came to Indiana in 2008 to serve as INPEA's executive director after serving as a Catholic school superintendent in the Diocese of Wheeling-Charleston, West Virginia, and the Diocese of Richmond, Virginia. In my role as superintendent, I testified several times on legislation that impacted non-public schools, including a small school choice tax credit bill.
When I arrived in Indiana, I learned quickly that school choice was going to be a priority. One of the first lunch meetings that my mentor, Glenn Tebbe, former executive director of the Indiana Catholic Conference, scheduled was with a group of school-choice advocates that had formed a coalition group called School Choice Indiana. I learned at that meeting that, for years, interested individuals and groups had been laying the groundwork for a private-school-choice movement in Indiana. The General Assembly had already passed Charter-school legislation in 2001. 
I had quite a learning curve to overcome in understanding school choice and the legislative process. With mentors and supportive coalition partners, I jumped right in as the plan was to pass scholarship tax credit legislation during the 2009 legislative session. Consensus wasn't easy but essential to our strategy.
Tebbe and I served as the voice for non-public schools as the legislation was being crafted. It was critical that any program developed did not impinge on the mission of our schools, especially faith-based schools. We knew there would be lots of give and take, but our mantra became, "Don't mess with our mission." 
School choice is based in the central belief that all families deserve to send their children to the school that's the right fit for them, no matter their income or where they live. It aligned directly with the beliefs of faith-based schools, especially our Catholic schools. 
Catholic social teaching speaks to a preferential option for the poor. In addition, we believe that parents are their children's primary teachers. They know best what school is right for their child, not some edict from the government based on zip code.
In 2009, we successfully passed Scholarship Tax Credit legislation; and shortly after, we shifted focus to providing even greater opportunities for families through a statewide voucher program. I'm often asked how we were successful in passing vouchers in 2011. My answer is always, "We had the three Cs." To be successful we needed Champions, Coalitions and Community (grassroots) support.
At the time, we heard the same outcry from public school advocates that we're hearing today. "School choice will destroy public schools! You're taking 'our' money! Non-public schools aren't accountable!" 
As we celebrate the 10th anniversary of the Choice Scholarship (Voucher) Program, the public school system has not been destroyed. As a matter of fact, public schools have continued to improve over the last 10 years.
It's been interesting to witness the school-choice debate over the years. Consistently, the message of choice opponents is about preserving institutions and protecting money. While proponents of choice have focused on what's best for the students involved. Every student deserves to be in a school where they can be successful, regardless of whether that's public, charter or non-public. 
As we now look to the 270,000 students who have benefitted from this program over the past 10 years, many will attest that these programs have changed their lives. We're entering the final days of the 2021 General Assembly session, and for those of us who have witnessed its impact, we are simply trying to provide those same life-changing opportunities to more families for the betterment of all Hoosiers. 
When you hear that familiar outcry from Choice naysayers, just remember it's all about the kids!