By The Message staff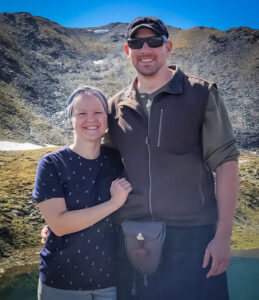 Anna Schulten, a daughter of Holy Cross Parish in Fort Branch, is joining the diocesan staff as Campus Minister for the University of Southern Indiana. She fills a vacancy created by the 2022 retirement of Christine Hoehn.
Jeremy Goebel, Director of the Diocesan Office of Youth and Young Adult Ministry, said, "I am excited to welcome Anna back to the Diocese of Evansville. Her creativity and ability to lead others to an encounter with Christ will be a fantastic addition to our team at USI. Please keep Anna in your prayers as she prepares to begin this new role."  
Anna and her husband Mark have spent the past eight years in Alaska, where Mark served in the military. Anna served as an intern for the Diocese of Evansville Office of Youth and Young Adult Ministry and the Office of Communications prior to relocating to Alaska. 
She is 2014 graduate of Marian University with a degree in Pastoral Leadership and Pastoral Music Ministry. She earned a master's degree in Theology from the University of Notre Dame in 2022. 
After arriving in The Last Frontier (Alaska's nickname), Anna served from 2015 to 2019 as Director of Youth Ministry for St. Elizabeth Ann Seton Parish in Anchorage. From 2019 to 2021, she served the Archdiocese of Anchorage-Juneau as Parish Stewardship Coordinator. Most recently, she served as Director of Faith Formation for Holy Cross Parish in Anchorage.
Before assuming her duties with the Diocese of Evansville, Anna will serve as co-leader of the Archdiocese of Anchorage-Juneau group attending World Youth Day later this month in Portugal.
Anna said, "The Diocese of Evansville made me who I am, really. This community has been the foundation of my faith and my call to ministry. Working with young adults is going to be really fun; they bring so much enthusiasm and joy to the Church, and are ready to dive deeper in relationship with Christ and in discerning their particular vocation in life. I'm looking forward to meeting new faces and re-connecting with the larger community toward our common goal: sharing Jesus with everyone.
"Mark and I love Alaska. My most recent ministry with Holy Cross in Anchorage was amazing, but if I believe in family ministry – and I do! – then it's important for us to be here to love and serve our own families, closer to home. We are excited for this new chapter in our life."