By Megan Erbacher
The Message assistant editor
More than 450 Catholic educators from all 26 diocesan schools gathered at Reitz Memorial High School Aug. 2 to celebrate the annual Back to School Mass.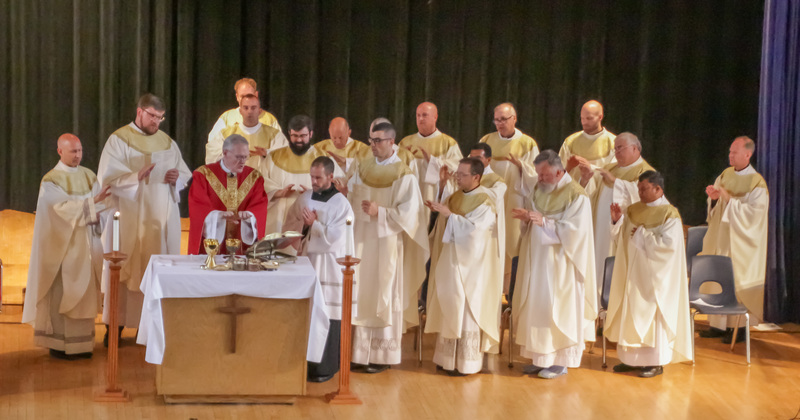 Bishop Joseph M. Siegel celebrated Mass to open the 2022-2023 school year. Seventeen priests of the diocese who serve parishes with Catholic schools concelebrated Mass with the bishop. Matt Miller, diocesan director of worship, served as Master of Ceremonies, and Father Tyler Tenbarge assisted him.
As the diocese prepares for another school year, Bishop Siegel thanked educators for their dedication and commitment to Catholic education. He asked them to continue the mission of Jesus' apostles in sharing the good news of Jesus with our students.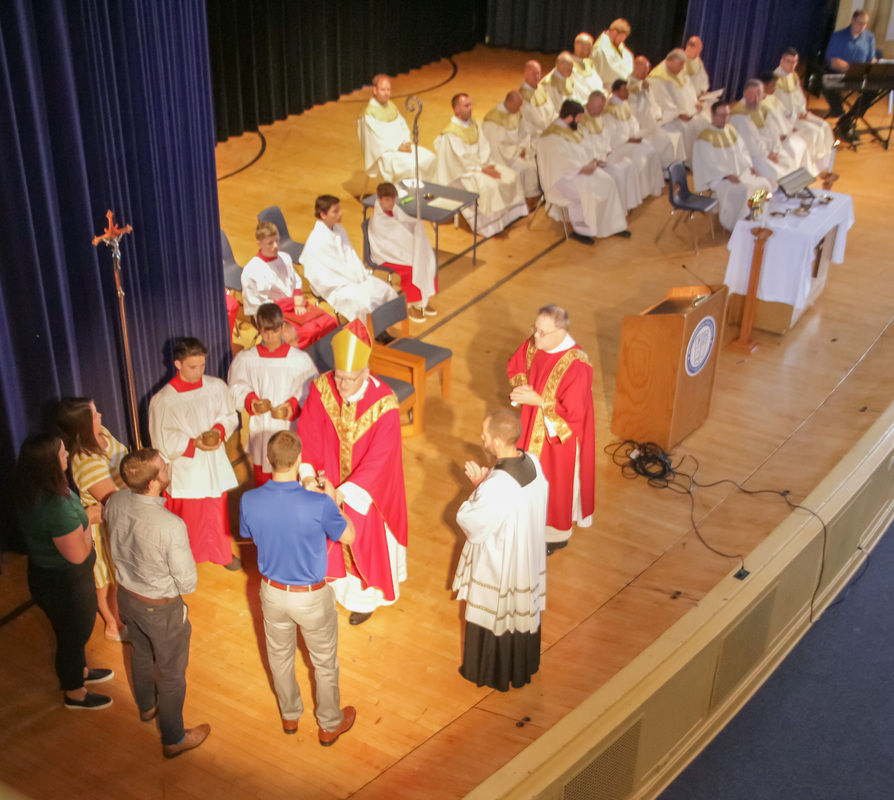 Almost like a father speaking to his children, the bishop said Jesus tells his disciples if they want to be part of his family … they must live in love by keeping his word. But, how are we to keep his word? Bishop Siegel said we are to love one another as Jesus has loved us.
Jesus' love is one that serves, the bishop explained, which Jesus showed by washing his disciples' feet. Bishop Siegel continued and said Jesus' love was a love that never stopped giving, as Jesus would show by giving his life on the cross.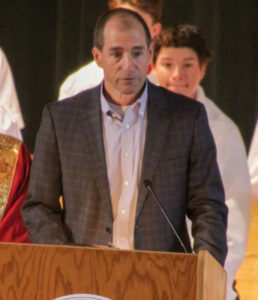 During his homily, Bishop Siegel encouraged educators to become missionary disciples who use their God-given gifts to live their faith and share it with others. Catholic school teachers and administrators have a special privilege, a responsibility, he said, to help parents fulfill the commitment they made at their child's baptism to form their children in the Catholic faith. By witness and example, he said educators are to demonstrate what it means to be a follower of Jesus, one who strives for holiness in ways both great and small.
It isn't always easy, Bishop Siegel said, but the Holy Spirit is ready to help educators fulfill this mission. He asked the Holy Spirit to strengthen Catholic educators to be teachers and evangelists for students, witnesses to the good news of Jesus Christ, who is the same yesterday, today and forever.
The 2022-2023 diocesan school theme is "Eucharistic Renewal," which is a part of the diocesan extraordinary initiative — along with all of the dioceses in the U.S. — to foster renewed devotion to the Real Presence of Jesus in the Eucharist and greater appreciation for the awesome gift of the Mass.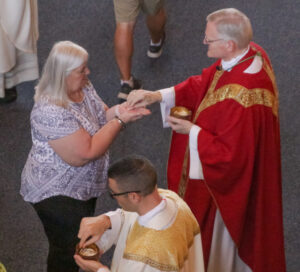 In his homily, Bishop Siegel said during this year of Eucharistic Revival, we focus on drawing young people and families to a deeper relationship with Jesus through Mass participation, Eucharistic adoration, a full understanding of the true essence of Christ in the holy Eucharist, and recognizing how the Eucharist can impact our daily living. This is integral to the mission of our Catholic schools, Bishop Siegel said, as we believe the Eucharist is the source and summit of our Catholic faith.
After Mass, 20 teachers and administrators were recognized for milestone years of service. The educators were featured in the Aug. 5 issue of The Message.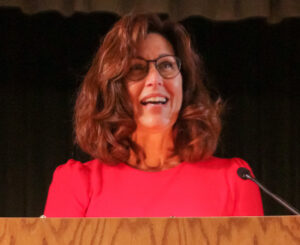 Diocesan Administrator of School Support Operations Andrea Greaney introduced this year's Catholic Educator Innovative Award recipient, Shelley Bealmear, a teacher at St. James School in Haubstadt. Bishop Siegel and Interim Superintendent of Schools Michelle Priar presented Bealmear with her award.
The honor is given annually to educators who demonstrate successful innovative and creative efforts to achieve success in student learning and to promote growth for the school. Greaney said Bealmear was selected as this year's recipient for implementing an innovative curriculum in her classroom facilitated by technology that provides a creative learning environment for her students. In the program, students become familiar with STEM (science, technology, engineering and math) projects and creative design thinking.
Diocesan Catholic School students returned to the classroom starting Aug. 3, and everyone was back by Aug. 11.