By Megan Erbacher
The Message assistant editor
Bishop Joseph M. Siegel celebrated the Diocese of Evansville's annual Rogation Mass on March 22 at St. Mary Parish in Ireland. The Mass celebrates the importance of farming and asks for God's blessings and mercy during the planting and harvest seasons.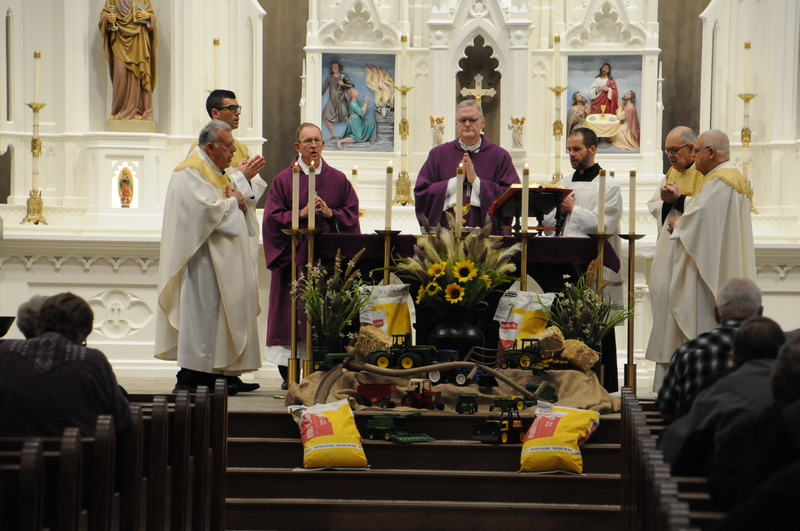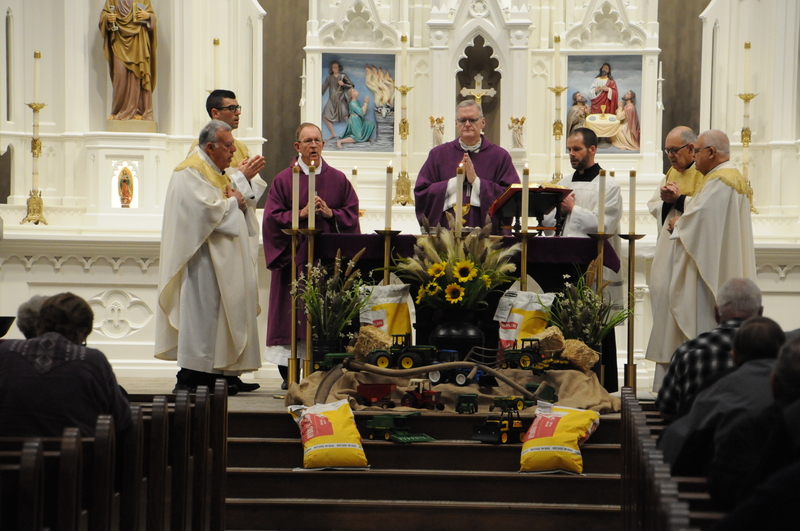 St. Mary Parish and the Diocesan Office of Catholic Rural Life sponsored the Mass for farmers, gardeners and stewards of God's creation. The service was for all who eat and care for the earth. Small bottles of holy water and a variety of seed packets were available to take home.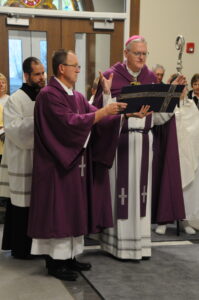 Father John Boeglin, pastor of Holy Family Parish in Jasper, concelebrated the Mass with Bishop Siegel, as well as St. Mary pastor Father Joseph "Effie" Erbacher; Father Garrett Braun, parochial vicar of St. Francis Xavier Parish in Vincennes and St. Philip Neri Parish in Bicknell; and senior priest of the diocese Father Timothy Tenbarge. Deacon David Rice assisted during Mass, and Diocesan Director of Worship Matt Miller served as Master of Ceremonies.
During his homily, Bishop Siegel said the Rogation Mass has deep roots in our church history dating back to the 5th Century, and it's traditionally celebrated around the planting season. The bishop explained that the word rogation comes from the Latin word meaning to ask, and the Mass is an opportunity to ask God to bless the soil and seeds, and to protect farmers and their efforts to produce food.
The Mass typically starts outside with a procession into the church, but because of inclement weather, it began in the narthex. Father Boeglin welcomed everyone and noted St. Mary Parish waited a "long time" to host the Rogation Mass because of cancellations due to COVID-19. He explained the celebration is to pray for favorable weather, protection from natural disaster, safety in the fields and on the roads, and for a fruitful harvest. 
Everyone prayed the Litany of St. Isidore the Farmer before processing into the church, where Mass continued with the Litany of the Saints before the Liturgy of the Word.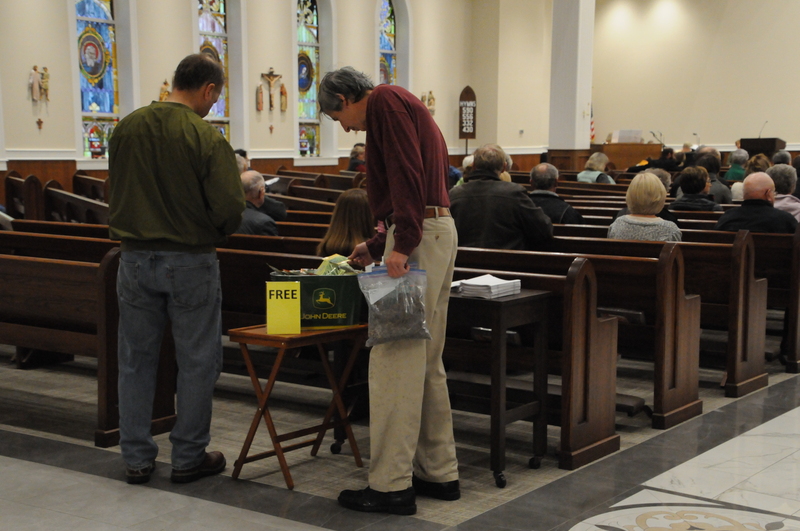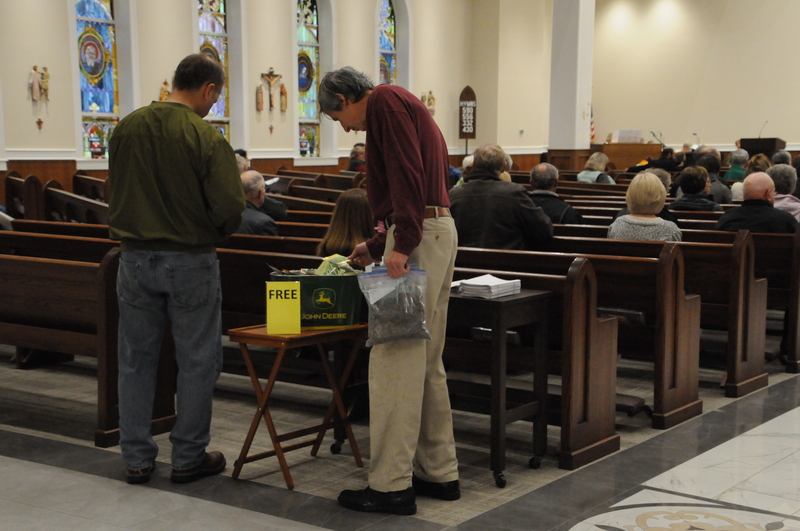 In his homily, Bishop Siegel said the Rogation Mass offers an opportunity to pray for and give thanks for the harvest. Growing up on a farm, Bishop Siegel said he learned that farming is an occupation in life with mixed fortunes. Over the years of his youth, he noted his family had many lean years when there was too much rain or not enough; it was too hot or too cold; there was a late spring or an early frost. Through it all, Bishop Siegel said, his father always said it was not a hard life, but rather, a great life and a lot of hard work.
Farming can also teach us the realities of our faith, Bishop Siegel said. A farmer trusts in God, he noted, because so much is beyond his control, which is a lesson we need to learn in all aspects of our life. We can't be in control of all things at all times, he said.
Bishop Siegel noted the day's readings from Daniel and the Gospel of Matthew speak for the need for forgiveness in our lives. In the Gospel, the bishop said Jesus' parable reminds us that if we want to seek forgiveness from God, we must be willing to forgive those who have hurt us.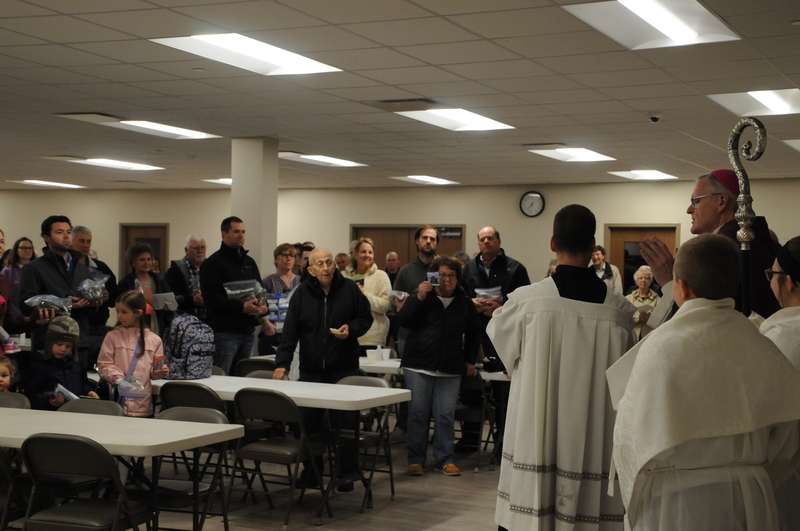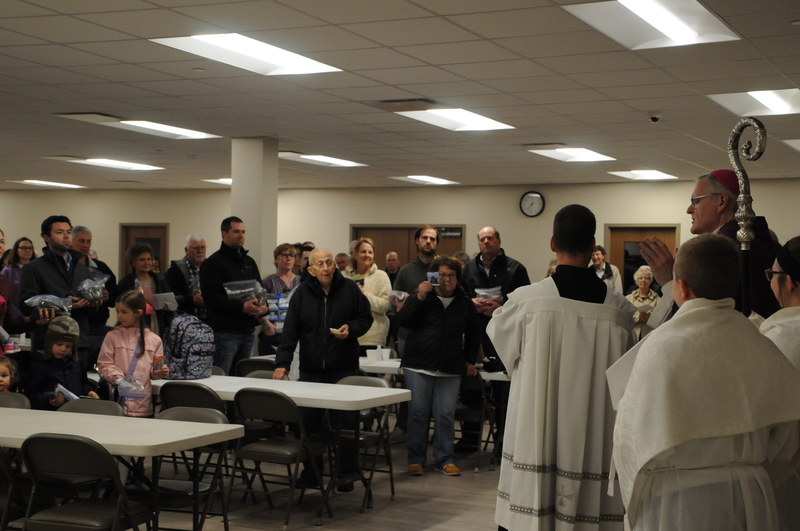 After Mass, everyone gathered in the Lower Level of St. Mary Church for Bishop Siegel's blessing of soil and seeds that people brought with them. The bishop then sprinkled attendees with holy water before they enjoyed refreshments.
At the conclusion of Mass, Father Boeglin said he's been involved in the celebration since July 1988, when the Mass was celebrated in Ferdinand. He announced that the 2023 Rogation Mass will be hosted by St. Clement Parish in Boonville.