By Megan Erbacher
The Message assistant editor
Despite a severe storm with straight-line winds that ripped off the roof and tore through an exterior brick wall of Rivet Middle/High School's third-floor science room, a crucifix still hangs on the still-standing northeast wall in the destroyed room.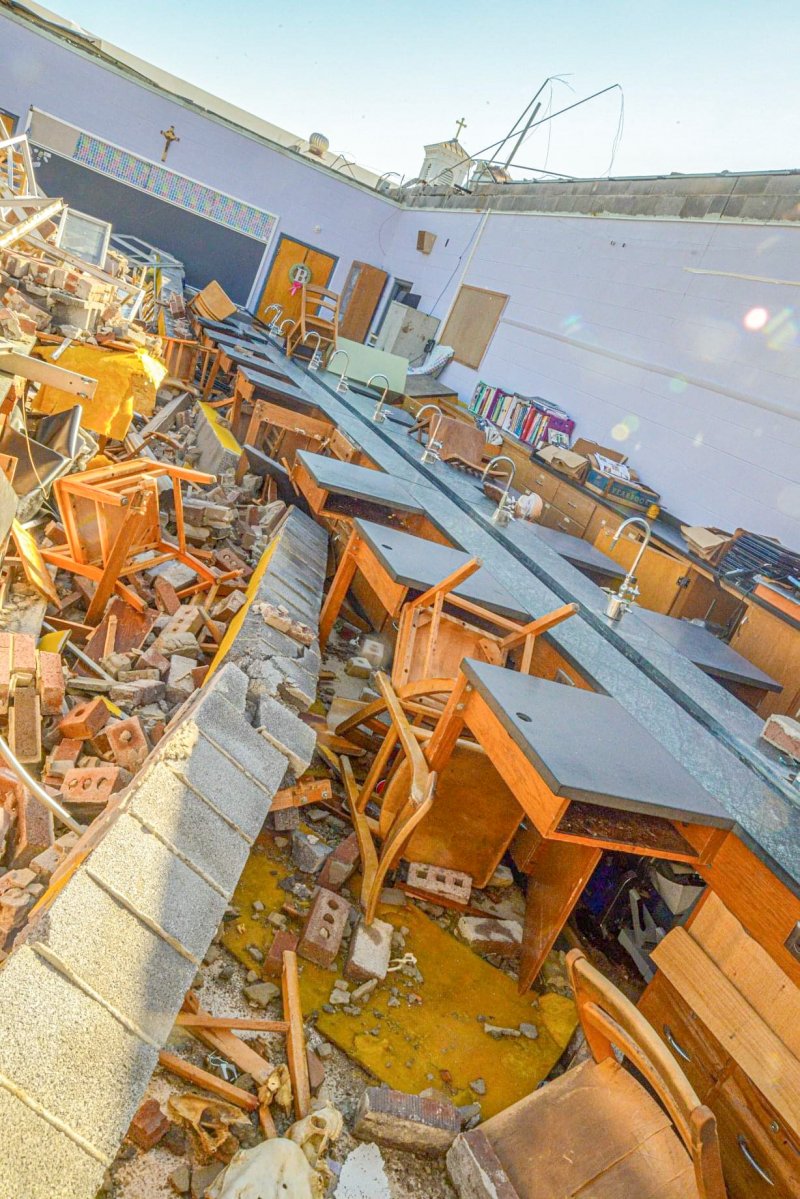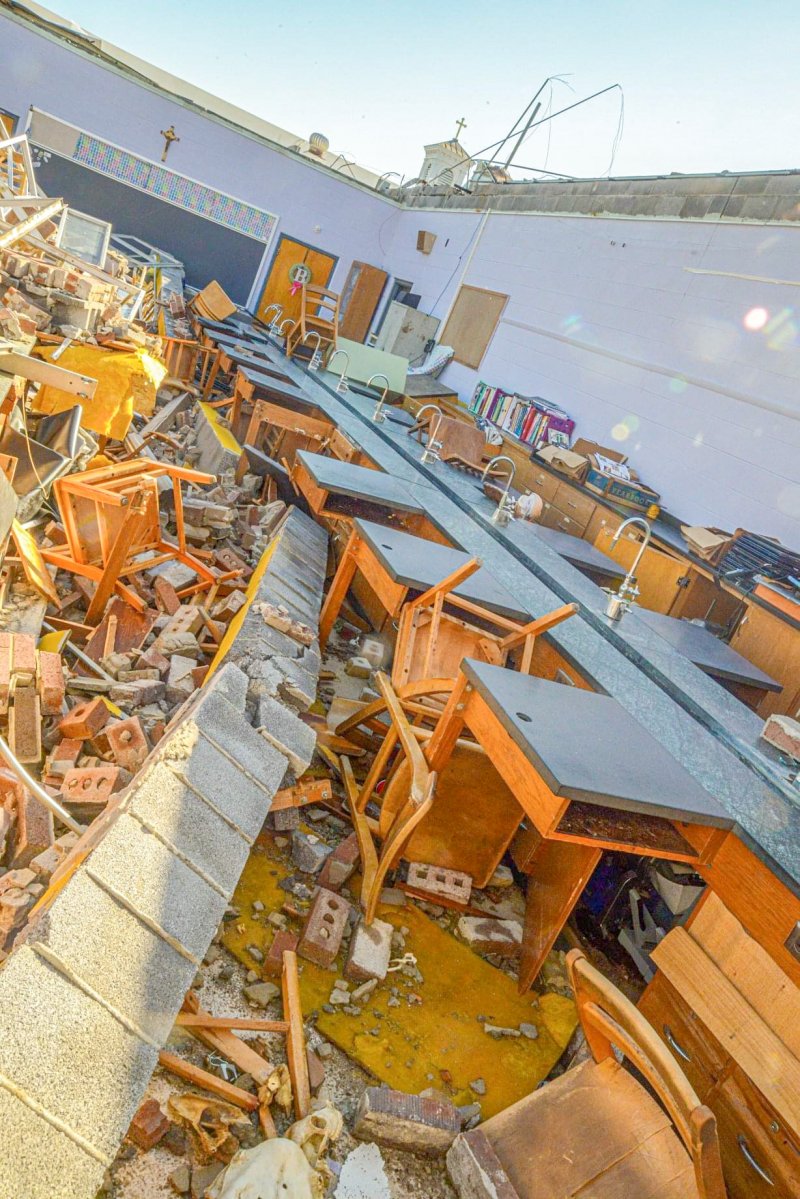 The April 8 severe thunderstorm also left water damage on the second floor, according to Rivet Principal Janice Vantlin-Jones. Parts of the building are untouched, Jones said, while others are "basically gone."
Jones said officials are waiting on a report from the structural engineer to determine if there is other damage as a result of the storm.
"There could well be more than what meets the eye," Father Tony Ernst, administrator of St. Francis of Xavier Parish in Vincennes, said.
As of April 14, Jones said the science room is covered with plastic to prevent additional rain from doing more damage, and she said the cleanup is complete in all areas with damage.
Regardless of the destruction, the crucifix stayed on the wall in the most damaged room.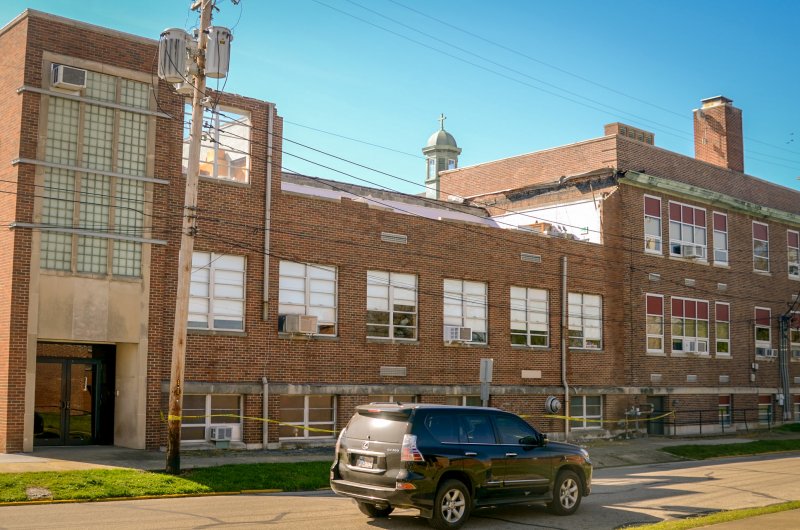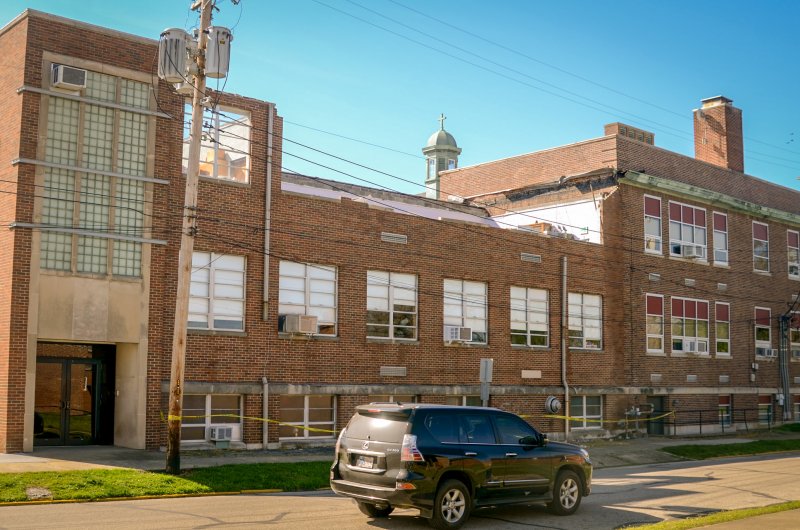 Standing outside of the building, Jones looked up at Rivet in disbelief at the damage.
"After a few seconds, I noticed the crucifix still on the wall," she said. "I knew at that moment that God was with us, and I believe He will get us through it. It gave me the peace to go from feeling helpless to a mindset of what we need to do next. That crucifix remaining amongst all the devastation gave the Rivet Family comfort knowing we are not alone."
Father Ernst called it amazing, and said, "This is just another reminder that, as things in this world are destroyed and life here on earth is so fragile, the Cross remains the one constant in our lives."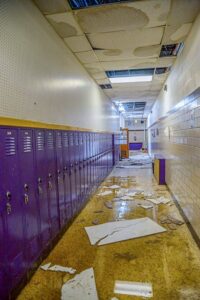 The National Weather Service reported the line of severe thunderstorms included widespread 60 to 70 mph winds. In the Vincennes area, the NWS received multiple reports of structural and tree damage, downed power lines, debris on the road and a semi tractor-trailer was blown off the road.
Father Ernst said Vincennes was "hit very hard," and the storm's high winds also caused significant roof damage at Sacred Heart Church on both the rectory and former convent, and roof damage at both St. Vincent Rectory and St. John Church.
Vincennes Catholic Schools – Rivet Middle/High School and Flaget Elementary – were granted an extra waiver day because of citywide outages caused by the storm, Superintendent of Catholic Schools Dr. Daryl Hagan said.
Father Ernst said officials will work with the insurance company, as well as a structural engineer, to develop a plan to move forward.
"Since we will be losing space in our current building, we are starting to put together a plan that would provide the necessary space for our classes in the new school year," he said. "This will take some creativity and flexibility on everyone's part, but we will make it happen."