By Megan Erbacher
The Message assistant editor
Archbishop Joseph F. Naumann of Kansas City, Kansas, said we have a gift in our Christian faith, as John Paul reminds us in the Gospel of Life; God loves us so much that Jesus gave his life for us.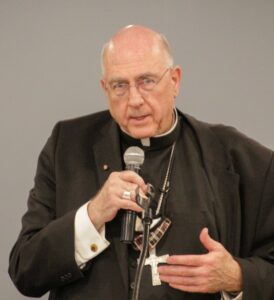 Archbishop Naumann, who serves as Chairman of the U.S. Conference of Catholic Bishops Committee on Pro-Life Activities, discussed life issues during his keynote address at the Diocese of Evansville's 2021 Respect Life Celebration on Oct 14.
The archbishop told a crowd of more than 150 gathered at St. Benedict Cathedral Parish in Evansville that we must rise to the defense of those who cannot defend themselves. He said we must vow not to be intimidated by the forces of darkness but continue to proclaim the truth of God's amazing love.
"We have to become proactive and creative in our messaging in order to reach hearts," he said.
The annual Respect Life Celebration, organized by the Diocesan Office of Family and Life, began with Mass celebrated by Bishop Joseph M. Siegel. Archbishop Naumann concelebrated Mass and served as homilist. Dinner and the archbishop's keynote followed.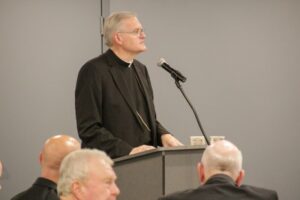 Bishop Siegel opened the Respect Life Celebration at St. Benedict Cathedral Parish in Evansville with a welcome and prayer before dinner. Bishop Siegel noted that Archbishop Naumann is a tireless champion and a great witness of human life in his role as chairman of the Pro-Life Committee.
Father Tyler Tenbarge, director of vocations for the Diocese of Evansville, served as master of ceremonies for the Respect Life Celebration.
Every October, during Respect Life Month, the USCCB introduces a new cycle of the Respect Life Program, which is a "year-round, nationwide effort to help Catholics understand, value and help cultivate respect for human life."
As part of the Year of St. Joseph declared by Pope Francis, Archbishop Naumann said this year's celebration highlights the example of that great saint, who serves as a "reminder of our own call to welcome, safeguard and defend God's precious gift of human life."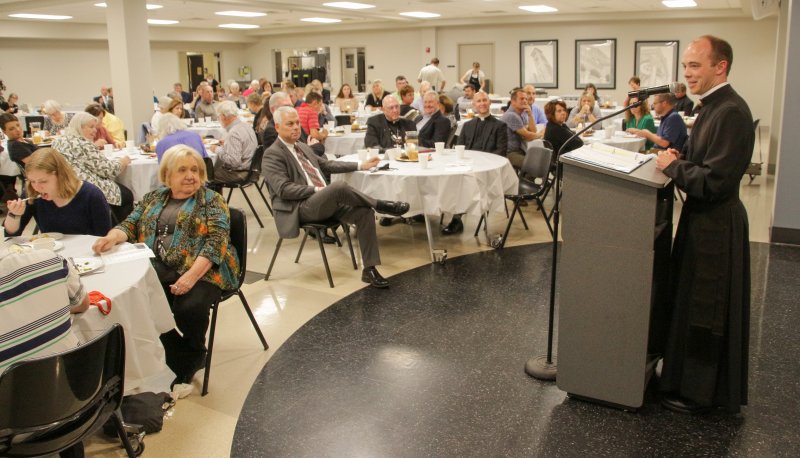 This year's petition is, "St. Joseph, defender of life, pray for us!"
Archbishop Naumann said it was a privilege to be part of the annual diocesan celebration. He noted that he and Bishop Siegel share the same patron saint, Joseph. The archbishop also mentioned Bishop Siegel's episcopal motto: "In Te Domine Speravi," which is taken from the closing responsories of the Te Deum and is also alluded to in Psalm 33:22. In this phrase, "In you Lord, I have placed my hope." 
"I love your episcopal motto because it speaks of hope," Archbishop Naumann told Bishop Siegel. "As I said at Mass tonight, I think we share that desire. In some way, our ministry as bishops is to be a source of encouragement to our people."
Archbishop Naumann closed by reminding the group the "Lord of life is with us," and we should never give up hope in upholding the dignity of every human life because "we know he is the final victor."