The Message assistant editor
A few years ago, Barbara LaRoy missed her annual mammogram.
"That's the mistake I made," LaRoy said. "I was moving from Kentucky to Indiana, so I bypassed my regular (appointment) by about 4-5 months. And when they said stage 2 (breast cancer), I maybe would've been just stage 1 or on the backside of that if I had done it when I was supposed to."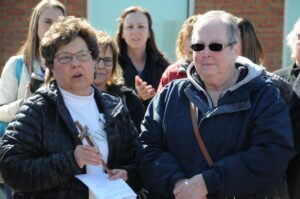 On Feb. 21, LaRoy joined about 30 people outside of Ascension St. Vincent-Epworth Crossing for the blessing and dedication of a new state-of-the-art 3-D Mobile Mammography Coach. Franciscan Sister Jane McConnell, head of mission integration for St. Vincent Evansville, led the group in prayer and used holy water to bless the new mobile unit before inviting people to tour it.
For the past 20 years, the Ascension St. Vincent Evansville Breast Center has provided mobile mammography to the community; but now, it's also available on the new 38-foot coach. It offers the most up-to-date mammogram technology, and it literally meets patients where they are located.
Features of the new coach include:
Serving Evansville and the Tri-State area at locations including workplaces, community centers, health expos and more
The first of its kind in the area to be handicapped-accessible
Can travel up to two hours from the Breast Center and be reserved by anyone at no charge
A dedicated driver and staffed with specially trained experts
Can accommodate up to 25 patients per day
On Nov. 30, 2018, about two weeks after her diagnosis, LaRoy had surgery to remove a lump and 12 lymph nodes. She also underwent chemotherapy and radiation treatments. She is now a breast cancer survivor.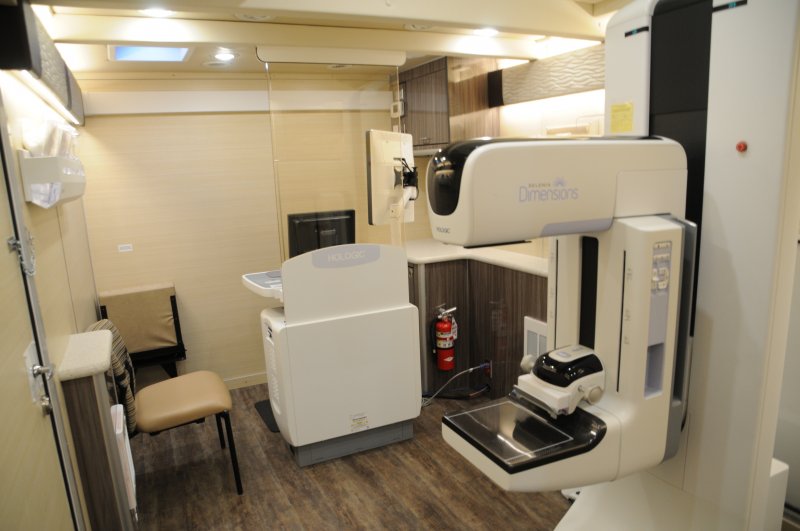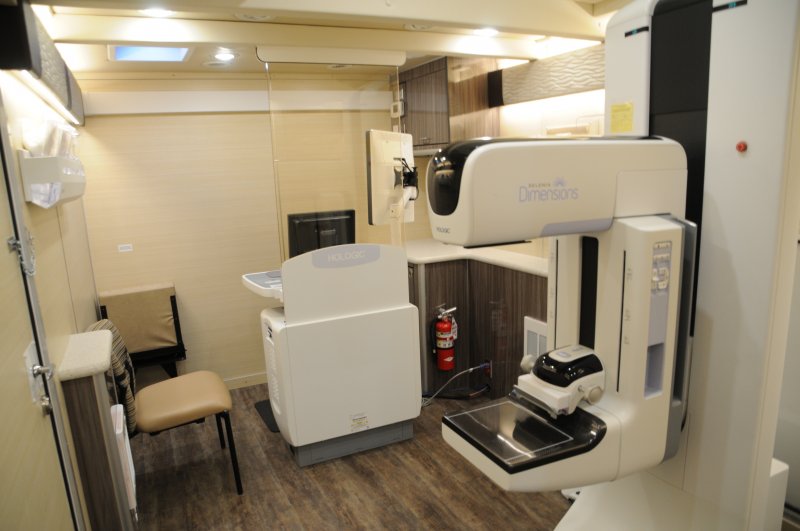 "I think a lot of people are scared to come to (a doctor's office), and (the mobile unit) would be an easier place to go to if it's at work or closer to their home," LaRoy said. "Just the walk back there can be intimidating, so maybe someone would be willing to do their mammogram earlier at a mobile unit."
Breast cancer is the second most common cancer in Indiana, St. Vincent officials said, with 5,410 new cases expected this year. Officials reported breast cancer also has the second-highest death rate.
The key to survival is early detection, according to Sheila Hauck, Oncology, Palliative Care, Breast Center and Magnet Program Director.
"The Mobile Mammography unit is so important because many times people work, and they don't have time to come out and schedule a mammogram," Hauck said. "So taking a unit – which is very similar to our own Breast Center and has the same comfort, the same privacy, the same atmosphere that we try to create here at our Breast Center on Epworth – is paramount; as well as making sure we have the same technology."
Convenience is key to people having an annual mammogram, and it is key for early detection and hopefully a cure, Hauck said.
Fundraising for the coach began in spring 2018. Dan Parod, president of the Southern Region for St. Vincent, said the nearly $1 million mobile unit would not be possible without generous donors and the Foundation. He thanked everyone for their fundraising efforts.
Don't allow the lack of insurance to prevent you from getting an annual mammogram, Hauck stressed. People who are not covered or are uninsured may qualify for a grant through the Susan G. Komen Foundation and will not be charged.
To be eligible for a screening mammogram, patients must meet the following criteria:
Ages 40 year or older
Ages 31-39 with a family history of breast cancer and a referral from your physician
Received last mammogram at least one year ago
Must be asymptomatic (have no symptoms) for breast diseases
To learn more or to schedule an appointment, call 812-485-4437.