Special to The Message
The Women of the Rule is a lay women's philanthropic group dedicated to supporting the Sisters of St. Benedict of Ferdinand, Indiana, by funding projects that intend to help the sisters with their ministries throughout the year. They also have opportunities for personal enrichment through programs centered on Benedictine spirituality and values offered exclusively by the sisters for Women of the Rule. Members of this group are diverse and reside all over the U.S.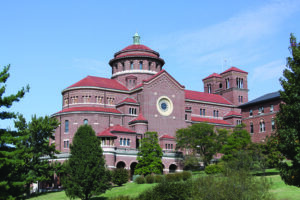 The COVID-19 outbreak has created a profound impact on how we communicate with each other, given the need for social distance. On Aug. 7, the annual Women of the Rule Luncheon turned into a virtual event where some extraordinary women gathered online, listened to sisters' proposals and voted on some critical projects for the monastery and local deaneries. This virtual event allowed members that generally would not be able to attend due to their great distance from the monastery, to enjoy the presentations, and to have the opportunity to vote. 
Guest speakers included Dr. Carolyn Woo and Dr. Sue Ellspermann.
Past projects funded by Women of the Rule members have included updated equipment for the Hildegard Health Center, support for the sisters' school in Peru, funding for the Hydroponics project, bakery updates, renovations to the Benedictine Hospitality Center and so much more. 
Before this year's virtual event, members approved funding for a pathway on the grounds, roof and window damage and church door repairs, projects for the Monastery Goods and Services Bakery and Digital Communication Technology, as well as funds for the St. Benedict laundry rooms. Several members and anonymous donors also funded proposals for the Texas/Mexico border, Ministry to incarcerated women, and a trip from Peru to Italy for Peruvian sisters. 
Results of the Aug. 7 voting funded projects including upgrades to the old Home Economics department, technology for the monastery and mission deaneries, and tuition for a sister's MA degree in Ministry with a Focus on Liturgical Leadership. 
For more information on the Women of the Rule philanthropic group, contact Sister Barbara Catherine Schmitz at 812-367-1411, ext. 2649 or online at www.thedome.org/get-involved/women-of-the-rule/.
In addition to visiting their website, you can learn more about the Sisters of St. Benedict of Ferdinand by visiting their YouTube channel at https://www.youtube.com/user/FerdinandOSB.