Special to The Message
Benedictine Sisters Paula Wolff and Jayn Lein of the Sisters of St. Benedict in Ferdinand will celebrate their Silver Jubilees of Monastic Profession July 2 at Monastery Immaculate Conceptionin Ferdinand. Sister Paula and Sister Jayn will each celebrate the 25th anniversary of their Monastic Profession at a 1 p.m. EST Jubilee Mass of Thanksgiving at the monastery church, with a reception immediately following. Those who are unable to attend will be able to livestream the service online at jubilee.thedome.org.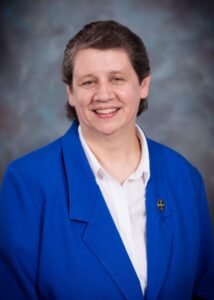 A native of Chanhassen, Minnesota, Sister Paula attended Catholic schools for 14 years and earned a Bachelor's degree in Elementary Education. She has been an elementary school teacher and served as executive office assistant of Lifelong Formation and Education for the Archdiocese of Louisville; in social services; and as secretary to the Archbishop of Louisville. She is currently assistant to the Leadership Team for the Sisters of St. Benedict of Ferdinand. Though she knew no one in Indiana, she believes the Holy Spirit led her to the Benedictine community here, and has been thankful for it ever since.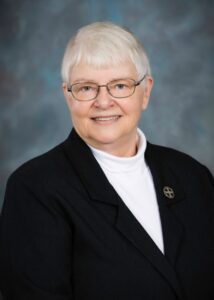 Sister Jayn is from Milwaukee, Wisconsin, and was drawn to the Sisters of St. Benedict by the vibrant community and prayer life. She earned a Bachelor of Science degree in Nursing from Marquette University and went on to earn a Master's degree in Gerontological Counseling from the University of Memphis. Her work in nursing includes teaching, home health, psychiatric and community health. She has worked in geriatric counseling with the elderly in and around Evansville, and has also been a pastoral associate at Christ the King Parish Ferdinand and St. Clement Parish Boonville. She currently serves in Community Health Services. 
The Sisters of St. Benedict in Ferdinand make up one of the largest Benedictine communities of women in the United States — over 110 members strong and thriving. They seek God through the Benedictine tradition of community life, prayer, hospitality, and service to others. By their life and work, they commit themselves to be a presence of peace as they join their sisters and brothers in the common search for God. The Monastery Immaculate Conception was founded in 1867 by four young Benedictine sisters who came to Ferdinand to teach the children of area settlers. Since then, more than 1,000 women have entered this community. Their ministries extend both beyond education and beyond Ferdinand, with members of their community serving as teachers, social workers, parish ministers, counselors, nurses, youth ministers, chaplains, librarians, and more.