By The Message staff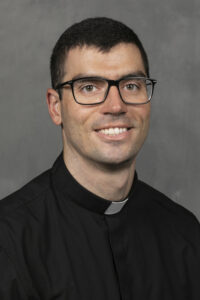 Bishop Joseph M. Siegel has appointed Father Garrett Braun to serve as part-time campus minister at Vincennes University, effective Aug. 1. Father Garrett will continue as parochial vicar at St. Francis Xavier Parish in Vincennes, and St. Philip Neri Parish in Bicknell. 
The official notice of Bishop Siegel's appointment appears on page 5 of this issue of The Message.
Diocesan Director of Youth and Young Adult Ministry Jeremy Goebel said, "We are extremely pleased to be re-launching campus ministry at Vincennes University and most grateful to have Father Garrett in this much-needed role.
"While Father Garrett works to build a strong foundation on the VU campus this year, we are mindful that he will be departing for a five-year term as a U.S. Air Force chaplain in the summer of 2024. Therefore, we will begin the search for a new minister to succeed Father Garrett for the 2024-2025 academic year."