By Megan Erbacher
The Message assistant editor
Bishop Joseph M. Siegel said the new, permanent home for Catholic Charities of the Diocese of Evansville will serve many people in their time of need and will accompany them in their path to recovery, renewal and healing.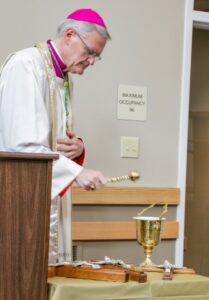 After decades of calling leased office, classroom and meeting spaces home, Catholic Charities now serves a diverse community from its new home at 2111 Stringtown Road on Evansville's north side. 
About 30 people were present Sept. 15 for a special blessing and dedication by Bishop Siegel. Those included Evansville Mayor Lloyd Winnecke, Catholic Charities Executive Director Denise Seibert Townsend, as well as Sharon Burns, who retired as executive director of Catholic Charities in January after nearly eight years in the position.
Those in attendance wore face coverings and practiced appropriate social distancing to prevent the spread of COVID-19.
In June 2019, the diocese broke ground on the new construction site. The building, around 9,800-square-feet, has about 20 offices and three large meeting spaces, as well as an outdoor garden honoring St. Theresa. The new building is on the property of the former St. Theresa Parish.
Outside the new building is St. Theresa Garden. It features a St. Theresa statue, which was previously in St. Theresa Church, as well as limestone from the church, a bench and flowers.
During his blessing, Bishop Siegel said it truly was the day the Lord had made, and it was a day many have hoped for and planned for many years. The bishop asked the Lord to bless the new facility and those who, through Catholic Charities, are devoted to helping their brothers and sisters.
The bishop said many people with struggles, challenges and sorrows look to the church, and, in a special way, to Catholic Charities to assist them in their time of need. Catholic Charities help these people carry their crosses, the bishop said, and help advance the spirit of hope in their lives.
Bishop Siegel sprinkled holy water on three crucifixes that were made by a St. Theresa parishioner and constructed from pews that were in St. Theresa Church, as well as a large crucifix, more than 10-feet tall, from Nativity Church that is hanging in a gathering room. 
The bishop then walked through the halls and sprinkled holy water throughout Catholic Charities' new building.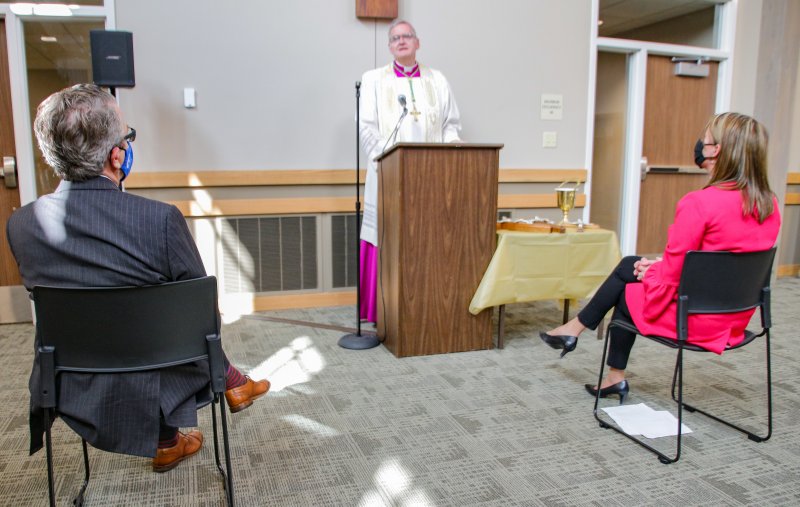 One of the three crucifixes will be placed in the lobby of the new Catholic Charities building, another in the executive director's office and the third will be next door in the former St. Theresa rectory, which serves as the offices for Handy Helpers Home Repair.
Catholic Charities provides professional services to all regardless of race, religion, ethnicity, orientation or gender. Services include counseling, job and life skills training, immigration services, financial assistance programs, and collaborating with community partners.
Townsend thanked many people who were involved in making the new building a reality, including Bishop Siegel, Diocesan Chancellor and COO Tim McGuire, support of financial donors and the building committee.
Bishop Siegel also thanked Archbishop Charles C. Thompson, whose vision included the new building in the Stewards of God's Grace Capital Campaign.
Townsend expressed appreciation to Burns for her leadership, vision and dedicated service, so Catholic Charities can continue the "life-changing services and work that will truly impact our community."
"As we look to the future, Charities will use this facility as a foundation to continue our vital services that help the vulnerable in our community to create lives that work," Townsend said. "Through our services, we strive to help those served improve their mental health and financial stability and to reduce the impact of poverty."
Judy Kropfl, Catholic Charities Board President and parishioner of St. John the Baptist in Newburgh, prayed that the "roots of faith, hope and love (St. Theresa parishioners) cultivated over the years" prepared the foundation for Charities to continue their work in helping others.
"We're appreciative of the many faithful parishioners of St. Theresa Parish who carefully stewarded this property for many years, so that (Catholic Charities) can now serve the community," Kropfl said.
Evansville Mayor Lloyd Winnecke said he was struck by the serenity of the new space and called it special. Winnecke said he is confident the "faith, hope and love of those roots will continue for generations to come."
"I know that we're a really blessed community in many ways, but one of the ways we are blessed is we have a network of nonprofit organizations that are really committed to doing the heavy lifting day in and day out," he said.