By Megan Erbacher
The Message assistant editor
On the Feast of St. Joseph, Bishop Joseph M. Siegel celebrated Mass with the students and parishioners of St. Philip Parish in Posey County.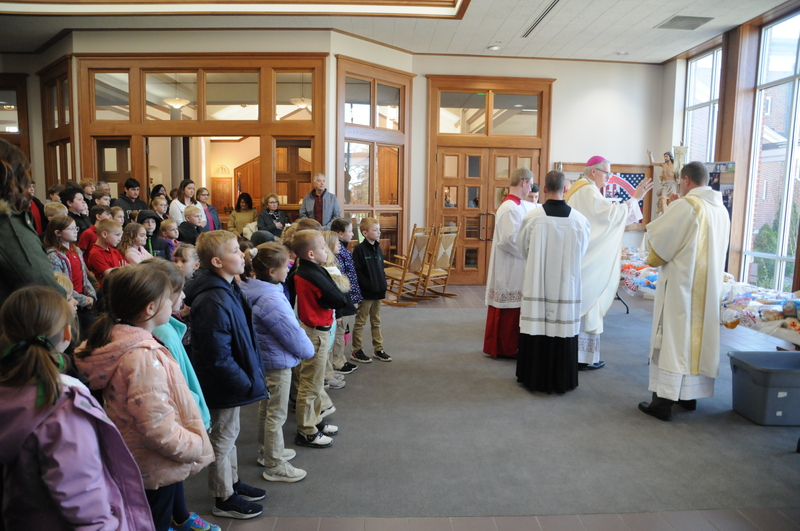 Since March 19 was the Fourth Sunday of Lent this year, the Solemnity of Saint Joseph, spouse of the Blessed Virgin Mary, was transferred to March 20, according to the liturgical calendar of the United States Conference of Catholic Bishops.
St. Philip School Principal Kellie Kelsey explained that on the Feast of St. Joseph, Bishop Siegel's patron saint, it is customary to collect bread and pastries and donate them to those in need. To celebrate, St. Philip students collected more than 100 items of bread and pastries to donate to St. Vincent de Paul Food Pantry. Kelsey said someone from the food pantry visited to talk to students about what St. Vincent does for others and to share how their donations will help those in need. 
"We thought this would be a good opportunity for the students to practice almsgiving during Lent and to benefit those at St. Vincent de Paul. … Our families really rallied and brought in a lot of donations with such short notice," Kelsey said.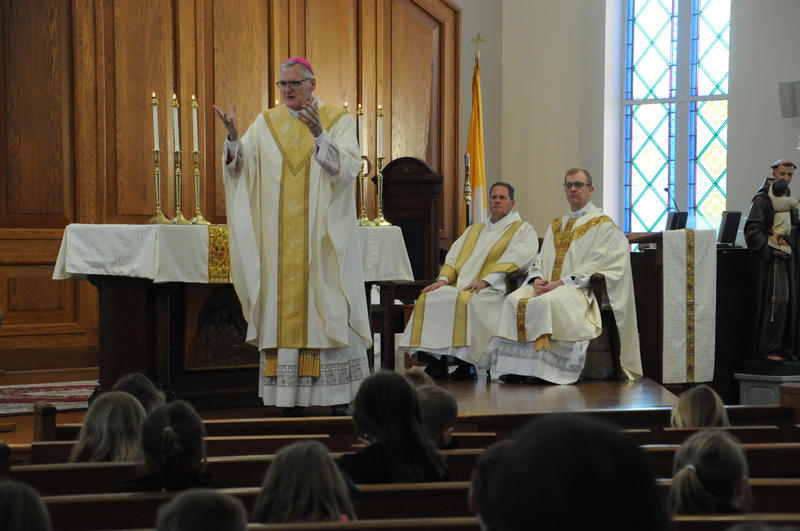 During his homily, Bishop Siegel told students that the Latin phrase "Ite ad Joseph" means "Go to Joseph." The bishop said it reminds us that St. Joseph is a powerful intercessor we can turn to during our struggles and hard times. St. Joseph can pray for us, Bishop Siegel said, and he can lift our prayers and needs to his foster son, Jesus. Bishop Siegel concluded by saying may we always Ite ad Joseph; Go to Joseph.
At the end of Mass, everyone gathered in the narthex, where the bread and pastries were displayed on long tables, for a special blessing from Bishop Siegel.
During his blessing, Bishop Siegel said we are thankful for the food on the tables, which is a sign of God's generous blessings and our call from him to serve the poor and the hungry. The bishop prayed that, through the intercession of St. Joseph, we might join the saints at the heavenly banquet. Bishop Siegel then sprinkled the bread and pastries with holy water.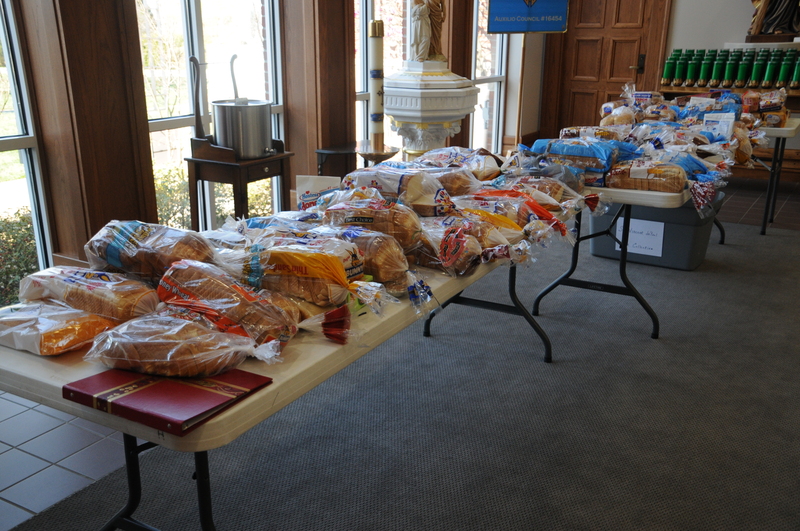 Bishop Siegel thanked students and staff for their generosity and impressive donations that will benefit many people.
St. Philip pastor Father Ryan Hilderbrand thanked Bishop Siegel for celebrating Mass with students and parishioners and for his blessing on the donations. Father Ryan told students he was proud of their collection, and he said God is also proud of them. 
"This (is) a unique experience that not a lot of other students have had the opportunity to be a part of," Kelsey said.