By Tim Lilley
The Message editor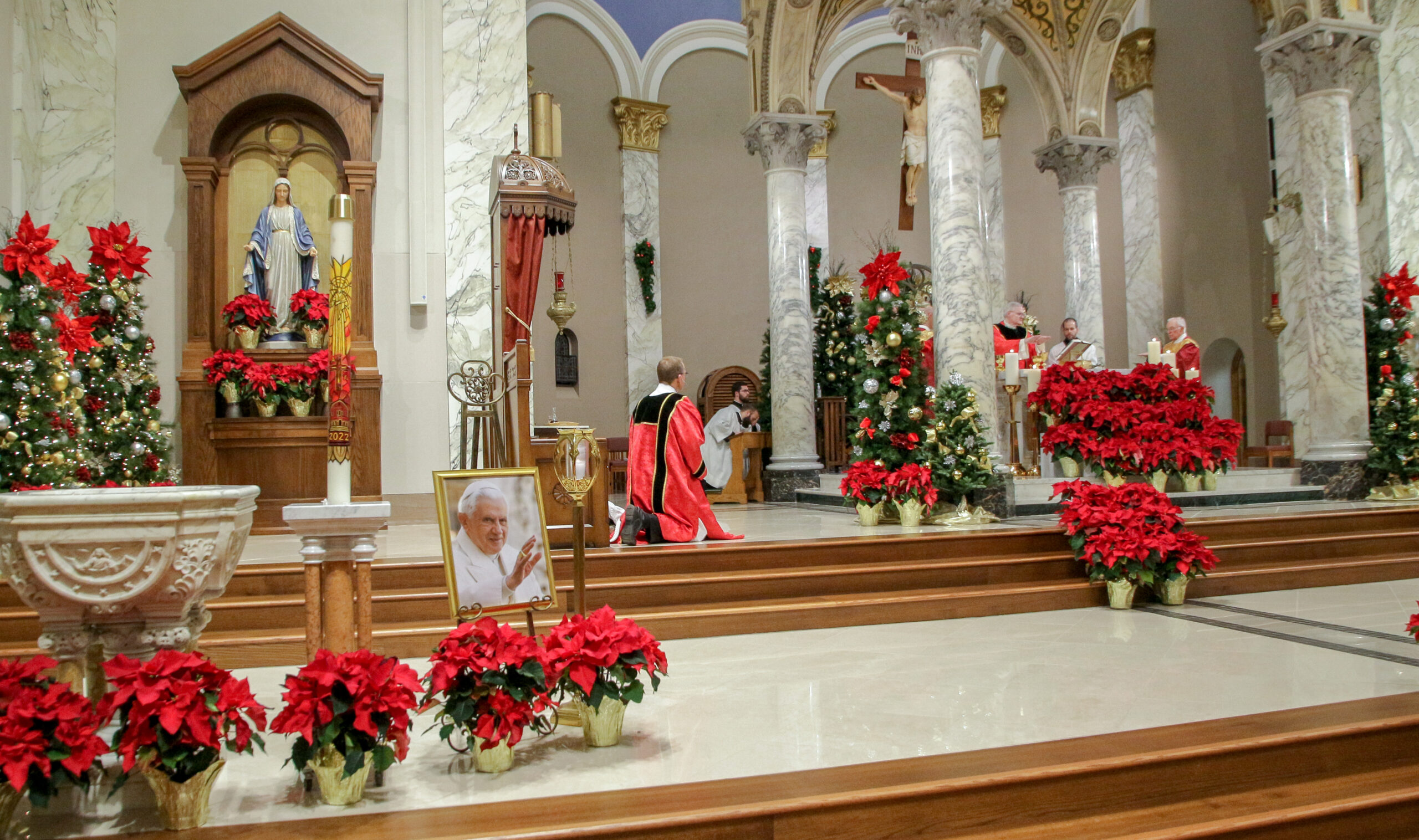 Bishop Joseph M. Siegel celebrated a Memorial Mass for Pope Emeritus Benedict XVI Jan. 6 at St. Benedict Cathedral in Evansville. The pope died Dec. 31, 2022, and was buried Jan. 5 at the Vatican after more than 195,000 faithful filed into St. Peter Basilica to pay their last respects.
During his homily, Bishop Siegel characterized Benedict XVI – Joseph Ratzinger – as a priest, bishop, cardinal, pope, brilliant theologian and professor.
Concelebrating the Mass were Father Alex Zenthoefer, rector of St. Benedict Cathedral; Fatter Christopher Droste, Pastor of Evansville's St. Boniface Parish; Father Luke Hassler, Pastor of St. Mary Parish in Ireland; and Father Lowell Will, senior priest of the Diocese of Evansville. Deacons Stephen McGinnis and David Rice served as Deacons of the Mass. Matt Miller, Director of the Office of Worship, served as Master of Ceremonies.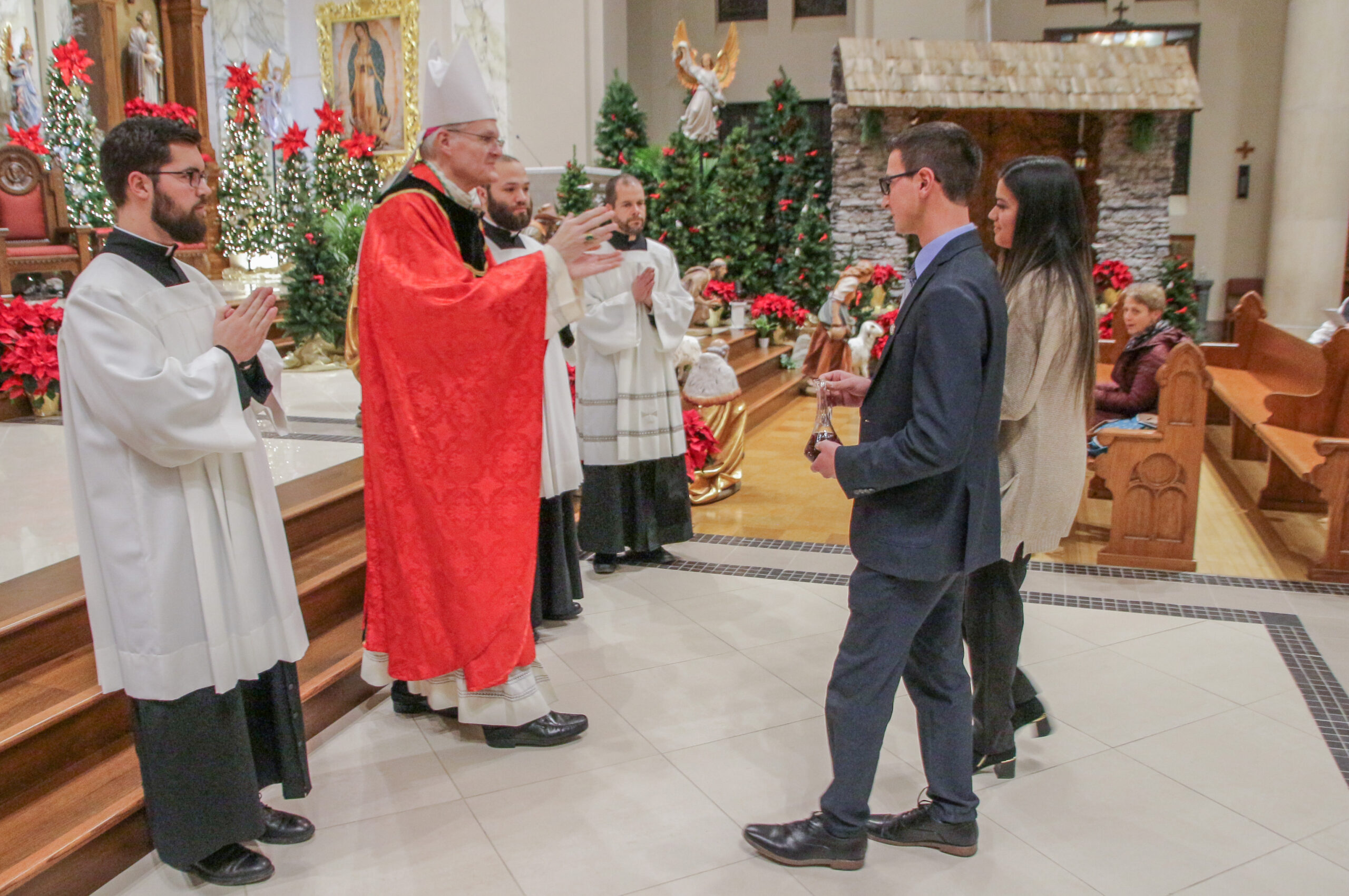 Mary Gen Blittschau, Director and Judge in the Office of the Tribunal, and Bertha Melendres, Director of the Office of Hispanic Ministry, served as lectors. Sara Gilbert served as cantor, accompanied by St. Benedict Cathedral Director of Music Jeremy Korba. Gloria Barrera Miranda and Michael Mosbey served as gift bearers.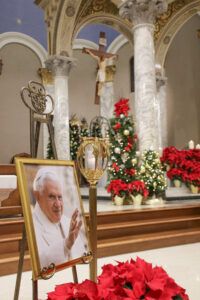 A large, framed portrait of Pope Emeritus Benedict XVI was placed below the statue of Mary in the cathedral sanctuary.
Bishop Siegel said that Benedict XVI lived through the tragedy of WWII, the cold war, the cultural revolutions of the 1960s and the struggles of the Church in the post-Vatican II era.
He noted that, in his writings, teachings and life, the late pope was dedicated to Christ. He observed that he had witnessed the reasonableness of faith, standing strong against what he called the dictatorship of relativism.
Bishop Siegel said that, throughout his life, his overwhelming and overriding priority was to make God present in the world, and to show men and women the way to God.
Writing in his spiritual testament, in 2006, Benedict XVI noted that many ideologies that characterized the Church as outdated and out of step eventually collapsed with the changing of generations. He affirmed that Jesus Christ is truly the way, the truth and the light, and the Church is truly his body. He encouraged all Catholics to stand firm in the faith.
Bishop Siegel said that missionary disciples have surrendered themselves to the will of God; Pope Benedict was, indeed, such a missionary disciple. He taught us that to be a Christian is not a burden, but a gift. To have encountered the Lord is the best thing that has ever happened to us, and to share Him with others is our joy.
The bishop said that, during his life, some unfairly disparaged Ratzinger by referring to him as God's Rottweiler. Instead, this bishop said, Pope Benedict, indeed, was a gentle shepherd – even if he was a German shepherd!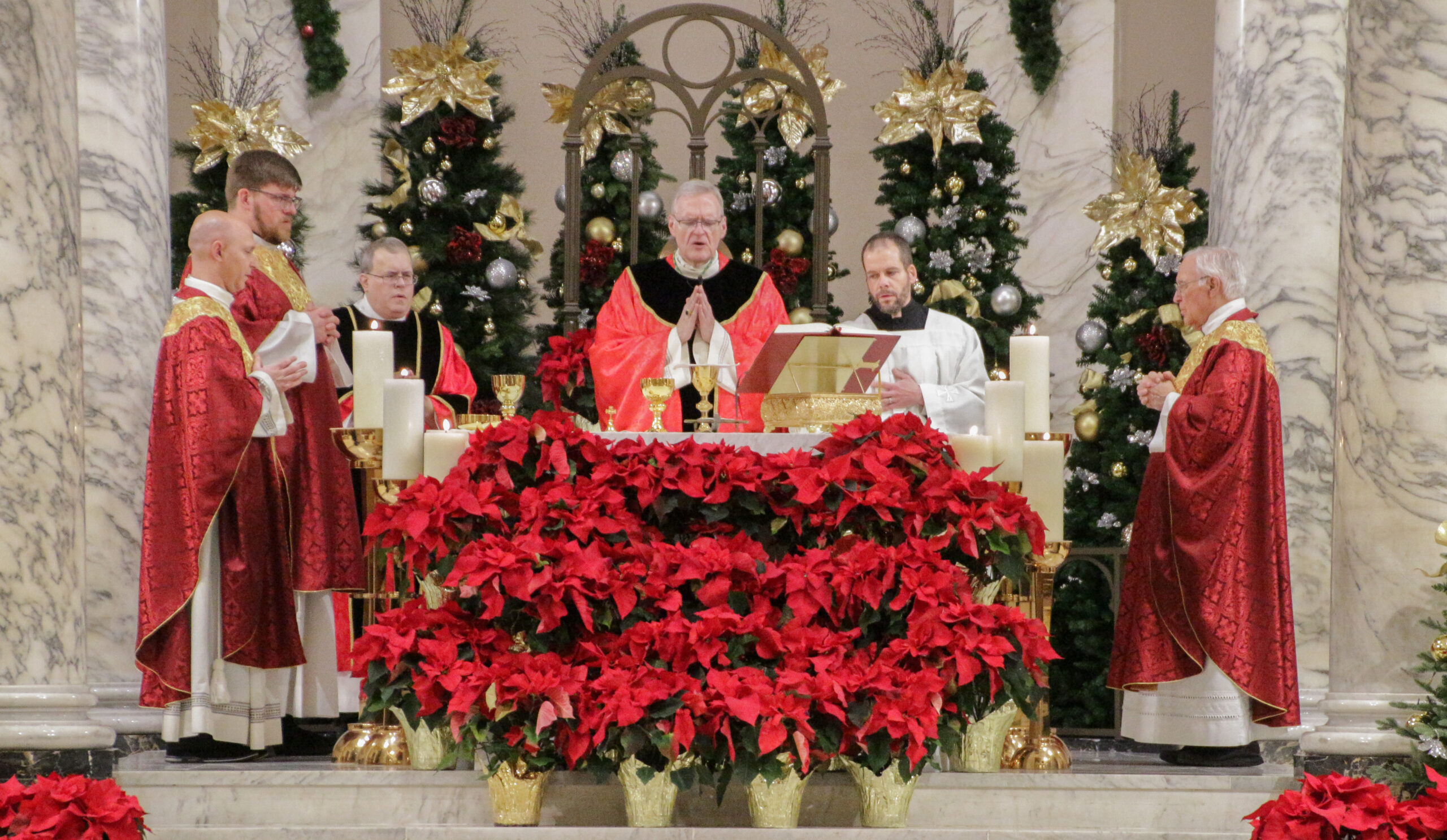 Bishop Siegel concluded:
"We prayerfully entrust Pope Benedict to the Lord, grateful for his long and fruitful ministry to the Church and for the Church. Through the intercession of our Blessed Mother Mary, to whom he had such a great devotion, may Jesus the Good Shepherd welcome him with those words we all long to hear: 'Well-done my good and faithful servant. Come share in your Master's joy.'"
At the end of Mass, Bishop Siegel led a prayer for the repose of the soul of Pope Emeritus Benedict XVI. That prayer concluded:
"We entrust your servant to your mercy with faith and confidence. In the human family, he was an instrument of your peace and love. May he rejoice in those gifts forever with your saints."