By Megan Erbacher
The Message assistant editor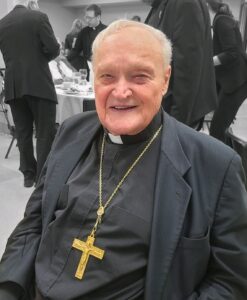 Bishop Joseph M. Siegel celebrated Mass at St. Benedict Cathedral in Evansville June 3 to commemorate Bishop Emeritus Gerald A. Gettelfinger's 60th anniversary of priestly ordination.
Many friends and faithful gathered in the cathedral to celebrate with the fourth bishop of the Catholic Diocese of Evansville.
Bishop Gettelfinger, 85, was ordained a priest May 7, 1961. He was named Bishop of Evansville March 11, 1989, and he was ordained and installed at Evansville April 11, 1989. He served as Bishop of Evansville until 2011, when he was named Apostolic Administrator and Bishop Emeritus.
Concelebrants of the Mass included Archbishop of Indianapolis Charles C. Thompson, Bishop of Gary Robert McClory, Bishop Emeritus of Gary Dale Melczek, Archabbot of St. Meinrad Archabbey Kurt Stasiask, and two classmates of Bishop Gettelfinger: Father Donald Ackerman and Father Meinrad Brune, OSB.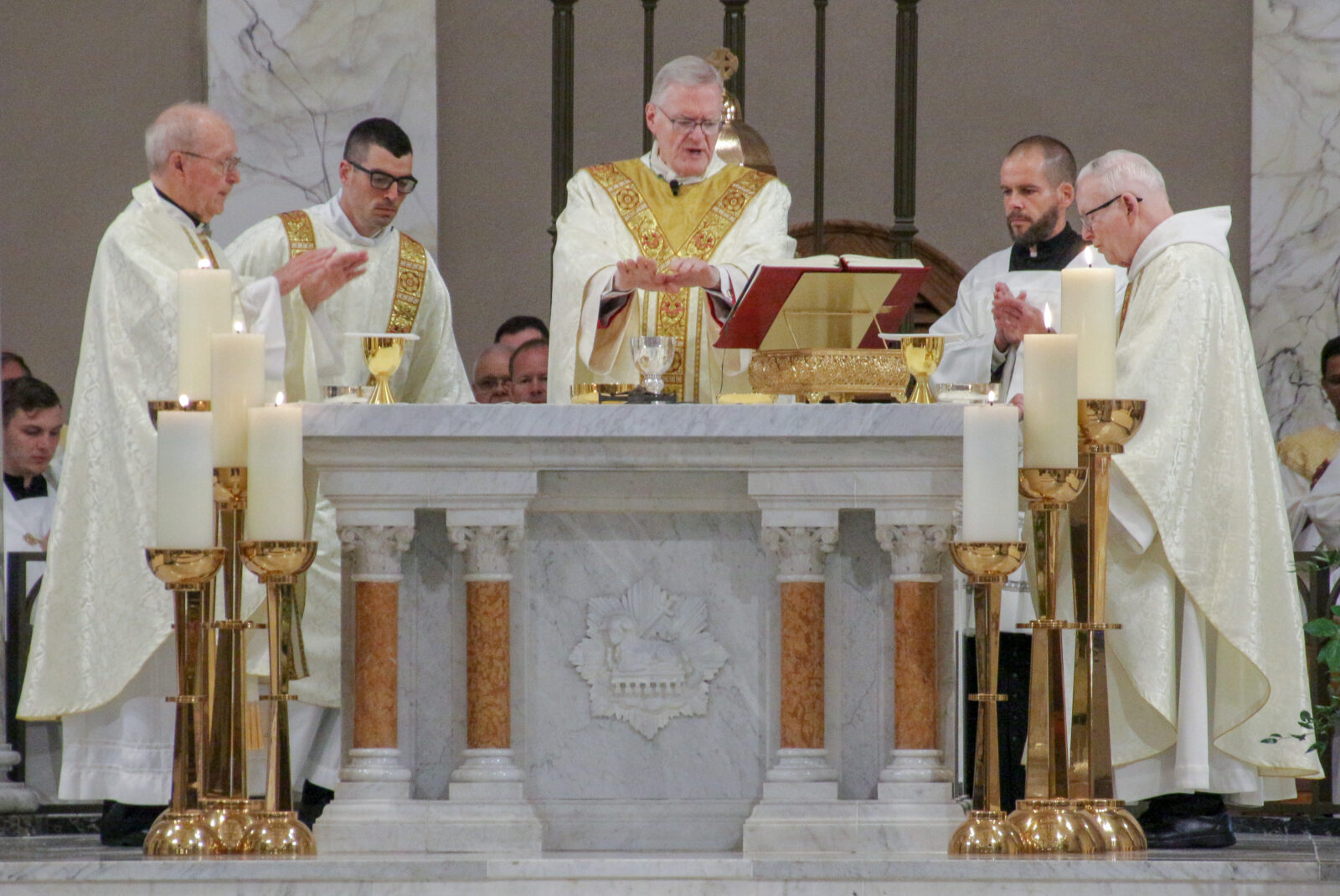 Thirty-six priests concelebrated and 10 deacons vested. The Deacon of the Mass was Deacon Garrett Braun. Masters of Ceremonies were Diocesan Director of Vocations Father Tyler Tenbarget, Larry Durchholz and Diocesan Director of Worship Matt Miller. And servers for the Mass were Seminarians of the Diocese.
Father Bernie Etienne, pastor of Evansville's Holy Rosary Parish and Diocesan Vicar General, served as homilist. Father Bernie said as priests and bishops, no one is the complete package because there's always something a priest or bishop can work on. He continued and said that priests and bishops trust the Holy Spirit to put them where they're needed at that moment. And, during his priestly service and his time as Bishop of Evansville, Father Bernie told Bishop Gettelfinger that all of his gifts have made a difference in the diocese and in everyone.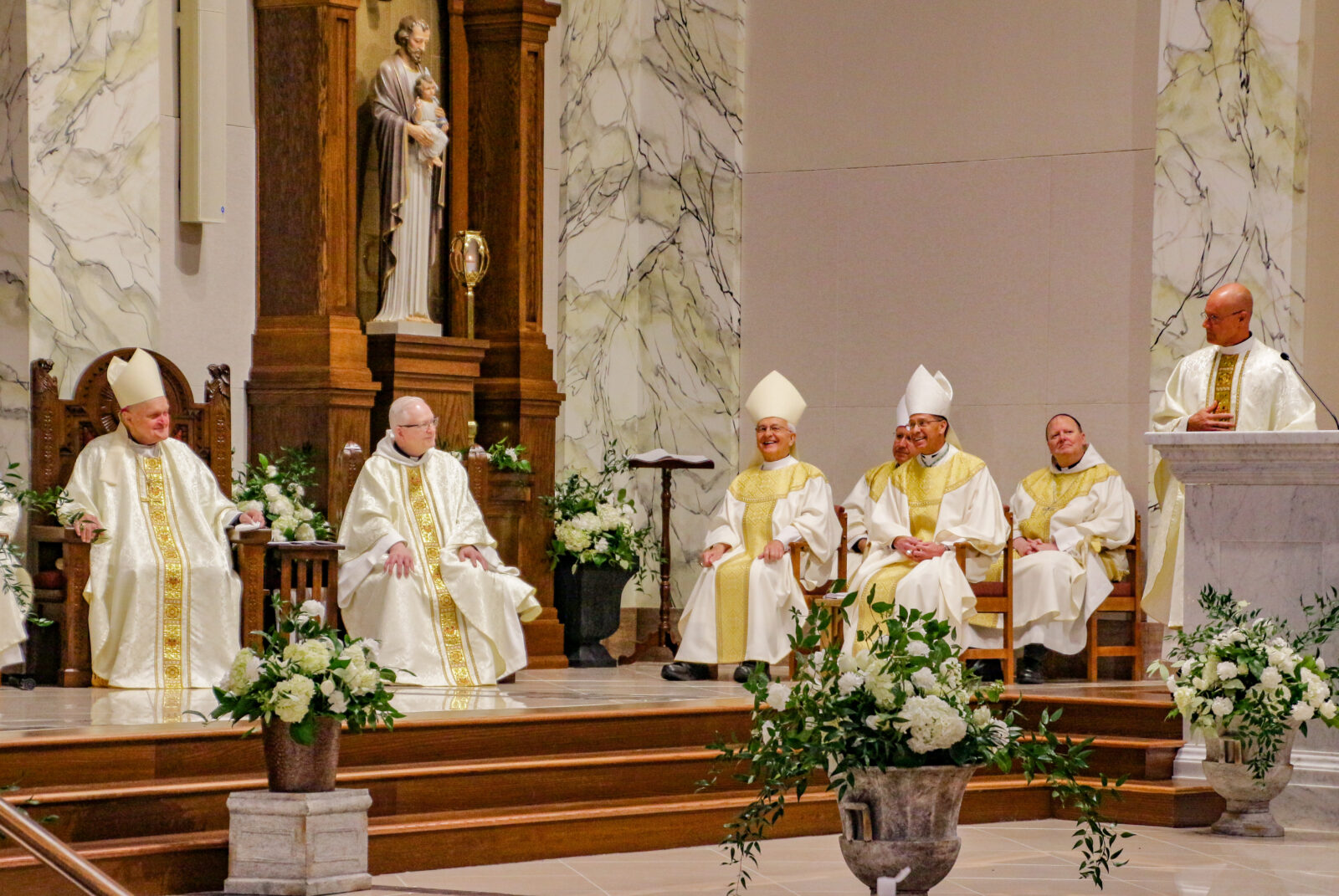 In his homily, Father Bernie told Bishop Gettelfinger that the great gifts he brought to the church were very much nurtured in his family. He took religious life seriously in eighth grade, and he attended St. Meinrad Seminary and School of Theology for 12 years.
Father Bernie said Bishop Gettelfinger and his classmates shared a special bond that, he believes, led them to really understand the journey and the direction God was calling them. Bishop Gettelfiner grew up in a fraternity that Father Bernie said his generation doesn't understand. Father Bernie said that is a blessing Bishop Gettelfinger always brought to his priestly ministry.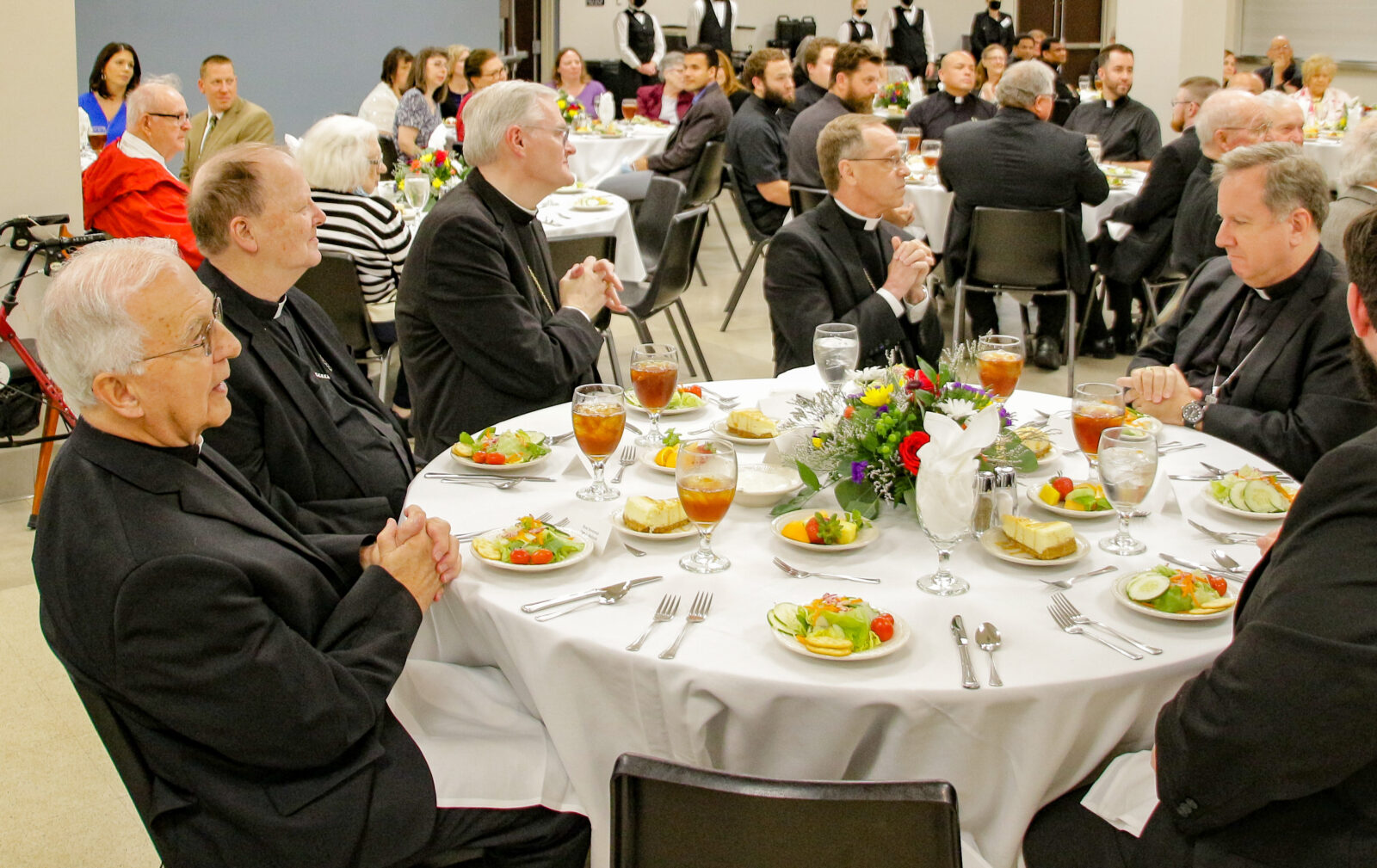 A luncheon was hosted in Bishop Gettelfinger's honor after Mass. Before Archbishop Thompson offered a prayer over the meal, he recalled when Bishop Gettelfinger ordained and installed him as the fifth bishop of Evansville in 2011.
"I couldn't have had a better predecessor," Thompson said. "What tremendous wisdom you brought to me, fraternity, brotherhood, and you are a father figure to me in many ways. I have a great father, I'm not taking anything away from him, but what a mentor you've been to me."
Thompson, who served as Evansville's bishop from 2011-2017, said Bishop Gettelfinger never interfered, but he was always there and ready to listen. Thompson said he had a great balance and knew when to offer advice and when to step back.
"What a great mentor; what a great brother; what a great friend you've been," Thompson said. "You have been a blessing. Congratulations on 60 years of priesthood."