By Tim Lilley
The Message editor
Bishop Joseph M. Siegel has appointed Denise Seibert Townsend as director of Catholic Charities of the Diocese of Evansville. She will assume her duties on June 1.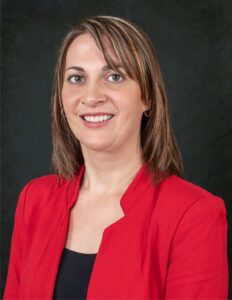 Townsend joins the diocesan staff from Arc of Evansville, where she has served since 2005 – most recently as Vice President of Development. Catholic Charities and the diocese will benefit from her 15+ years of experience in strategic leadership, development and administration.
Bishop Siegel said, "It is a great joy to welcome Denise to the Diocesan staff as Director of Catholic Charities. For 75 years, Catholic Charities has served a vital role in helping the Evansville Diocese provide faith-based assistance to people with various needs in our 12 counties. With her professional training and with her experience with Arc of Evansville, Denise is well-suited to guide and develop the work of Charities in the years to come."
Townsend is a 2004 graduate of Hanover College, and she earned a certificate in fundraising management from Indiana University's Lilly Family School of Philanthropy. She is a member of St. Wendel Parish in St. Wendel, where she has served in the religious education program since 2018.
Townsend said, "Catholic Charities has a long history of service, and I am honored and grateful for the opportunity to serve as the next director. I look forward to working with our community as we serve those that seek and rely on our support. Together, we will continue to provide hope and life-changing programs to the poor and vulnerable to strengthen our community."
In 2017, the Evansville Business Journal included Townsend on the magazine's annual "20 Under 40" list. United Way of Southwestern Indiana also recognized her in 2017 with its Advocate Award. She has served in leadership roles with the Evansville Area Fundraising Council since 2009, and currently serves as its membership chair.