By Tim Lilley
The Message editor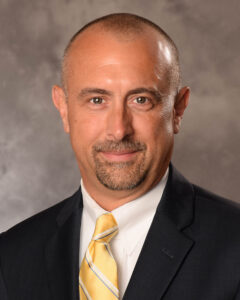 Bishop Joseph M. Siegel has appointed Diocesan Finance Officer Dean Happe to replace Tim McGuire as Chancellor/Chief Operating Office. Dean will assume his new duties May 2, and a search will begin for a new Diocesan Finance Officer.
Bishop Siegel said, "I am pleased to announce that, after a thorough search process, I have named Dean Happe our new Chancellor/Chief Operating Officer. Along with a strong faith, a deep commitm,ent to the mission of the Church and a wealth of professional expertise and experience, Dean also brings a comprehensive understanding of our parishes, diocesan offices and ministries. I believe he will make a great contribution to the work of our local Church in this position as he has as Chief Financial Officer for the past 2 ½ years.  I look forward to working with in him as Chancellor/COO.
"As Dean prepares to take on this new role, I again want to recognize and thank Tim McGuire for his dedicated work for the diocese over the past 14 years."
A member of Sts. Peter and Paul Parish in Haubstadt, Dean joined the diocesan staff in 2019 after serving on the Diocesan Finance Council (2004-2015), and as Sts. Peter and Paul Finance Chairman (1994-2017). 
Dean is an Evansville native and son of St Joseph Parish in Vanderburgh County. He attended St. Joseph School and graduated from Mater Dei High School. He earned a B.S. in Accounting from the University of Southern Indiana, is a CPA, and has attended Butler University's Executive Leadership Program and Indiana University's Kelly School of Business Leadership Development Program.  
Dean said, "I have been blessed to serve the diocese as the Diocesan Finance Officer over the last 2 ½ years, and I am humbled to now serve in this new role. I can only hope to continue the high standard Tim set during his 14 years of dedicated service. I look forward to working with the wonderful clergy of our diocese, the talented staffs of the Catholic Center and Catholic Charities, and all of the parishes and schools to help them deliver the many critical ministries to the people of our diocese."
Dean and his wife Laura, a Haubstadt native, will celebrate their 28th wedding anniversary in October. They have three children: Drew, 26, of Louisville, Kentucky, who is an actuarial analyst; Regan, 21, a Theology teacher at Roncalli High School in Indianapolis; and Wade, 20, a sophomore at Purdue University.