By Megan Erbacher
The Message assistant editor
While the church and school buildings of St. Theresa Parish are gone, Father Ted Tempel, retired priest of the Diocese of Evansville and pastor of St. Theresa from 1979 – 1993, said "our spirit lives on."
On Aug. 10, Father Ted spoke to a group of people gathered, while wearing face masks and practicing social distancing, to celebrate the blessing and groundbreaking of St. Theresa Place, a 14-home Habitat for Humanity of Evansville subdivision to be built on the city's north side in the Diamond-Stringtown neighborhood. Attendees included Diocese of Evansville Bishop Joseph M. Siegel, Mayor Lloyd Winnecke, St. Theresa Place Advisory Council members, Habitat for Humanity supporters and other community leaders.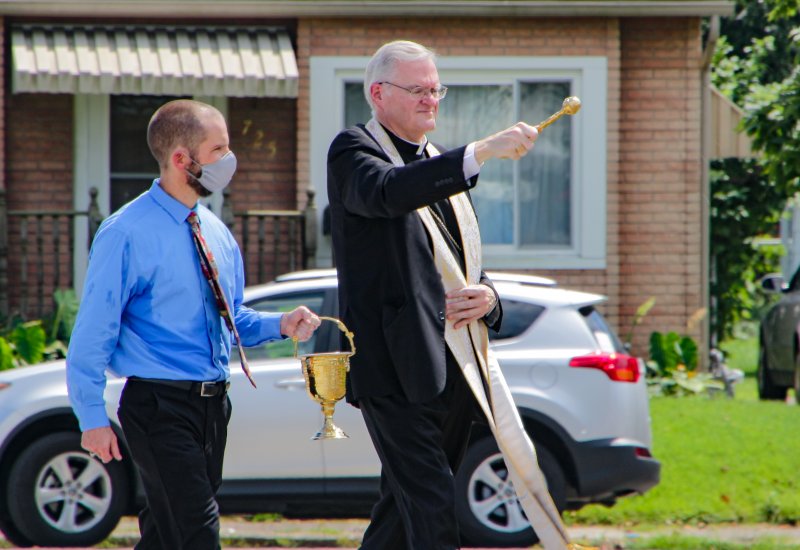 The Habitat for Humanity subdivision – a first in Evansville – will be located on the east side of the former St. Theresa Parish property site, which served generations of Catholics for 70 years. St. Theresa Place will be located adjacent to the new home of Catholic Charities of the Diocese of Evansville.
"What made St. Theresa such a vibrant parish was the people's faith," Father Ted said. "Whatever parishes you've joined now, those parishes are better because that spirit continues. The mayor always likes to say 'E is for Everyone,' and I like to say that's true, but E is for Empowering. We've been empowered to do what we did while we were here and what we continue to do."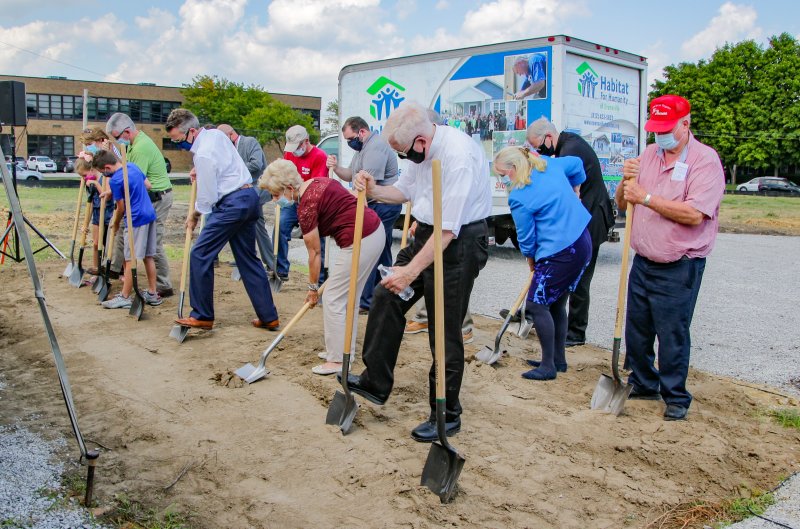 Bishop Siegel blessed the land and sprinkled it with holy water. The bishop asked for God's protection and blessing, to send his holy angels to watch over the land and all who live there, and for the safety of those who build the new homes.
Bishop Siegel prayed for God's help to bring the St. Theresa Place project, born of love, to successful completion, and that God's protection keeps those working on it and living there safe from harm.
Habitat Executive Director Beth Folz asked Bishop Siegel, Mayor Winnecke, Father Ted and other leaders to help with a ceremonial groundbreaking to turn dirt with shovels.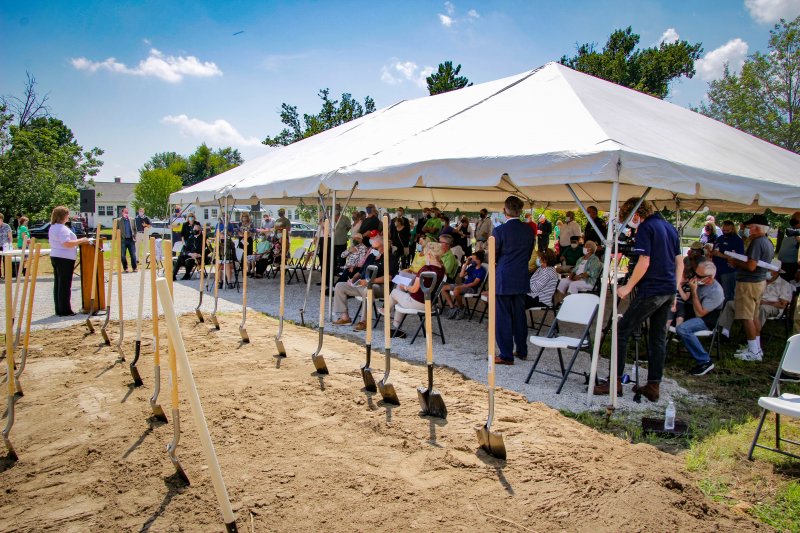 "(St. Theresa Place) is such a wonderful idea to provide hope for families like St. Theresa Parish had provided hope for families who attended worship here," Folz said.
Habitat officials said two anonymous donors stepped forward to fund the purchase of the property's east side and the costs of additional infrastructure, making it possible for Habitat to be ready to build the new subdivision.
Folz said the nonprofit has more of an impact when homes are built in concentration, with multiple new homes in close physical proximity.
"When the opportunity (came along) to build on property which is essentially holy ground, blessed by many decades of the faithful presence of a worshipping community, we were eager to pursue it," Folz said. "We had worked closely with Catholic Charities in the past, especially through their Neighbor to Neighbor and Handy Helpers programs, and look forward to even closer collaboration as we work together to help working families with skin in the game become self-sufficient."
More than $1.12 million is needed for home construction, officials said. Father Ted announced at the ceremony that more than $650,000 is in-hand or committed for the project. A gift to Habitat for Humanity from the estate of Catherine Walter Groben, a longtime Catholic donor, will also benefit the project.
Construction on the homes will begin in the next few months, with a hopeful completion of the subdivision by fall 2021.
For more information about St. Theresa Place, contact Habitat's Major Gifts Officer, Benedictine Sister Jane Michele McClure, at [email protected].