The Message editor
Benedictine Father Godfrey Mullen, Rector of St. Benedict Cathedral Parish, found it easy to describe the restoration efforts for four statues that have been in the cathedral for decades. "His work was heroic," Father Godfrey said of Chris Moran, of Trinity Church supply in Cincinnati, Ohio, who restored statues of St. Ann with a young Mary; St. Anthony of Padua; St. Jude; and the Sacred Heart of Jesus. Visitors to the cathedral and St. Benedict parishioners found them at the back left of the sanctuary, in an area that originally served as the church's baptistery.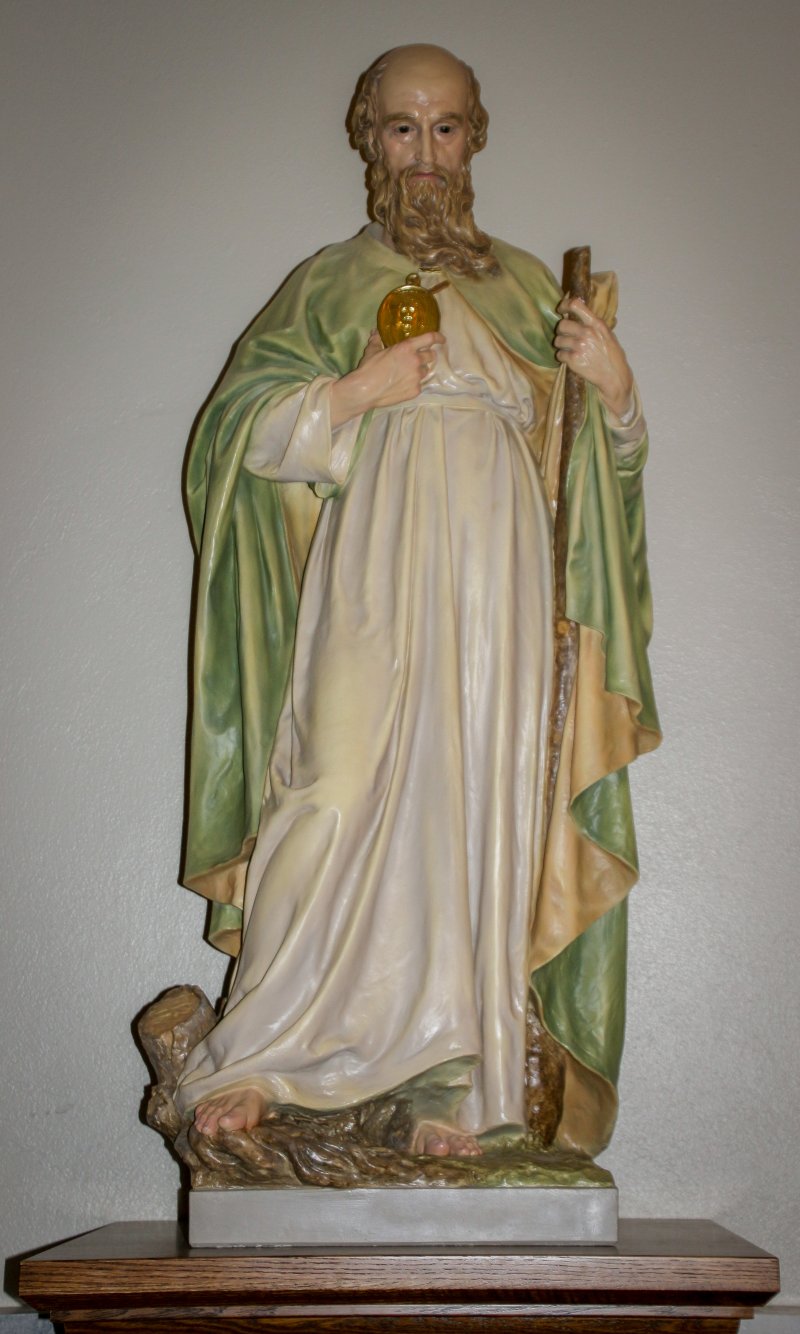 Father Godfrey connected The Message with Robert Klopp of Trinity Church Supply, who was in the Evansville area for the annual Diocese of Evansville Priest Convocation. He raved about Moran and his work.
"Chris has a degree in art, and he studied in Florence (Italy)," Klopp said. "He has his own technique, and he will never release a piece he has restored that is not perfect." Klopp said Moran generally spends eight-or-so weeks on each restoration, but this project was different. "All of these statues had to be fully stripped (of their finishes), so they represent total restoration," he explained. Each restoration took 11-12 weeks, and he worked on more than one at a time.
Moran specializes in perfecting skin tones and the shading of garments, according to Klopp, and the results are statues – now reinstalled in the cathedral – that Klopp and Father Godfrey agreed "tend toward real life." Moran even added gold leaf to portions of the St. Jude statue.
"Each statue has its devotees," Father Godfrey said, "and people are shocked by the restorations. They can't believe these are the same statues. It was very important that we honored the spiritual tradition of St. Benedict Cathedral (Parish) … that devotion to the Saints."
Visitors to the renovated cathedral also will notice new statues of Mary – to the left of the altar where the tabernacle had been – and Joseph holding the Baby Jesus – to the right of the altar where the Cathedra, or bishop's chair, had been located. They come to the cathedral from churches in the Cleveland, Ohio, area that have been closed.
"Henninger's Church Supplies worked with the Diocese of Cleveland to remove statues and other things from churches the diocese closed," Father Godfrey said, "and they restored these statues, which we were able to purchase."