The Message editor
In less than an hour, Catholic Charities of the Diocese of Evansville broke lots of news during its Nov. 14 Celebration of Hope and Thanksgiving Breakfast.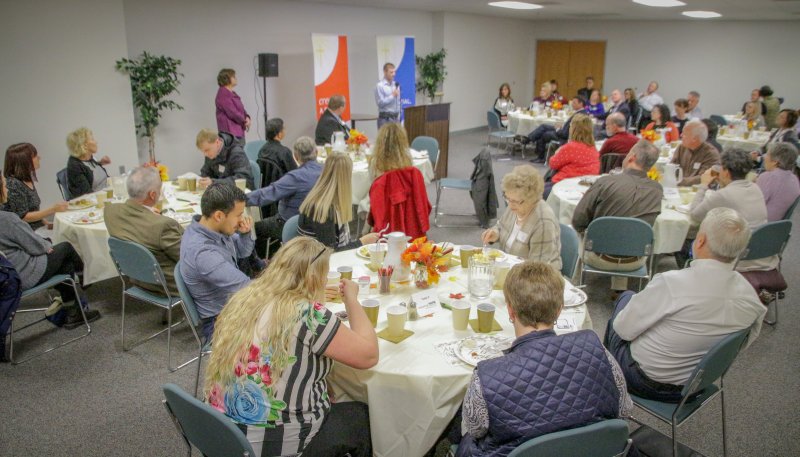 For example (spoiler – I'm saving the best for last):
Charities' new home now has an official address – 2121 Stringtown Road on Evansville's North Side.
Exterior framing of the new building is complete, and interior framing is close. When it is finished, the shell will go under roof and enable all of the inside work to continue without weather concerns.
Executive Director Sharon Burns said Charities should be in the building next summer.
Burns said all four Charities family counselors will be Licensed Clinical Social Workers by the end of next summer.
Three Handy Helpers Home Repair employees have graduated from the program, and two more will graduate next month. The average salary of full-time regular employment for the graduates is $16.43 per hour, and all have jobs that provide health insurance and retirement plans.
Finally – and best of all – Handy Helpers graduate Steven has his family back – although he might say he has his family for the very first time. "We never did family things; never really wanted to," he said, as he told a large crowd of Charities supporters who attended the breakfast about his long and rocky road to a manufacturing job that now pays him almost $18.50 an hour plus benefits.
Steven served as the event's featured speaker.
"I'm an alcoholic. My wife and I were living in a motel in Terre Haute; and after rent, every penny we got went to alcohol and cigarettes," he said. The couple had others taking care of their four children, and Steven talked about contemplating suicide and even tried some half-hearted attempts. He called them cries for help, and they ultimately led him to Stepping Stones in Evansville. His wife later decided to move down from Terre Haute.
Steven has been sober since July 20, 2018. He made it clear that his "date" marks a new beginning. He said, "I've had to learn to walk, talk, breathe, do everything with a sober mind." He called Charities' social-enterprise business, Handy Helpers Home Repair, "perfect for anyone who needs to learn how to show up for work on time, do their job and go home.
"I never heard of a program like it," he added. "I came into it with three others; not all of us made it to the end, but I'm here." HHHR includes education, training in basic life skills and the opportunity to have a regular job – all with pay. The goal is to move participants through a six-month program and into full-time employment.
Steven is proof of its value. He was able to save enough money to buy a used car, and he has ultimately added a second vehicle for his wife. "We got her a family car," he said.
He applied for a manufacturing job and got hired for the second shift at $17.47 per hour. He had a 120-day probationary period, after which he was able to bid on other jobs with the company. He got a new position in a climate-controlled location that pays him $18.48 per hour working third (overnight) shift.
While a part of Handy Helpers, Steven worked on some projects in a rental house. He was able to rent there, and he and his wife were able to bring all four of their children to Evansville. "We came together, spiritually, as a family," he said. "The third-shift job also is a blessing because it enables us to have family time every day. We turn off our phones and just spend time together as a family. And I'm a Soccer Dad now," he added with a grin.
Someone in the crowd asked Steven to talk about what the future held. "I can't say, but I know that whatever we do now, we do as a family. I used to be full of fear and everything; I'm not today." Steven received a standing ovation at the end of his comments.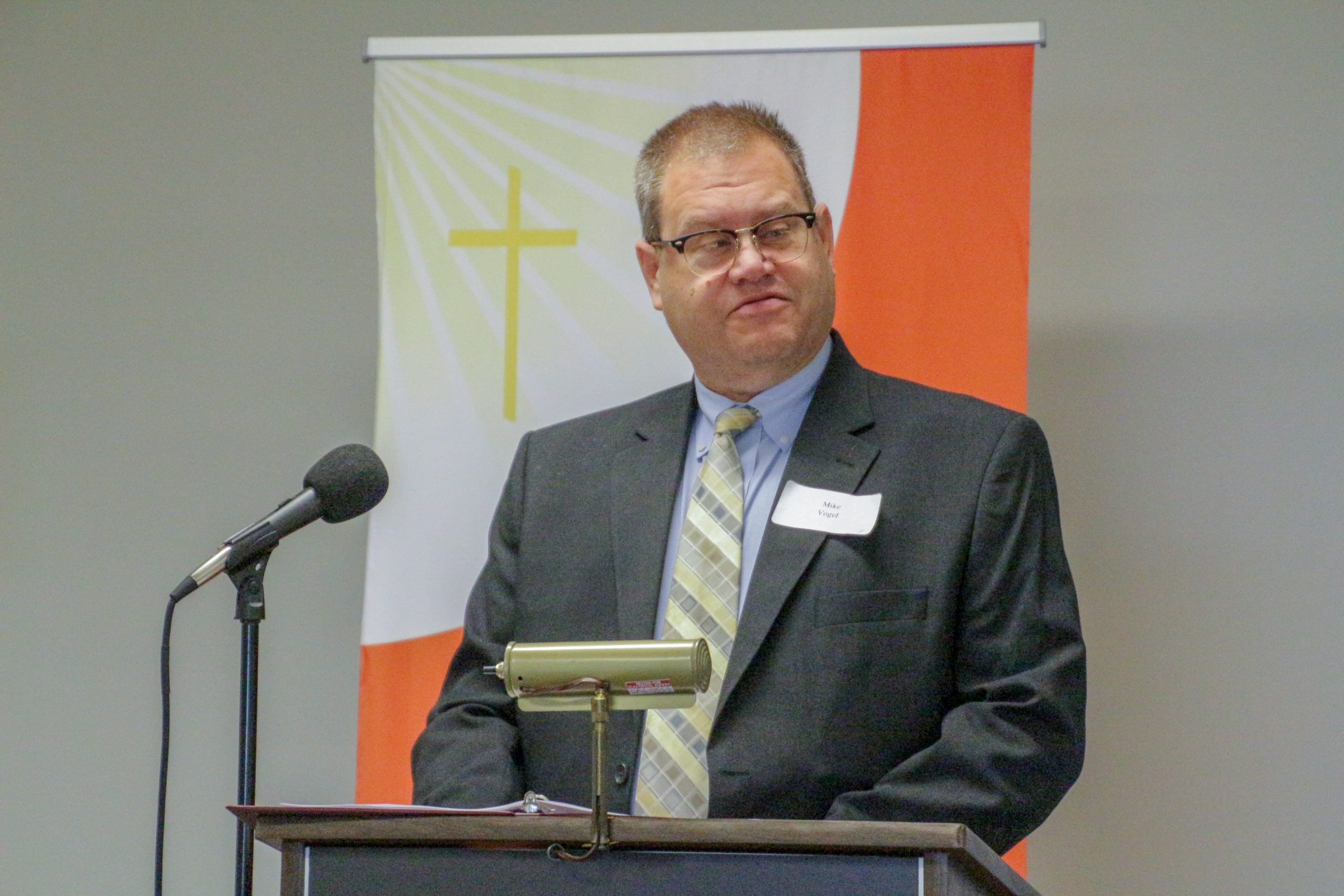 Mike Vogel, chair of Charities' board of advisors, thanked everyone who attended the celebration, and he recognized Charities' staff members for their work and dedication to its mission. Burns thanked the United Way of Southwest Indiana, the Wellborn and Vectren Foundations, and all the corporate and private supporters of Charities' programs.