By Megan Erbacher
The Message assistant editor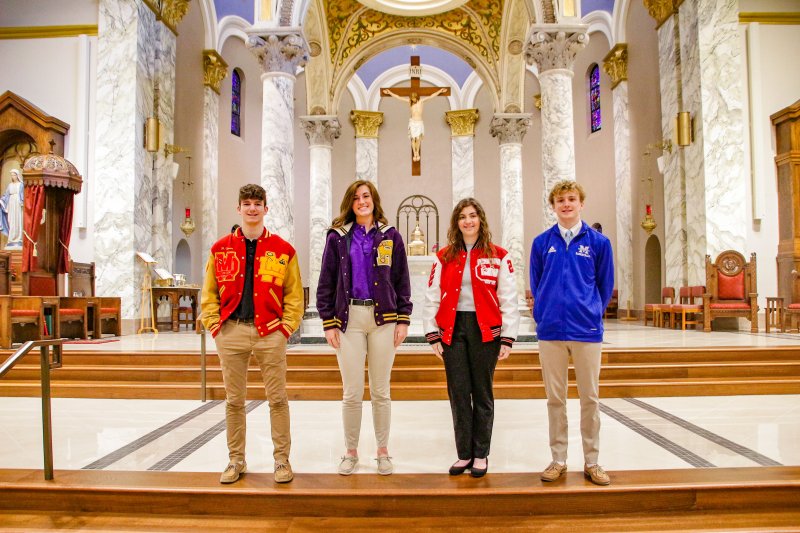 Bishop Joseph M. Siegel began the 2021 Catholic Schools Week Mass Feb. 2, also the Feast of the Presentation of the Lord, by blessing candles at the front of St. Benedict Cathedral in Evansville.
The feast, also known as Candlemas, is the day when candles are blessed for use in churches and homes.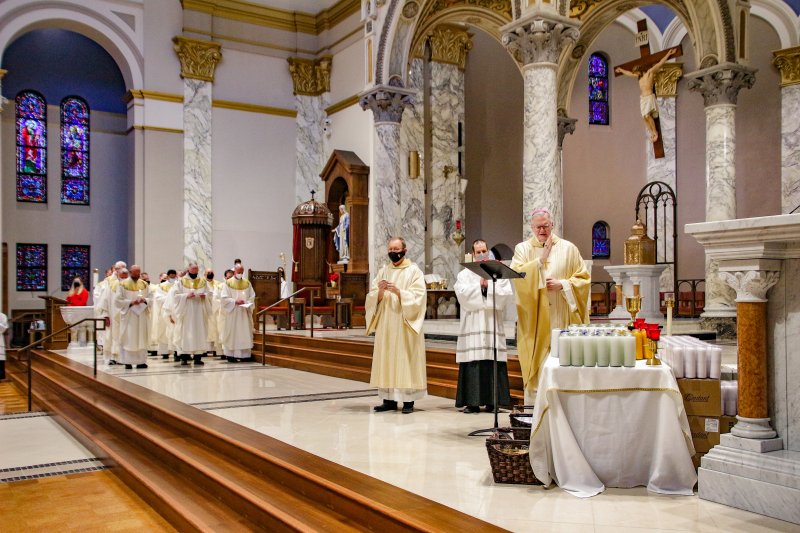 During his homily, Bishop Siegel said we celebrate Jesus as the light of revelation on the Feast of the Presentation of the Lord. The bishop said Catholic schools help keep the flame of faith, the very life of Christ, growing brighter and deeper in students. Lit candles remind us that Christ remains our source of safety, protection and hope, he said.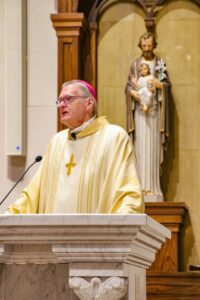 The Catholic Schools Week Mass was reimagined this year due to COVID-19. Instead of groups of students from all 26 Diocese of Evansville Catholic schools attending, one student from each school was invited to attend the Mass in person with his or her family. School administrators also attended.
Four seniors represented the Diocese of Evansville Catholic high schools: Preston Turner of Evansville Mater Dei, Andrew Helmerich of Evansville Reitz Memorial, Lauren Carie of Vincennes Rivet and Margaret Bassler of Washington Catholic.
All guests were asked to self-screen before arriving at St. Benedict, social-distancing protocols were followed and face masks were worn.
More than 16 priests of the diocese concelebrated Mass with the bishop. Mater Dei High School served as the host school for the Mass, and Mater Dei senior Preston Turner served as lector.
The Mass was also livestreamed via simulcast to the St. Benedict Cathedral Facebook page and the Diocese of Evansville YouTube channel.
The 2021Annual National Catholic Schools Week was Jan. 31 through Feb. 6. Since 1974, the goal is to celebrate Catholic education throughout the U.S. Catholic schools often host various events to promote the value of Catholic education and what it offers to kids, churches and communities.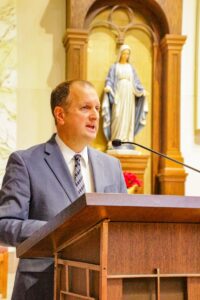 Catholic Schools Superintendent Dr. Daryl Hagan said the annual week-long celebration recognizes the value of Catholic education in developing young people so they can reach their full potential as they are formed in the faith and acquire the skills needed for the 21st century. 
In his homily, Bishop Siegel talked about the purpose and goal of Catholic schools, which is to help students encounter Christ, the light, by learning about their faith, celebrating it and sharing it. Our faith should be lived and expressed not only during school Mass, times of prayer and in religion class, he said, but in all subjects that are taught and through all school activities.
In his welcome address, Hagan offered special greetings to students, their families, administrators and livestream viewers. Hagan told families they represent the best in Catholic education.
"Our pastors and our principals have truly been on the frontline of COVID-19 since day one," Hagan said. "And I can attest they have done an outstanding job. Catholic schools started in the buildings and on time, and (we) are one of the few that can say that. We were able to do that because of the hardworking pastors and the hardworking principals and presidents who have worked so hard to keep your children safe."
Hagan offered thanks to parents for screening their children to ensure they go to school without symptoms.
"Catholic schools know how to lead," he said. "And this is one example of many. Again, at Catholic schools we educate, we inspire and we proclaim."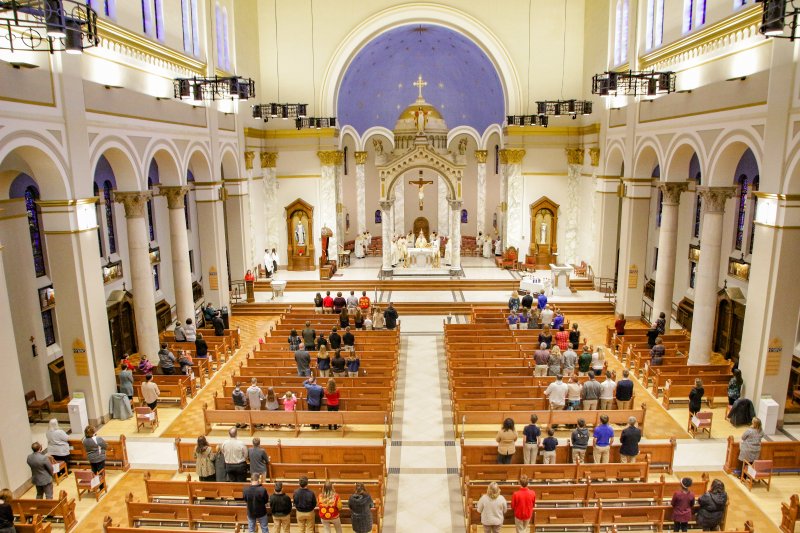 To rewatch or watch the Catholic Schools Week Mass, visit St. Benedict Cathedral's Facebook page, facebook.com/saintbenedictcathedral/, or the Diocese of Evansville YouTube Channel at youtube.com/c/CatholicDioceseofEvansvilleIndiana.