The Message assistant editor
After struggling with bad credit, Danielle B. never believed homeownership would be possible for her and her family. That changed when she noticed Habitat for Humanity of Evansville homes popping up in her neighborhood; and then she met the late Susan Weis.
On Feb. 19, Danielle and her daughter bowed their heads as Benedictine Sister Jane Michele McClure dedicated and prayed over each room in the family's new Habitat home. The house, located in the 1700 block of South Garvin Street, is Habitat's 2020 Catholic Build.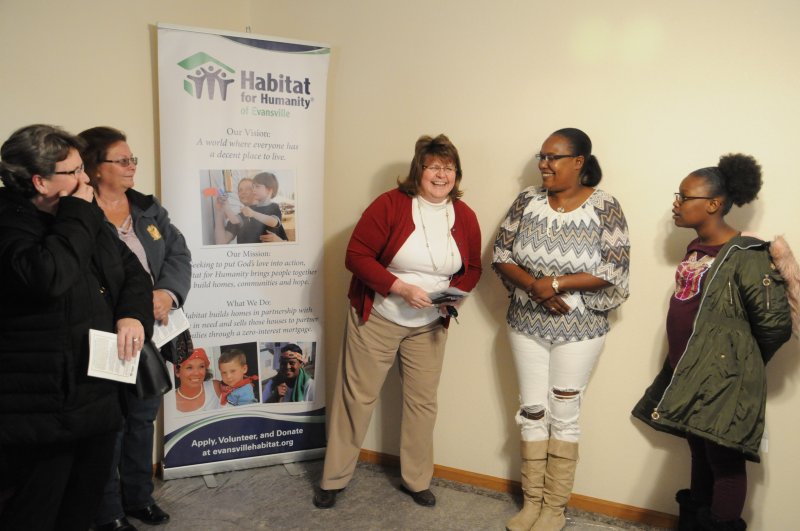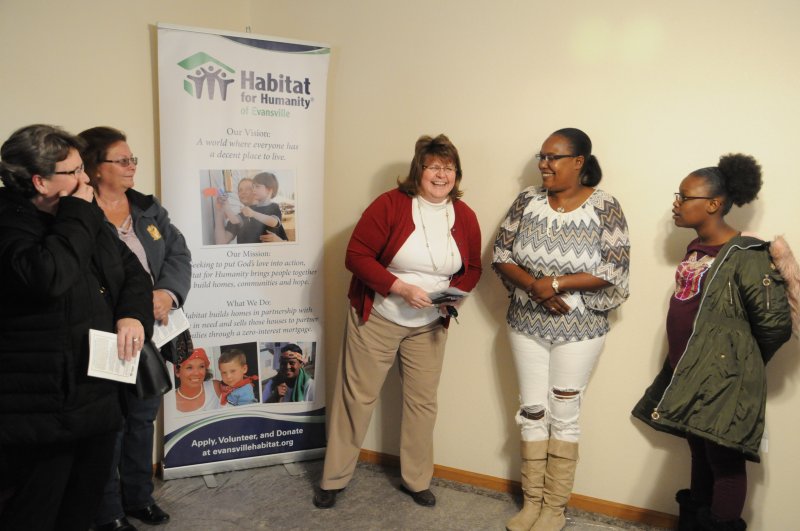 The house was built and dedicated in memory of Weis, a former Habitat employee and chair of Catholics for Habitat from 2010-2016. Weis, 47, lost her battle with cancer in December 2019.
"First, I would like to say that none of this would be possible for this beautiful home and all of this coming together if it wasn't for Mrs. Susan Weis," Danielle said. "She started this all for me. She gave me a chance. Not only did she give me a chance, she encouraged me to keep going. All of this started because of her. So I wanted to take a moment of silence for her."
The house overflowed with people, including Susan's husband of 25 years, David Weis, and their four children: Andrew, Aaron, Anna and Adeline.
For the last 34 years, Catholics from the Diocese of Evansville have supported Habitat for Humanity of Evansville. Catholics for Habitat was later formed around 2005, and since then the group has raised sponsorship funds for, and recruited volunteers to help build, homes. Danielle's home marks the 14th house sponsored by Catholics for Habitat.
Danielle and her children have been living in a house with a leaky roof and expensive rent. Soon, she will live in the Habitat home with her two children, Terry, 19, and K'Mya, 10.
"This home means that I can start a new legacy for my kids," Danielle said. "Everything starts at home, and those memories are what (are) going to last forever."
When Danielle applied for Habitat she didn't expect to qualify, and she was surprised to learn how affordable the house would be.
"I'll be able to pay this home off before I retire," she said.
Habitat Evansville Executive Director Beth Folz choked back tears as she said Danielle's home is a "wonderful way to honor Susan's memory." Folz described Danielle as tenacious.
"Danielle has clung to the idea of being a homeowner for a while now," Folz said. "It's not easy to become a Habitat homeowner, and boy has she attacked it with all the vigor that she could muster."
Founded in 1984, Habitat of Evansville builds affordable housing with families who purchase the home after volunteering 300 or more hours — known as "sweat equity" — on their house and other local builds. Danielle's house is the 518th Habitat home built in Evansville and Posey County.
Danielle currently works at Pittsburgh Glassworks. In her free time, she enjoys cooking for her family.
"My whole family was raised in one house, and there are so many memories tied to that house; and that's what bonds families. This home will be in my family for generations, and my children will always have a safe and stable place to return," Danielle said. "This gives me so much hope for the future."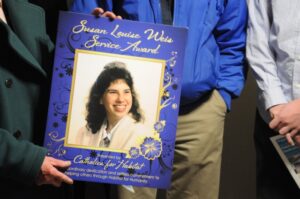 Honoring a longtime, faithful employee and friend
Susan Weis helped more than 100 families become homeowners while she worked as Habitat's Mortgage Administrative Specialist, and she served even more families as a member of the Family Selection Committee.
Sister Jane Michele asked Susan's family to come forward as she announced the Susan Louise Weis Service Award, presented by Catholics for Habitat, for "extraordinary dedication and selfless commitment to helping others through Habitat for humanity."
"Next year and every Catholic Build here on out we will give this award to an individual and make sure their name lives on through Susan," Sister Jane Michele said.
David Weis thanked everyone, and said the award is an honor to his wife, who is "missed every day."