The Message editor
Three amazing numbers surfaced on Dec. 19, 2019, at St. Clement Parish in Boonville:
Deacon Thomas Lambert of St. Clement Parish is the common thread:
He founded the Warrick Ecumenical Soup Kitchen 25 years ago, in November 1994
He has devoted roughly 8,000 hours of service to WESK
The soup kitchen has served approximately 102,000 meals during that time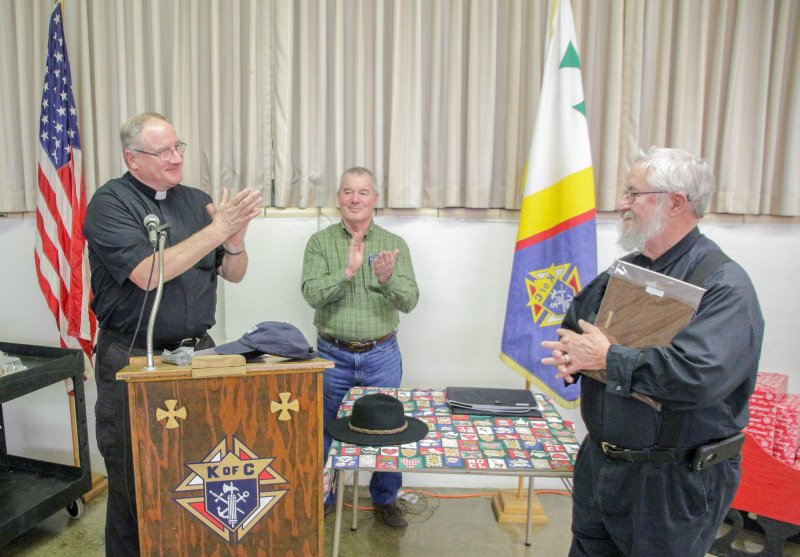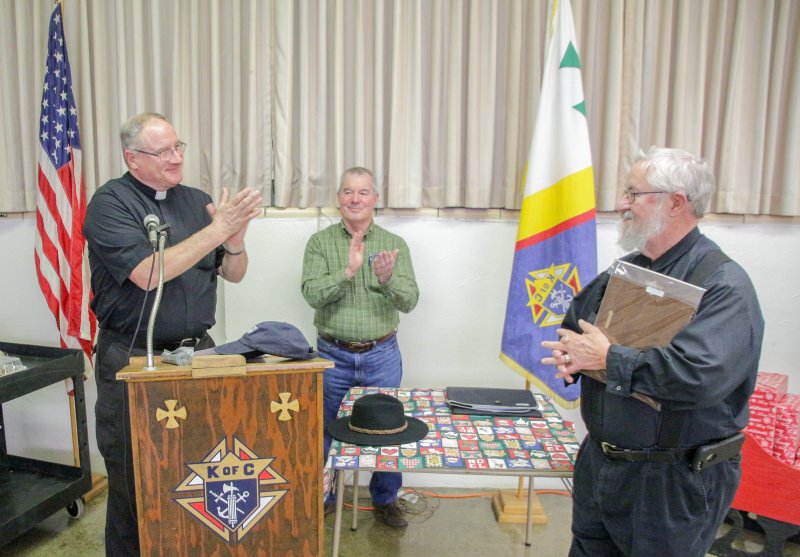 "We thank God for Deacon Tom," said Father Jack Durchholz, pastor of St. Clement Parish, adding that Lambert had listened to God's call in 1994 and responded to it. Father Durchholz and St. Clement parishioner Dennis McVey, a Knight of Columbus, led the brief ceremony honoring Deacon Lambert, which occurred just before the soup kitchen's Christmas celebration. The deacon is stepping down from his leadership role to spend more time with his family and move into "semi-retirement."
They also recognized and thanked Deacon Lambert's wife, Phyllis, for supporting her husband and his work with the soup kitchen and the parish.
Before reading the inscription on a plaque he and Father Durchholz presented to Lambert in recognition of his service, McVey read John 21: 15-17, in which the risen Jesus asks Peter three times, "do you love me?" When Peter answers yes three times, Jesus concludes, "feed my sheep" (John 21:17).
City of Boonville Clerk-Treasurer Tammy Boruff attended and read a proclamation from Mayor Charles R. Wyatt that declared Dec. 19, 2019, Deacon Thomas Lambert Day in Boonville. The document recognized Lambert for "25 years of selfless service." "For 25 years, the soup kitchen has provided such a great benefit to our city," Boruff said. "We are grateful to Deacon Tom for his service."
Diocese of Evansville Director of Family and Life Eric Girten represented Bishop Joseph M. Siegel at the celebration. The bishop's schedule prevented him from attending.
McVey recalled that Deacon Lambert founded WESK in November 1994 and registered it with the state of Indiana. He enlisted the aid of four other local churches in the effort. Today, more than a dozen churches and other organizations share the workload through 16 teams that rotate. WESK provides meals on Thursdays, taking only one week off through the year.
Over the years, the effort has expanded to include food and clothing giveaways, the provision of box lunches and limited transportation services.
"I want to thank all of you coming. This is a wonderful celebration with all of you here," Deacon Lambert said just before cutting an anniversary cake created for the celebration. "I have gotten a lot of credit this evening, but I did not do this by myself. I had the help of many, many people along the way. I feel very blessed and humbled."