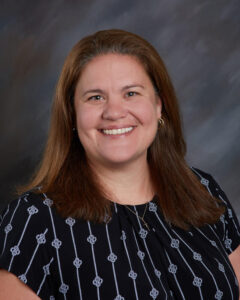 By Jenny Koch
CONNECTING FAITH AND LIFE
It's been a few years since the rumors started about a new "Jesus film" that was catching the attention of the media. Gradually, my Facebook feed started giving me hints that I should check out The Chosen.
I still waited, thinking, "I've seen them all. I've heard the story before. It can't possibly be that different." I had every excuse to ignore the nudges. Then, I jumped in and binge-watched four episodes. I was hooked, and I want to help you understand how this series can help us share our faith and enrich our prayer lives.
In a recent classroom discussion about the Acts of the Apostles, one of my students raised their hand and asked me, "When are we going to watch The Chosen again?"  The day before, as we were discussing what Jesus told the followers of John the Baptist when they approached Him with tough questions, another student asked me – "Did you watch that episode of The Chosen!?"
It's attracting the attention of young people? The same young people who are natural skeptics and have a bad reputation for being addicted to their phones? Yes; they are enjoying the Jesus story.
It's one of the largest crowd-funded projects ever, and Jonathan Roumie – a devout Catholic who recently spoke at the March for Life – does a great job of attracting new viewers. Formed (www.formed.org) provides Catholic commentaries on the episodes, and the director, Dallas Jenkins, recently met with Pope Francis. I'm simply amazed at what The Chosen has accomplished, and it's a good way to get people thinking and talking about Jesus.
This is never an easy task. Sharing our faith intimidates us; it is a delicate issue. Peter Kreeft wrote about this in a book called "Jesus – Shock," in which he asks "Why is Jesus the most controversial and the most embarrassing name in the world?"
I definitely don't have the answers, but I was recently reminded that the word for pedagogy – the science of teaching – actually comes from a Greek word that means to accompany, to supervise. It is a relationship, not a process. Evangelization is the same way. What The Chosen offers is a way to accompany, perhaps sit with others, and enjoy the story together. What a beautiful model of education.
St. Ignatius of Loyola wrote the Spiritual Exercises 500 years ago. This collection of meditations and prayers definitely moves us towards discovering how God is working in our lives. After watching The Chosen, I remind students that their viewing should help them with contemplative, imaginative prayer. We should try to imagine how it felt to be at the Sermon on the Mount or picture Lazarus walking out of the tomb. The Chosen helps us imagine ourselves in the story, pulling us into the life of Christ.
And when we are pulled closer to Him, we are led to the Sacraments. Scott Hahn says it well: "In prayer we lift ourselves up to God. In the Sacraments, he comes down to us."
In contemplating the Gospels, written thousands of years ago, we must remember that we are not living in the prologue. Christ is present in the Sacraments, and we should anticipate meeting Him.
No, I don't think we should run into Mass with popcorn and candy, anticipating a moving, emotional movie scene. But the same Jesus who is changing hearts through a crowd-funded app is available to us at Mass and in the sacraments. If we can get people talking – and watching – maybe we can also accompany them back to the sacraments where Jesus is present.
Mass comes from the word mission. We all have work to do; perhaps we know a student to accompany as they move a little closer to Christ.
Evangelization is not easy. Praying with scripture is not always easy.  If you read this with a restless heart – perhaps wondering how to share your faith – maybe this is your nudge.
Jenny Koch is a theology teacher and local publisher at Decided Excellence Catholic Media. Her family attends Corpus Christi Parish.