Special to The Message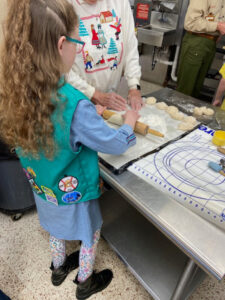 Youngsters ages 7-10 who are members of several Cub Scout Packs and Girl Scout Brownie Units attended the Feb. 16 Faith Day at Evansville's Good Shepherd Parish. Scout Faith Days are annual events sponsored by the Diocesan Catholic Committee in Scouting.  The Faith Day is open to Scout Units and all youth organizations sponsored by Catholic organizations – and all are welcome.  Units participating this year included Pack 362 of Good Shepherd Parish, Pack 312 of Holy Rosary Parish in Evansville, Pack 410 and Girl Scout Troop 320 of Washington, Pack 330 of St. John the Baptist Parish in Newburgh and Pack 182 of St. Joseph Parish in Jasper.
This year's Faith Day theme was "I am the Bread of Life."  Participants received three short reflections on the theme, then participated in activities that highlighted each reflection. The activities included a bread-spoon race, a blindfold guided spiritual walk and a prayer scramble.  They also made unleavened bread.  
Attendees enjoyed the bread and sang "Jesus loves the Little Children." There was also time allotted for prayer and personal reflection.