By Tim Lilley
The Message editor
More than three dozen law enforcement officers and other first responders joined family members and faithful from across the Diocese for the annual Blue Mass, hosted Sept. 24 by Good Shepherd Parish in Evansville. Bishop Joseph M. Siegel celebrated the Mass. Concelebrants included Good Shepherd Pastor  Father Zach Etienne; Father Luke Hassler, parochial vicar of Holy Cross Parish in Fort Branch, and St. James and Sts. Peter & Paul Parishes in Haubstadt; and retired priests of the Diocese of Evansville Father Bernie Lutz and Father Joseph Ziliak.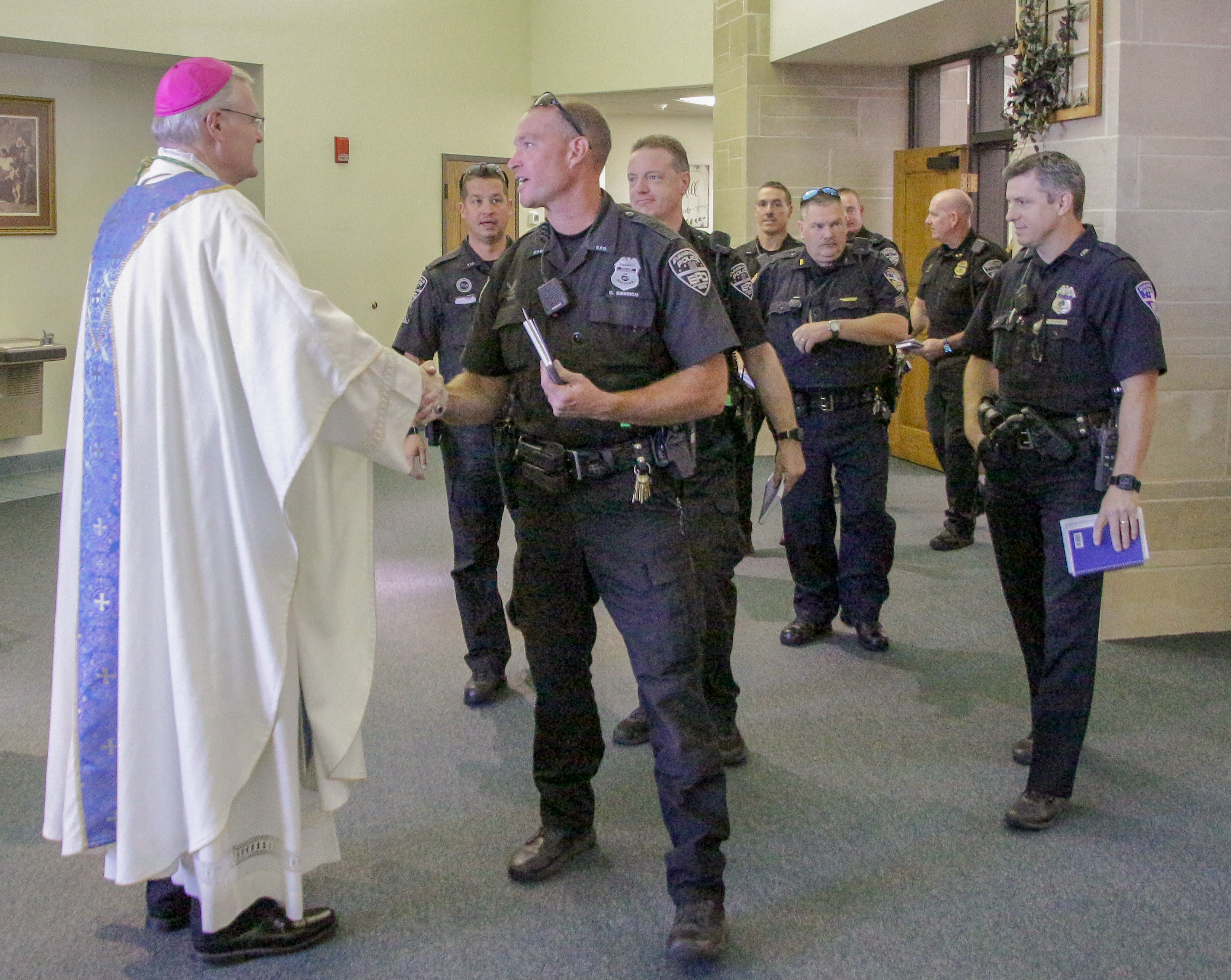 Students from Good Shepherd School also attended the Mass. Students served as readers, and others sang in the choir for the Mass.
In his homily, Bishop Siegel explained that the Blue Mass traditionally is celebrated on or around the Sept. 29 Feast of St. Michael the Archangel, patron of police officers, firefighters and paramedics. He called St. Michael "the great protector of heaven and earth."
The bishop thanked all first responders for their service, noting that when we serve anyone in need, we are "serving the Lord Jesus himself." He assured them of prayers that God would protect and bless them, and give them wisdom. He also assured them of prayers for their families, and for all their brothers and sisters who gave their lives in service to others.
Bishop Siegel added, "May St. Michael and all the angels surround you and protect you. May God bless you and be with you always."
About the Blue Mass
This is the third year in recent history that the Diocese of Evansville has celebrated a Blue Mass. In the U.S., the Blue Mass tradition began in 1934 when Father Thomas Dade of the Archdiocese of Baltimore formed the Catholic Police and Fireman's Society. He celebrated the first Blue Mass for police officers and firemen that year. The color blue honors the blue uniforms traditionally and predominantly used by these services.