By Tim Lilley
The Message editor
The Diocese of Evansville's 26 Catholic schools, which are located in eight of the diocese's 12 counties, are set to begin classes with opening days between Aug. 5 and Aug. 13. The full schedule appears below.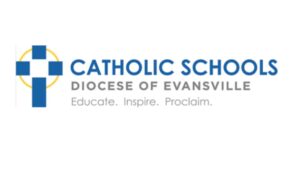 In June, Bishop Joseph M. Siegel and Superintendent of Catholic Schools Dr. Daryl Hagan released, Creating a Path Forward: Catholic Schools' Considerations for Learning and Safe Schools. The plan noted that the conditions, medical landscape and growing body of knowledge surrounding COVID-19 would continue to evolve. 
Dr. Hagan said July 21 that Catholic schools continue preparations to welcome students back to classes while employing every measure available to ensure the safe return of students, faculty and staff members.
He added, "We continue to collaborate with county health departments, school advisory councils, pastors, administrators, and our dedicated faculty and staff."   
The Catholic Education Office has produced FAQs regarding the start of the new school year. They are included.
Following are the first days of classes for the 26 diocesan Catholic schools.
Wednesday, Aug.5
Corpus Christi, Evansville
Holy Redeemer, Evansville
St. Joseph, Vanderburgh County
St. Philip, Posey County
St. Wendel, St. Wendel
Mater Dei High School, Evansville (freshmen and sophomores only)
Thursday, Aug. 6
Mater Dei High School, Evansville (juniors and seniors only)
Reitz Memorial High School, Evansville
Annunciation at Christ the King Campus, Evansville
Annunciation at Holy Spirit Campus
Good Shepherd Catholic School, Evansville
Holy Rosary, Evansville
St. Benedict Cathedral, Evansville
Westside Catholic, Evansville
Resurrection, Evansville
Friday, Aug. 7
St. Joseph, Princeton
St. Matthew, Mount Vernon
Monday, Aug.10
St. James, Haubstadt
Tuesday, Aug. 11
St. John the Baptist, Newburgh
Washington Catholic Schools, Washington
Wednesday, Aug. 12
Holy Trinity Catholic School, Dubois County
St. Bernard School, Rockport
Thursday, Aug. 13
Flaget Elementary School, Vincennes
Rivet Middle/High School, Vincennes
Holy Cross School, Fort Branch
Saints Peter and Paul School, Haubstadt