By Megan Erbacher
The Message assistant editor
The annual Back-to-School gathering for Diocese of Evansville administrators and teachers looked different this year, but the goal was the same: to come together to celebrate educators and kick-off a new school year.
About 500 Catholic educators from all 26 diocesan schools convened virtually Aug. 3 for the yearly event. In past years, educators met in-person for fellowship and to celebrate Mass, but the COVID-19 pandemic prevented that this year. In order to practice safe social-distancing and to protect the health of everyone, the Catholic Education Office hosted a virtual event.
Superintendent of Catholic Schools Dr. Daryl Hagan welcomed everyone and said he is looking forward to continuing the important mission of Catholic education in the diocese. Hagan said the three-fold mission of Catholic schools is to: proclaim the Gospel, build community and serve our brothers and sisters.
"Catholic schools have a genuine community of faith, and I was pleased to continue our annual tradition (virtually) of celebrating teachers and their vocation," Hagan said. "While we were not gathered at the same location, the communal spirit and collective excitement for the new year was evident."
Reitz Memorial High School Campus Minister Joe Paul Hayden provided an opening prayer for the event.
After the prayer, Hagan invited new teachers and new administrators for the 2020-2021 school year to stand for recognition. He told all educators to never "doubt for a second that you belong here." 
The 2020-2021 diocesan school theme is "You Belong Here."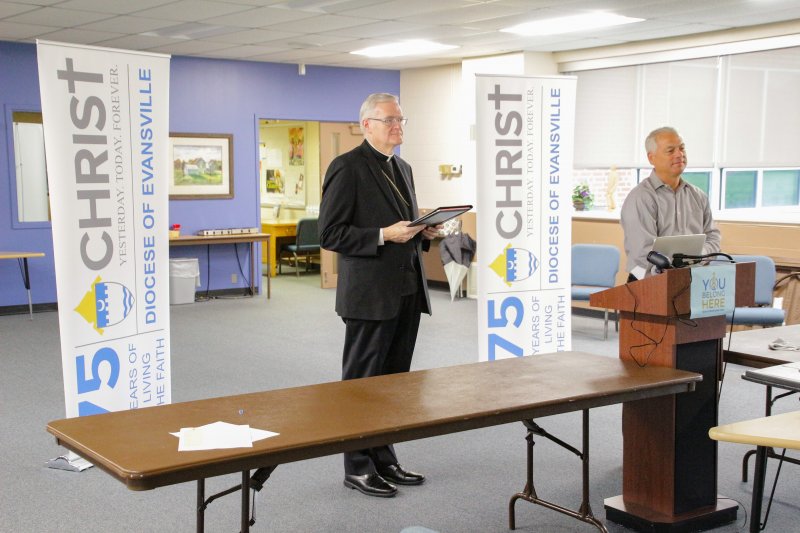 To carry on the tradition of a school rollcall, Bishop Joseph M. Siegel and Diocesan Chancellor and Chief Operating Officer Tim McGuire announced the schools. As each school was called, educators cheered loudly to show their school spirit and excitement for the new year. 
Those present at the Catholic Center acted as judges and chose the school that showed the most spirit. The winning school, Reitz Memorial High School, will receive a free lunch.
Bishop Siegel also offered his blessings on the new school year. The bishop thanked all educators for their extraordinary efforts during these unprecedented days, and for their extra time, effort and creativity to ensure a high level of consistency in the quality of a Catholic education.
Bishop Siegel said a new school year is characterized by hope; a hope rooted in Jesus Christ. He said this year is no different as educators, administrators and staff prepare to welcome back students and remind them they certainly do belong in diocesan catholic schools.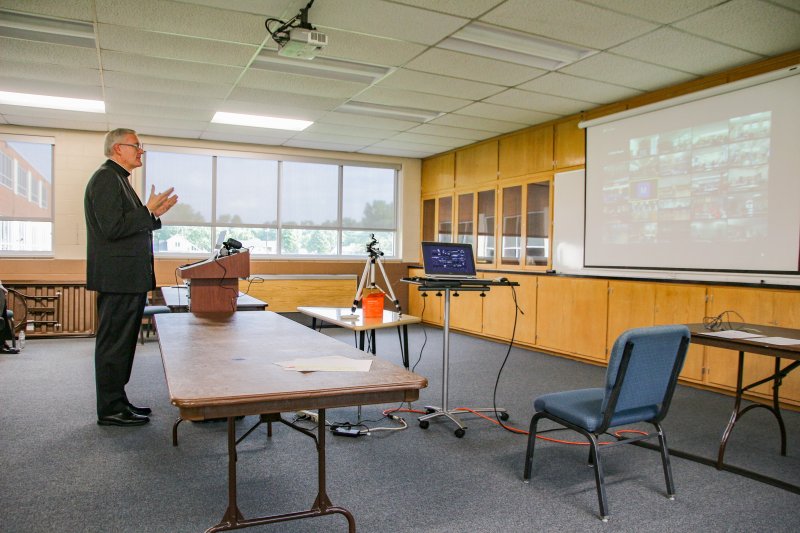 In the days ahead, Bishop Siegel advised that educators always look to Jesus, whose love, mercy and grace are the same yesterday, today and forever.
Diocesan Schools Assistant Superintendent Michelle Priar thanked all educators for their dedication and commitment to Catholic education. 
Priar also announced service award recipients and retirees. More than 35 teachers and administrators are featured in this issue.
Following the virtual kick-off, 17 Catholic schools had their first day of instruction this week, while the remainder of Catholic schools will return to the classroom next week. Catholic schools continue preparations to welcome students back to classes while employing every measure available to ensure the safe return of students, faculty and staff members.