Special to The Message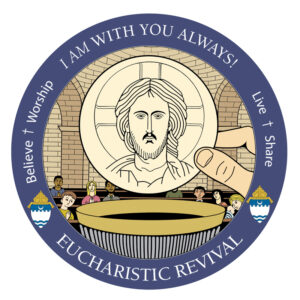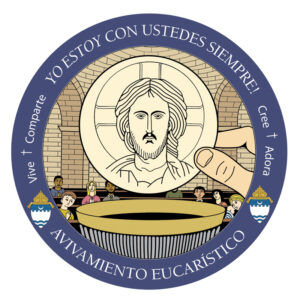 The Diocese of Evansville will host a Eucharistic Congress Jan. 13, 2024, at the Old National Events Plaza in downtown Evansville. The congress will provide an opportunity to grow deeper in our love, knowledge and appreciation of our Lord Jesus Christ and share in His life with us in the Eucharist. The Eucharist is not a what, but a Who: the true Body, Blood, Soul and Divinity of Jesus. This is a time of reawakening to the greatness of God and his merciful grace to us.
The Bishops of the United States have called for this revival already providing the graces for us to be renewed. It is like Jesus standing at the entrance of our personal tomb and crying for us to "Come out!". We can either rise like Lazarus and receive what Jesus is offering us or we can remain bound in our own comforts. 
A Eucharistic Congress seeks to draw the local body of Christ together for worship, adoration, education, service, joy and, especially, mission. We are called to share the good news, and this Congress could be the beginning of a new age of mission in the Diocese of Evansville.  
Organizers want this Eucharistic Congress to have representation from every parish, school, order and third order, campus ministry, service organization and Catholic lay ecclesial movement in the Diocese of Evansville. All are invited to attend and participate for their own spiritual renewal, then return home to share the story of what the Lord has done in this Congress in their parishes. The more people who do this, the broader the revival will be. 
Featured during the Congress will be:
Bishop Joseph M. Siegel - Bishop Siegel will serve as the main celebrant and homilist for the closing Mass of the Eucharistic Congress. 
Father Tyler Tenbarge – Father Tyler Tenbarge will serve as Master of Ceremonies for the Eucharistic Congress. Father Tyler serves as Director of Vocations for the Diocese of Evansville, Director of the Propaedeutic Program, and  Chaplain and Director of the Father Deydier House in Evansville.
Dr. Edward Sri - Dr. Edward Sri is a theologian, author and well-known speaker who presents to tens of thousands of people around the world each year. His contributions on FORMED are highly acclaimed and have been instrumental in the deepening of the faith for innumerable Catholics. 
He is the presenter of several faith formation programs used by thousands of parishes, including the celebrated film series "Symbolon: The Catholic Faith Explained." With Curtis Martin, he is a co-founder of the Fellowship of Catholic University Students. 
Dr. Andrew and Sarah Swafford - Dr. Andrew and Sarah Swafford are international speakers on the moral and spiritual life, Sacred Scripture, relationships and the Catholic Faith. They are the authors of "Gift and Grit: How Heroic Virtue Can Change Your Life and Relationships," and cohosts of Ascension's "What We Believe: The Beauty of the Catholic Faith," filmed in Rome. Sarah is the author of "Emotional Virtue: A Guide to Drama-free Relationships," and cohost of EWTN's "At the Heart of Relationships." She is also a contributor to Ascension's "Chosen." Andrew is Professor of Theology at Benedictine College. His books include "What We Believe: The Beauty of the Catholic Faith," and "A Catholic Guide to the Old Testament." He is also general editor and contributor to Ascension's "Great Adventure Catholic Bible" and host of Ascension's "Bible studies on Romans and Hebrews." Andrew and Sarah live in Atchison, Kansas, with their six children: Thomas, Fulton, Cate, Kolbe, John Paul, and Avila.
Monsignor James Shea – Msgr. Shea is a National Eucharistic preacher who has been commissioned to ignite the flame of Eucharistic faith and devotion in the United States through kerygmatic Eucharistic preaching. Msgr. Shea is helping to prepare our country for the National Eucharistic Revival by guiding hearts to individual conversion. The oldest of eight children, Msgr. Shea grew up on a dairy farm near Hazelton, North Dakota, just 38 miles from the University of Mary where he now serves as president. Monsignor Shea has worked with Mother Teresa's Missionaries of Charity at the Gift of Peace AIDS Hospice in Washington, D.C.
John Michael Talbot - John Michael Talbot is a multi-platinum, Grammy / Dove award-winning Contemporary Catholic Christian Music pioneer. His music has been the soundtrack to the faith journey of millions of believers throughout the world! He has recorded his 57th album, "Songs From Solitude," during his time of isolation during the COVID-19 pandemic and in 2023 released "Adoration," a collection of previously released compositions perfect for the Church's Eucharistic Revival and personal reflection.
Also a bestselling author, John Michael published his 37th book, "The Lord's Supper: A Eucharistic Revival," earlier this year.

John Michael lives and leads the monastic life at Little Portion Hermitage in Arkansas, where he is the Founder and General Minister of the Catholic-based community The Brothers and Sisters of Charity.
PJ Anderson – PJ, an Indiana native, has led thousands in worship at events worldwide, most recently at World Youth Day in Lisbon, Portugal, after Pope Francis led 800,000 pilgrims in the Way of the Cross. He has led worship at World Youth Day in Krakow, Poland, and Panama City, Panama; and the Mass for Life in Washington, D.C. PJ has spent many summers serving with Catholic Heart Work Camp, offering his musical talents and serving as a musician and director, giving students meaningful opportunities to serve and minister in cities across the U.S. and abroad. Amidst these opportunities, the recent years have been a time of immense growth for PJ as a worship artist and storyteller.
Admission to the Diocese of Evansville Eucharistic Congress is $40 per person, and there will be limited reserved seating on a first-come-first-serve basis. Tickets will go on sale Sept. 22 through Ticketmaster. You may purchase a boxed lunch for $15 through Ticketmaster, bring your own lunch or purchase food from Old National Events Plaza vendors. 
For more information or to purchase your ticket please visit the Eucharistic Congress website at www.eucharisticcongressevdio.org. 
Event-sponsorship organizers are John Clark, J. P. Engelbrecht, Jeff Happe, G. Michael Schopmeyer and Tom Shetler. If you would like to be a sponsor for this event, please check out the sponsorship opportunities on the website.