By Deacon Charles Johnson
Special to The Message
Editor's note: Following the devastating tornado outbreak that ravaged hundreds of miles – including Western Kentucky – Catholics across the Diocese of Evansville and the region responded swiftly with support for those affected. This is one story of how our Catholic community responded, and we are grateful to Deacon Charles Johnson of Divine Mercy Parish for sharing it.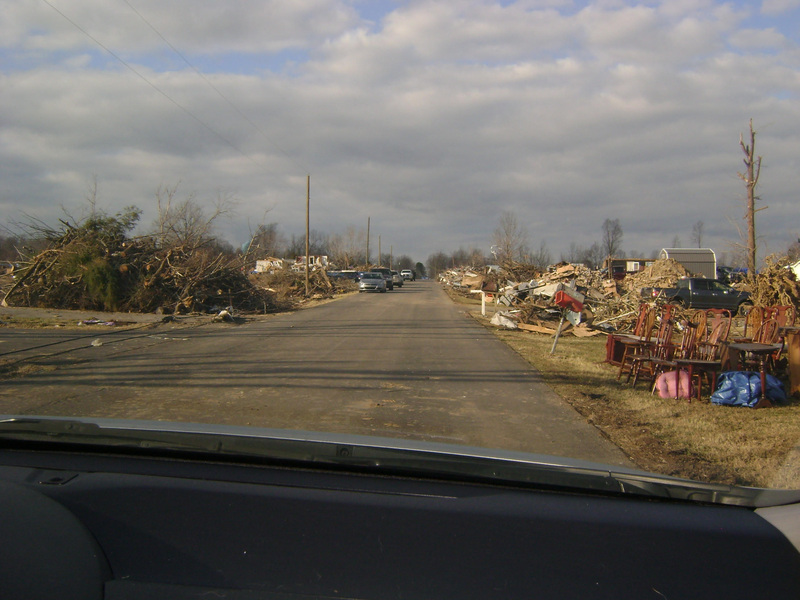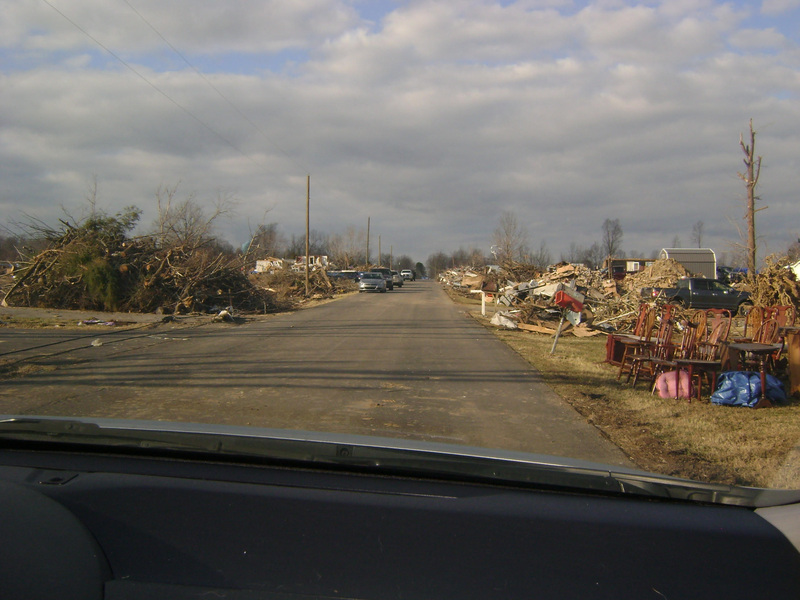 On Dec. 13, after having heard of the destruction in Western Kentucky from the tornados, I contacted Deacon Jay VanHoosier, a deacon classmate of mine assigned to St. John the Baptist Parish in Newburgh, who also works for the diocese of Owensboro, to find out how bad things were. He informed me that Resurrection Parish in Dawson Springs was a total loss, and about 75% of the town was destroyed.
When I informed (Divine Mercy Parish Administrator) Father Jose Thomas and parish administrative assistant Janie Kempf, they agreed that we should take up a collection to help out the parish. They contacted Catholic Charities of the Diocese of Evansville to see if we could make the donation directly to Resurrection Parish and were encouraged do so.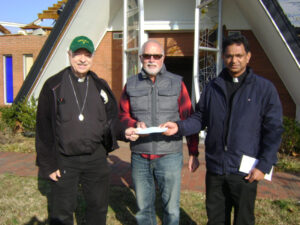 We made plans to have special collections at all the Masses at Divine Mercy Parish on the weekend of Dec. 189-19. On Dec.16, we sent out a Group Cast telephone message to all parishioners informing them of the special collections.
Up until the Dec. 18 Vigil Mass, we had not made any contacts directly with Resurrection Parish. As I entered Saint Anthony of Padua Church for Mass that evening, one of our music ministers asked me about the special collection and about whom I knew at Resurrection Parish. I told him that I knew no one there and hadn't reached anyone yet. He informed me that his brother-in-law was a deacon at a parish in Owensboro and was good friends with the deacon at Resurrection Parish in Dawson Springs. 
The following Monday (Dec. 20), I called the deacon in Owensboro, who gave me the phone number for Deacon Mike Marsili of Resurrection Parish. Deacon Mike gave me the phone number for the pastor, Father David Kennedy. I spoke with Father David and made arrangements to deliver a check to them in Dawson Springs on Dec. 23.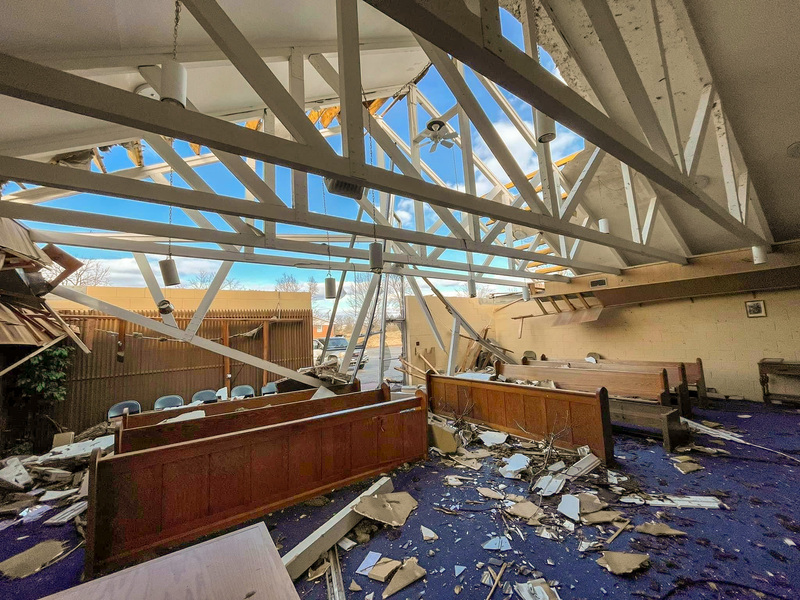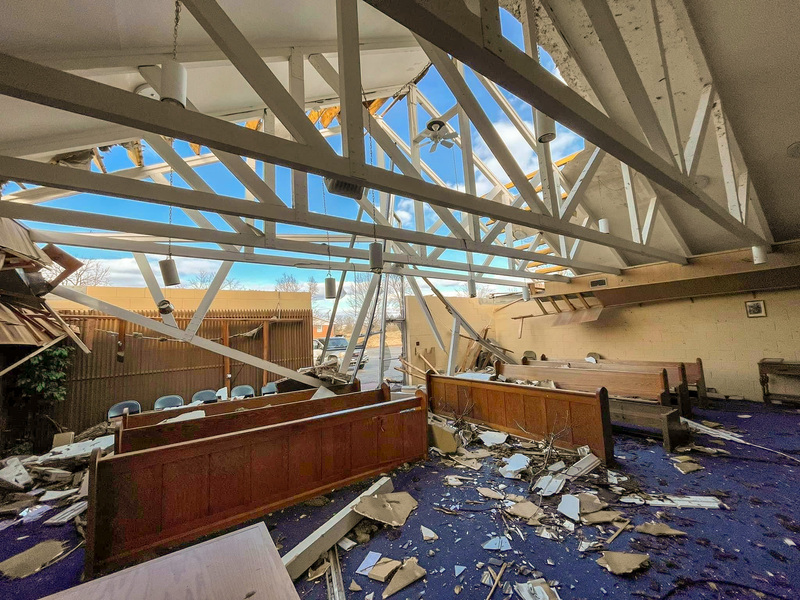 By that time, the special collections had netted $12,500. One parishioner made a $5000 donation at the Parish Office on Tuesday; and by Wednesday afternoon, we had collected a total of $18,500 to deliver to Resurrection Parish the following day.
Father Jose and I made the roughly 2-hour trip from St. Anthony to Dawson Springs and met with Father David and Deacon Mike the afternoon of Dec. 23. We delivered the check and surveyed the damage.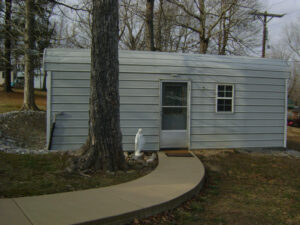 The main structure of Resurrection Church was still standing, but the north wall and roof of the structure were severely damaged. The wall had collapsed into the nave. Engineers had determined that the nave and sanctuary of the building must be torn down and rebuilt. The attached parish hall at the south end of the building can, hopefully, be spared.
The town of Dawson Springs in the area of the church was mostly leveled by the storm. Directly west and south, across the road, an estimated 4-5-block-by-2-block area had no buildings and few trees standing – only large piles of debris that had been scraped together by the clean-up crews. Track-hoes and bulldozers were still active. To the east and south, only severely damaged homes and businesses remained for nearly a mile. 
A driving tour of the rest of the town revealed other areas of severe damage interspersed by buildings with moderate to no damage. The estimate of 75% of the town damaged is probably accurate. In assessing the damage, it seems like a lot of miracles had to occur for only four people to have died in that town! I can't imagine what it must have looked like immediately after the storm passed through.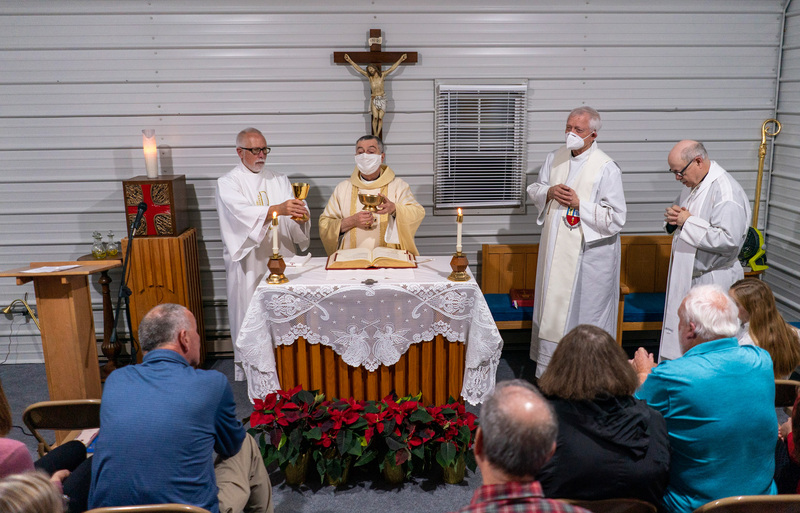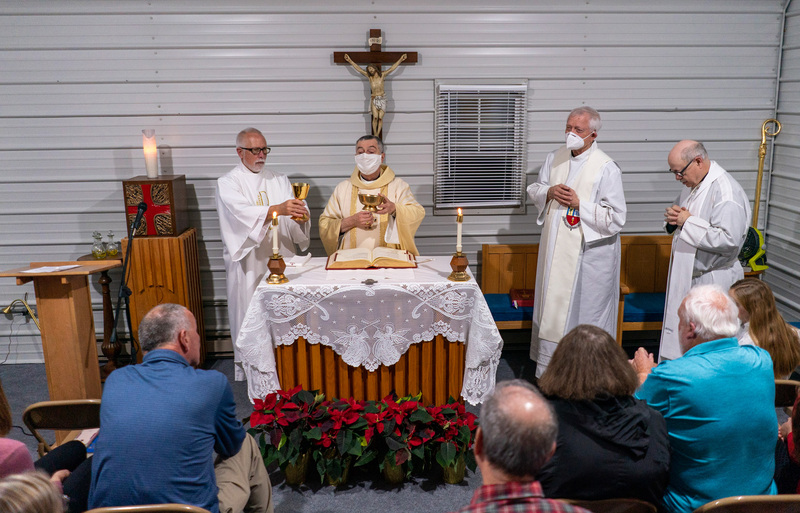 We also examined the makeshift worship space that had been set up in a small outbuilding in the backyard of a Resurrection parishioner, in an area of town that was undamaged. What was formerly a small exercise gym had been transformed into a proper worship space with altar, tabernacle and (tight) seating for over 40 people. Owensboro Bishop William F. Medley Bishop celebrated a Christmas Vigil Mass in this chapel the following evening.
Through the experience, several things come to mind:
It could have been us had the storm tracked a bit farther north. We should not only be prepared always for our time to meet the Lord, but also prepared to respond to severe weather warnings. 

There is so much more work and expense ahead for the residents of Dawson Springs and the other areas hit. 

The amount of clean-up that has already occurred is unbelievable, and the resiliency of the human species is amazing. 

Divine Mercy Parish is filled with good people who respond generously to the needs of others. 

Resurrection Parish is in excellent hands with practical and spiritual leaders like Father David and Deacon Mike, and parishioners like the one who offered his property to the Church.
One final personal lesson: if we have compassion and are willing to respond to God's call, he will make it easy for us to cooperate. He moved this insecure deacon into a position to help and pulled him along through it all, opening doors and providing contacts!