Special to The Message
It was a cold Saturday morning in March at Reisinger Custom Rebuilding shop. The sun had been peeking in and out from behind the clouds. It was probably a day that most people would want to be inside their warm homes; but for the family members of the late Jerry Weinzapfel, this day had been long awaited.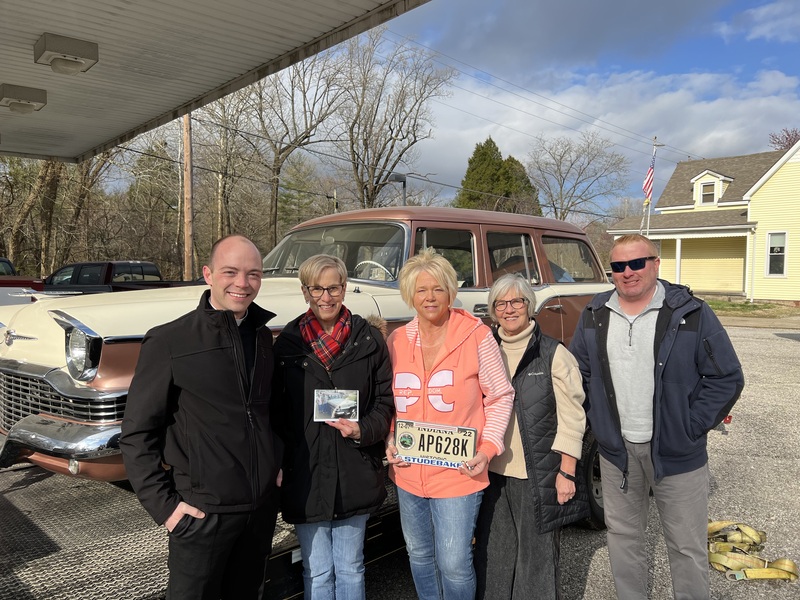 Jerry, who was a life-long parishioner of Sacred Heart (St. Boniface) Parish in Evansville, was a man of deep intentionality. Throughout his life, he devoted much time to his family and to his work at their grocery store on the corner of Lemcke Avenue and Illinois Street. He also enjoyed driving and maintaining the family car, a Studebaker. "Dad never really was a car enthusiast, but he had a love for the Studebaker," shared daughter Kathy Armstrong. "He bought it new in December of 1956, kept it ever since, and restored it to its original condition over the past many years."   
Just as he was intentional with matters of family, work and hobbies, even more so was Jerry in regards to his Catholic faith. "It's hard to describe dad's faith in a single word, but I would say 'devout,'" Kathy remarked. Before his passing in 2022, Jerry wanted to support the efforts of vocations in the Diocese of Evansville. "[Dad] was inspired by Father Tyler (Tenbarge) and his work with the Fahter Deydier House of Discernment. Toward the end of Dad's life, he was getting his things in order; and, on his own, made the decision to donate the car to Father Tyler – benefitting the House of Discernment and vocations to the priesthood."
Nearly a year to the day after his passing, Jerry's 1956 Studebaker sold on that cold Saturday morning in March. Filled with mixed emotions, Vicki Austin, Kathy Armstrong, and Toni Weinzapfel, daughters of Jerry, were sad to see the Studebaker go but grateful to see their dad's intention come to fruition. Father Tyler, Director of Vocations for the Diocese of Evansville and of the Father Deydier House of Discernment, expressed his gratitude for Jerry's generosity and shared the impact it has already made. "I just recently concluded a 10-day pilgrimage with 21 SAVIO guys to Italy. Jerry's unexpected and most generous gift launched our pilgrimage, and it wouldn't have happened without him."  
Jerry's story is just one of many examples of how generous and authentic stewardship is lived out. Too often, we can over-complicate how we are to give back to the Lord or support the mission of Jesus Christ. Jerry's life is a testament that we do not separate our family, work, hobbies and passions from glorifying God; but, rather, we glorify God with them and through them. Is there something that you love or are passionate about that you can use to glorify God now? At the end of your life? Consider how Christ is inviting you to glorify Him in the normal conditions of everyday life; and may we each respond willingly and without hesitation.