The Message assistant editor
Brad Niemeier credited the support he received attending Mater Dei High School, as well as his family's support, for the courage to take a risk and open a pizza restaurant in his hometown.
The Founder and Co-CEO of Azzip Pizza and 2008 Mater Dei graduate told Catholic high school students at Tomorrow's Work Force luncheon that skills he learned from educators at Mater Dei equipped him for college and ultimately opening his own business.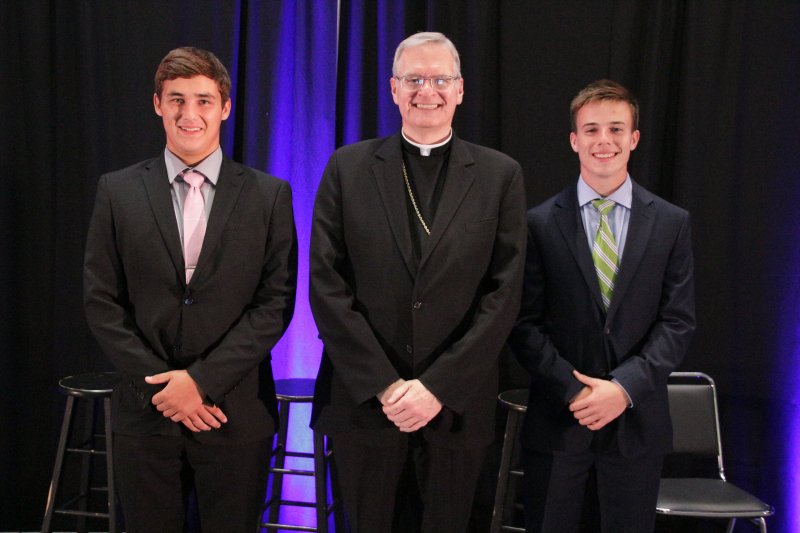 Evansville Catholic High Schools sponsored Tomorrow's Work Force luncheon on Oct. 3 at the Old National Events Plaza. The program recognizes the 2019 Leadership Award honorees — 16 each from Mater Dei and Reitz Memorial — selected based on their essay, academics and community service.
Bishop Joseph M. Siegel told attendees it was providential the event was occurring on the Feast of St. Theodore Guerin, who was known for her advancement of education in Indiana.
"I learned how to learn," Niemeier said. "I learned leadership skills and I learned time management. All those things prepared me for college. … The sense of community and how important that is, all those connections and my network I formed while I was at Mater Dei is still coming in handy today. I think it was extremely important and I am just thrilled with my Catholic education."
Scott Massey, Founder and CEO of Heliponix and 2013 Reitz Memorial High School graduate, agreed and said the "fundamental drive" he learned at a young age at Memorial helped him achieve success.
"Memorial did a great job challenging me, cause it wasn't easy," he said. "I found out at an early age when you challenge yourself and rise to something you didn't think you were capable of doing, you find new meaning. And I think no one articulated that better than Brother Eugene who said: 'I can. I must. I will.' I think that translated and continued forward into college."
The Tomorrow's Work Force program annually awards a $1,000 college scholarship to one student from each high school. The 2019 recipients are Mater Dei senior Lance Berendes and Reitz Memorial senior Dawson Hurley.
Berendes and his family are members of Resurrection Parish. He keeps a 3.8 grade-point average at Mater Dei and plans to study engineering or construction in college.
"Mater Dei has prepared me with strong academics," Berendes wrote in his essay. "My course work is teaching me the study skills necessary to be successful at the next level. My teachers have encouraged me to think for myself in creative and unique ways."
Hurley and his family are members of St. Benedict Cathedral Parish. He maintains a 3.8 grade-point average at Reitz Memorial and plans to pursue a career in medicine.
"As I begin to prepare for college and my future, I am proud of my academic accomplishments and the possibilities of what I can become," Hurley wrote in his essay. "Memorial is a place with rigorous academics and high expectations in the classroom. As a result of great teachers and academics, I hunger for knowledge and believe there are no limits to what I can accomplish academically."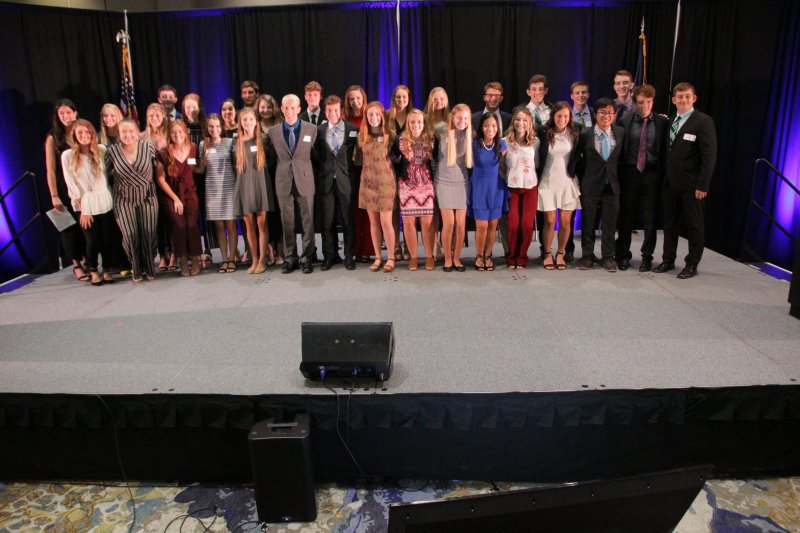 The 2019 Leadership Award honorees are:
Mater Dei – Berendes, Dane Babillis, Katie Boots, Allison Deeg, Jill Happe, Emily Hausmann, Sabrina Henderson, Audrey McDurmon, Xavier Reine, Andrea Reisinger, Jennifer Ross, Joseph Scheller, Kristen Schneider, Emelyn Stockton, Grace Wagner and Brandon Werner.
Reitz Memorial – Hurley, Nathaniel Alexander, Elizabeth Broshears, Joseph Kiesel, Jake Kneubuhler, Lily Koch, Anna McCoy, Ethan Meunier, Abby Regacho, Olivia Schitter, Catherine Shafer, Emma Swanson, Isabella Vidal, Daniel Vollmer, Natalie Weisman and Isaac Wetzel.
Since the Tomorrow's Work Force program started in 2001, sponsors in the greater Evansville business community have helped raise more than $1.5 million to support Evansville Catholic high schools.