The Message assistant editor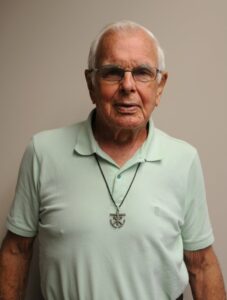 It wasn't easy for Evansville native and Holy Cross Brother Ronald D. Hein to learn Portuguese. Now, after living the last 54 years in Brazil, he prefers to speak the country's dominant language.
Born and raised in Evansville, Brother Hein, 87, is a 1950 graduate of Reitz Memorial High School. Brother Hein joined the Congregation of Holy Cross that year because of the influence of Brother Charles Anderson, who was a Reitz Memorial administrator at the time.
"Basically, I wanted to do God's will in my life," Brother Hein said of joining the congregation. "Our parents always taught us to put God's will in first place wherever you are. For me, I think for all of us, it hit home. So when Brother Charles Anderson spoke with me and asked me if I thought I wanted to give my life to God, I said 'Well, gee, if it's His will I want to do that.'"
Brother Hein didn't know much about the Congregation of Holy Cross except for having some of the brothers as teachers at Reitz Memorial. Once he learned more about the congregation he knew it was God's will for him to join.
Brother Hein's dad was Edward Nicholas Hein, who died when he was 84 years old; and his mother was Alma Rosella (Wargel) Hein, who died at 92. He has four siblings: Elizabeth Wells, Dorothy Schulthesis, Steve Hein and Anna Katherine Hein. Brother Hein is the second-oldest in his family.
While none of his siblings joined religious life, Brother Hein recalled some aunts were Daughters of Charity who worked in hospitals; and another was a Franciscan nun who spent 65 years teaching.
Brother Hein earned a bachelor's degree from St. Edward's University in Austin, Texas, to teach science, and he earned a master's degree in physics and mathematics from the University of Notre Dame. He also took courses at St. Louis University and Fordham University in New York City.
Brother Hein was recently in Evansville on vacation. He said he gets to visit home once every year or two.
In 1955, Brother Hein embarked on his first mission to New Orleans, Louisiana, where he spent nine years teaching 74 students at a boarding school. Then, he was transferred to St. Edward's High School in Austin, Texas, where he taught during the 1964-65 school year.
On Sept. 15, 1965, he moved to Brazil. He has spent time in three of the largest cities along the Amazon River to the extreme north, he explained.
Brother Hein taught physics, science and math during his first three years in Sao Paulo, Brazil. He wasn't fluent yet in Portuguese, so he would write lessons on the board until the new language became easier to speak, which took about two years. The students didn't seem to mind, he recalled.
"It was very difficult for me (to learn)," Brother Hein said. "For most Americans, it was very difficult. I learned it mostly in the classroom. (Portuguese) is how I prefer to speak now."
After three years of teaching classes in Brazil, Brother Hein and his fellow Congregation of Holy Cross Brothers began presenting a course to kids called Orientation For Life because they didn't have religion class in school.
In the early 1960s, Brother Hein said congregations were asked through the Second Vatican Council to rethink their formation.
Brother Hein recalls their congregation discussing the question. "What are you forming the kids for?"
Vatican II, from 1961-1965, addressed the relationship of the Catholic Church with the modern world, Brother Hein explained, and it was a way of spiritual renewal.
"Our focus is to be disciples of Jesus – missionary disciples – the idea to be a missionary is you must first be a disciple of prayer life," Brother Hein said. "The essence of our mission is teaching class and visiting families."
Pastoral de Menor is established
Kids in Brazil must attend school until at least the eighth grade, Brother Hein explained, but there was no transportation and it was challenging for many children who lived outside the city. So families abandoned their farms and land to move into the city.
Sometimes, Brother Hein said, the fathers would abandon their families, so the mothers and children had to make ends meet. In the early 1980s, Brother Hein said many kids roamed the streets to play or to work for money; they performed jobs that included shining shoes, guarding cars while the owner was away or selling small cakes their mom made.
Eventually, the fighting and trouble started, Brother Hein said, and the kids became a "real problem." Vigilante groups attempted to rid the town center of the kids. Brother Hein recalled, "A lot of bad things were happening all over Brazil."
In February 1988, at the request of Bishop Dom Tiago, then bishop of Santarem, the Pastoral de Menor, or Pastoral of the Child, was established. It started in one room behind the church with about 20 kids.
Goals for the program include sleeping safely at home, attending school and working peacefully in the street. In the beginning, only boys could participate, but the program grew rapidly and Brother Hein said girls soon were able to join.
"This time that they spend with us is critical for keeping them occupied and off the streets since they have only a half-day of school," Brother Hein said.
During semester breaks, the Pastoral de Menor, or PAMEN, provides sports and activities to keep the children and adolescents of the program busy.
About a recent picnic, Brother Hein wrote in a letter to sponsors: "These days are special for these boys and girls that live in very poor neighborhoods and do not have the opportunity to play under such circumstances. These days always begin with some orientation and prayer to make for a pleasant day."
PAMEN works on educating the whole person, according to Brother Hein, working to educate the body, mind, spirit and heart. Kids and adolescents now have the opportunity to play instruments in a band, be part of a yearbook staff, debate teams and sports. The program offers 13 courses, but work mainly revolves around relationships with their self, family, God and nature.
"Our founder coined the phrase: 'The mind should not be educated at the cost of the heart,'" Brother Hein said.
Their objective is to create an atmosphere for kids and adolescents to experience what it is to cultivate their gifts, Brother Hein explained, whether it's physical, intellectual or spiritual gifts.
The number of kids and adolescents now in the streets of Santarem – working or wandering – is practically zero, Brother Hein smiled and said, and many attributes it to their work of creating a special place and program for at-risk kids.
The space provided by the congregation, Brother Hein explained, is much different from what the kids and adolescents typically frequent.
"The human and spiritual values that we emphasize are equivalent to having an experience that gives sense to their lives and stimulates their self-esteem … an experience of God. All of this helps them to develop a more positive Manner of Being."
Last year, Brother Hein wrote a book about the Pastoral de Menor as a memoir and to raise awareness of the needs of the cities along the Amazon River and the work the brothers and priests are doing there. The book was originally in Portuguese, but Brother Hein translated it into English at the request of his siblings so they could read it.
Strive to be 'fully alive'
For anyone considering joining religious life, Brother Hein advised it's vital to organize your life so you can live it fully. He said it's important to give people an idea of what it is for a person to be happy and to develop yourself fully.
"God created you to be fully alive and to enjoy life," he said. "Do what you can to make that happen. … Try to attend to the basic development of your whole person so you can sense life is worth living."
Embrace the happiness it brings to live your life fully, Brother Hein said, then share that with people, educate them and pray with God.
The Pastoral de Menor has grown from the central location which now serves more than 1,000 kids, to also include 14 satellite locations serving another 1,000 kids ranging in ages from 5-18. There are 52 volunteers, Brother Hein said, and 25 staff members across the 15 sites.
However, Brother Hein said the program is in "dire circumstances" because the diocese is at risk of losing some funding because he said the Brazilian government wants to take away nonprofit status. The central location may have to cut back to serving between 500-600 children and adolescents.
"It is a gift from God to be able to be part of this work that is His way of having an influence in their lives and mine," Brother Hein said.
To donate to the Pastoral de Menor, mail checks to Moreau Province Pastoral de Menor, c/o Brother Harold Ehlinger, CSC, 1101 St. Edward's Drive, Austin, Texas, 78704.