The Diocese of Evansville Office of Catechesis is introducing readers to Catholics from across our 12 counties for whom sharing the beauty of the Catholic Faith is a joy.
This month, we meet Matthew and Bridget Fleck of Ireland.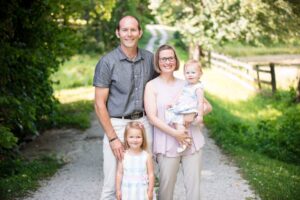 How and where do you experience God?
In Adoration of the Blessed Sacrament; working retreats like TEC and CRHP and seeing God work through the team and participants (seeing their transformations or working on the service team of these weekends and seeing people come together to selflessly serve others); and in different people we interact with in our daily life. Also through our girls; they truly are our greatest blessings. In their infinite love, unending trust, innocent joy and laughter, they show us Jesus' face every day. The kindness and love they show each other is to truly be admired. Also in His creation, outdoors; when we really look into the things of nature, we really see His amazing work all around us.
Why is your faith important to you?
It helps us realize how blessed we are; without discovering and growing in it we wouldn't be the people we are, and it gives us hope that He has good things in store for us. The rich history of the Catholic Faith gives us many ways to teach our children about Jesus Christ and His Church. With it we can help others who despair or doubt. We pray for all those who have no faith in Jesus Christ. That's a tough, painful row to hoe.
How do you nurture your faith life?
You have to feed it, or you lose it. We pray as a family, attend Sunday Mass and some daily Masses. We frequently have the Catholic radio playing, spend time praying the rosary, and have started to pray a decade with our 3-year-old, Anna. We adore the Blessed Sacrament as much as we can, and read the Bible and books by Catholic authors. Through teaching religion and being a part of the team for TEC we catechize our youth and at the same time grow in our faith.
How does your Catholic faith shape the way you live?
It dictates the way we treat/see other people, our outlook on life, and helps us cope with suffering and loss. We try to be Christ-like to others showing kindness, acceptance and love. We've realized that being a Christian doesn't remove hardships, but it does give us hope in the midst of them. It provides us with the opportunity to truly see our blessings and be thankful on a daily basis. We are all tourists in this world, so we try to live with our "Home" in mind.
How do you share your faith with others?
We are the first Church, the domestic Church, and our job is to bring our children to love and know God and Jesus Christ; so we try our best to share with our girls, Anna and Eve. Also, whether teaching religion class, working TEC or CRHP, discussing theology or Church teaching with friends (or strangers), we plant seeds all over and let the Holy Spirit decide which ones to bear fruit.
Matthew's home parish was St. Anthony of Padua in St. Anthony. After marrying Bridget, a lifelong member of St. Mary Ireland, he joined the parish and it has become home. They've been blessed with two daughters: Anna, 3, and Eve, 1. At Holy Mass they usher, Matthew lectors, and Bridget is an Extraordinary Minister of Holy Communion. They've been Catechists for several years, are the Respect Life Coordinators, and are active in the TEC movement. They are a sponsor couple for marriage prep, and spend regular hours in the Adoration chapel. Bridget is the Vice-President of the St. Anne Society and former TEC Core Group member. Matthew is a Fourth Degree Knight, is Recorder for K of C Annunciation Council #5581in  Ireland, is on the Long-Term Planning Committee at St. Mary, and helps with CRHP (now WELCOME) weekends.