The Message assistant editor
As Christians in the Body of Christ, Benedictine Father Guerric DeBona said we have an obligation that we cannot and will not settle for divisions of any kind.
The Subprior of St. Meinrad Archabbey spoke to nearly 150 people gathered at Holy Rosary Parish on March 7 for Faith Day 2020. Father DeBona's keynote presentation, "Imagine a World … Where Hope Abounds," focused on the divisiveness in our world and how to bring everyone together.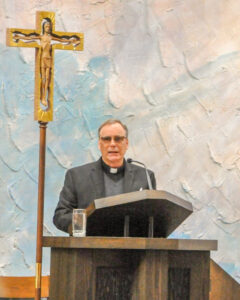 "I would also insist that these splits are very human and that they have been with us from the beginning," Father DeBona said. "They are localized, they are global, and they are conditioned by culture and time. They are fueled by whatever communication happens to be available. There is something inscribed in our DNA that we are going to form our tribes."
However, Father DeBona reassured attendees there is still hope.
"Whatever the circumstances, we are left with that 'new commandment' that just will not go away: 'Love one another as I have loved you' (John 13:34)," he said. "Christ has made it clear in his own sharing of his body and blood that what we have is one another. One spirit in Christ healed a whole division."
Vicar General of the Diocese of Evansville Father Bernie Etienne, who also serves as pastor of Holy Rosary Parish, welcomed the large group to the event, and he introduced Father DeBona, who has served in many roles at St. Meinrad Archabbey since 1985.
Six presenters offered breakout sessions, which covered topics including caring for our common home; respect and value given to every life; family as a vocation; and finding joy in the second half of life.
Sister of Providence Sister Mary Mundy, Holy Rosary pastoral associate, said while the theme focused on the pain, struggles and divineness of the world, organizers wanted people to also focus on how they can be open to moments of hope in God.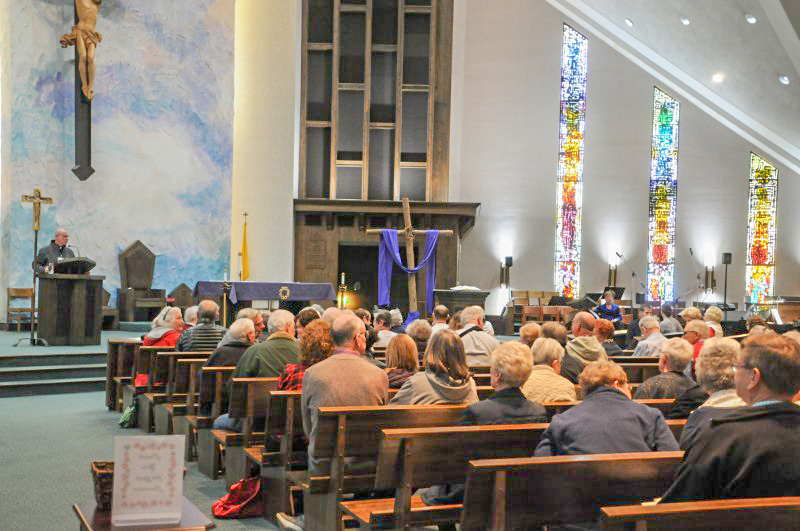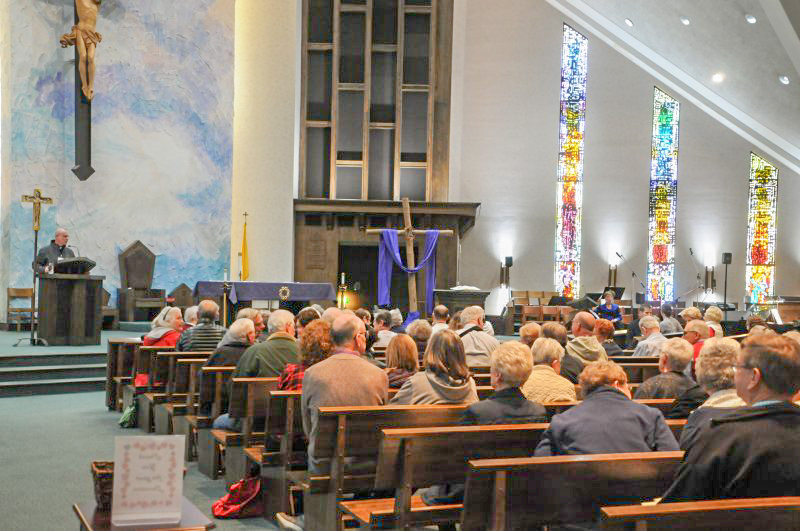 "(Faith Day) is a time of Lent where people come together for prayer and deepening of their own spirituality," she said. "But it's also community building. It's about being together. It's a heavenly place to pray, to worship, to meet with people."
Marilyn Doyle, longtime Holy Rosary parishioner and organizer of Faith Day since the beginning in 2010, said the event always coincides with Lent because it serves as a spiritual and faith-centered guide for parishioners on their Lenten journey.
"If you've ever been to one you will not miss it again because of the energy, the spirituality and the community," Doyle said.
Father DeBona said social media in today's world often enhances the division of people because what used to be private is now public and much uglier. He urged everyone to make the decision each day to do better.
"We can no longer pretend that we can go on auto-pilot and be Christians. … We have to wake up and choose Christianity," he said.
In conclusion, Father DeBona shared three Benedictine values with the hope they may be useful in dealing with societal divisions.
"If we explore the ways of obedient love, restraining our speech and living transparent lives, we will find ourselves disposed to welcome the Risen One on Easter morning," he said.