By Father Tyler Tenbarge
Special to The Message
August 2019 marked the beginning of the second year of the Diocese of Evansville's Father Deydier House of Discernment. Three residents moved in and have begun their discernment: Craig Wilmes from Holy Redeemer Parish, who currently works in Evansville as a tax account; Michael Mosbey from Good Shepherd Parish, currently employed by St. Boniface Parish assisting with maintenance; and Chase Riecker from St. Isidore the Farmer Parish in Celestine, who works part-time at Sherwin Williams while also pursuing a degree online.
Clint Johnson from Holy Cross Parish in Fort Branch, who was in residence last year, departed the House in August to begin his first year at Saint Meinrad Seminary for our diocese.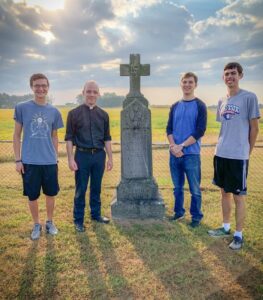 House residents and I, as Director, recently held a "Day of Recollection" at St. Francis Xavier Parish in Vincennes. There, we visited the grave of Father Anthony Deydier, after whom the House of Discernment is named; we also prayed at the tomb of Servant of God Bishop Simon Bruté, whose cause for canonization is underway in Rome.
Two "Savio Nights" have been held at the House this fall for middle school and high school boys and their dads. Games, dinner and faith formation precede praying together in the Church and heading home. This fall, 68 young men have attended from 17 different parishes along with 18 of their dads. The next Savio Night will be Oct. 26, beginning at 6:30 p.m. CDT, for 6th-12th-grade guys. Dads are welcome as well.
Monday nights are still going strong with more than 125 people regularly attending the Holy Hour and Mass for Vocations at St. Boniface Parish's Sacred Heart Church. Many vocational seeds are being planted and cultivated there.
If you know of a young man (age 18-30) who might benefit from a Catholic community of prayer and fraternity while continuing his career or college, please have him contact me ([email protected]).
If you would like to support the House by your prayers, please join House residents on Monday Nights at Sacred Heart Church. Adoration is at 6:30 p.m. CDT, and Mass is at 7:30 p.m. CDT. If you would like to support the work of the House financially, please contact me ([email protected]).