By Megan Erbacher
The Message assistant editor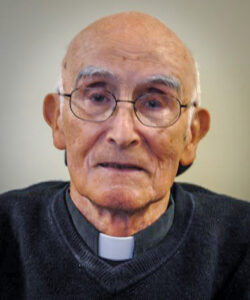 Father James R. Endress, M.A., S.T.L., smiled as he shared a memory last month while sitting in the dining room of River Pointe Health Campus on Evansville's eastside. Father Endress described an old photo from the local newspaper of a preschool boy with a caption that stated the boy wanted to teach bible classes when he grew up.
His parents clipped the photo out of the paper because that young boy was Endress.
An Evansville native, Endress was born Oct. 12, 1934, the youngest child of six to Edmund and Emma Endress. He grew up in a religious family, he said, and they attended Mass every Sunday "without fail." And during the school year at St. Benedict School, Mass was held daily.
One other sibling, Ralph, also joined the priesthood. He passed in 1989.
Endress, 85, fondly recalled memories of his childhood, climbing into his mother's lap after she would get the older kids off to school. She often read him the funny papers.
"That's how I learned to read," he said with a smile. "I started kindergarten and could read. Parenting is an intuitive thing like that."
When Father Endress was in eighth grade his mother asked if he wanted to attend Reitz Memorial High School or if he would prefer to go to St. Meinrad. He knew several classmates going to St. Meinrad, so he thought, 'Why not try it?'
His discernment into priesthood was gradual, he admitted; but as the years went on and boys kept dropping out of St. Meinrad, he felt the call to stay.
Father Endress studied for eight years at St. Meinrad and then studied another four years in Innsbruck, Austria, where we was ordained to the priesthood on April 3, 1960.
"I didn't initially know I wanted to be a priest," he said. "It was a long discernment. It was a gradual understanding."
Father Endress is the second-oldest living priest of the Diocese of Evansville. Father Donald Dilger, 88, who was one ordination class above Father Endress, is the oldest living priest of the diocese.
Father Endress has served the diocese in many positions. In 1960 he was assigned (as parochial vicar) to the Pro-Cathedral of the Most Holy Trinity in Evansville. A year later, he was named to the same position at St. John the Evangelist Parish in Loogootee. Then, in 1965, Father Endress was released for military service.
At the time, several high school seniors joined the military and fought in Vietnam, Endress said, and when they were home on leave he would talk to them. Eventually, he thought it would be good to join, too.
The bishop at the time told Endress most men who fought did not make it back home. The bishop never approved or denied the request to Endress personally, but he released him.
During his 17 years as an Army military chaplain, Father Endress was stationed at numerous places. He completed basic training at Fort Knox, Kentucky, and he attended chaplain school at Fort Hamilton in Brooklyn, New York. He was stationed at Fort Riley, Kansas, at one time.
Endress became parachute-qualified as a jumpmaster at Fort Bragg, North Carolina.
Around 1966, Father Endress was stationed in Korea for about 13 months.
Then, in 1969, he went to Vietnam and returned in early 1970. In Vietnam, during the last part of his stay in the North, Father Endress didn't speak much, if any, of the local language. So he would use multiple translators to be able to celebrate marriages and baptisms for the local people.
He was also in Heidelberg, Germany, for about three years.
While he was stationed at Fort Bragg, Father Endress remembered a funny moment when a soldier came to him to "seek sanctuary," or refuge. However, it wasn't until after Father Endress had the soldier clean the sanctuary that he realized he had misunderstood the man.
"I thought he said, 'I'm here to clean the sanctuary,' Endress said with a laugh. "So I put him to work. Later I found out he said, 'I came to claim sanctuary.'"
When he was at Fort Campbell, Kentucky, he had an accident in April 1981 that put him in a wheelchair for the rest of his life. He was 47. Father Endress returned to Evansville around 1982 after he was medically discharged from the army in November 1981.
But Father Endress didn't let that life-changing injury stop him. He remained independent and lived on his own; drove himself in a specially-designed van; and did his shopping for more than 30 years after he became wheelchair-bound. For a while, he said, he could still walk nearly 70 feet with the assistance of a walker.
Back home, Father Endress assisted at many parishes; and he was active in Cursillo weekends for about 15 years. In 1985, Endress was named the Defender of Bond and Promoter of Justice for the Diocesan Tribunal. He retired from the Tribunal in 2004.
Endress, who can still recite parts of the Latin Mass, thought for a moment about what he's enjoyed most about being a priest: "The person-to-person contact. And I think all priests enjoy celebrating Mass."