By Megan Erbacher
The Message assistant editor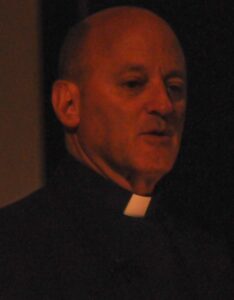 Jesuit Father John Belmonte told more than 450 Diocese of Evansville Catholic school educators that it's their mission to introduce students to their Savior.
Father John, Ph.D., superintendent of Catholic education for the Diocese of Venice in Florida, was the guest speaker for this year's annual Back to School gathering Aug. 2, hosted by Reitz Memorial High School in Evansville. The gathering took place with educators from all 26 diocesan schools before Bishop Joseph M. Siegel celebrated the annual Back to School Mass to kick-off the new school year.
Father John quoted Cardinal Francis George, who said, "The mission of the church in every generation is to introduce the world to its Savior."
"That, my friends, is what we get to do as Catholic school teachers and educators," Father John said. "What you're about to embark on is this mission to introduce the world to its Savior. You're going to take this generation and you're going to introduce this generation to its Savior. … That world for you, as a teacher, is your classroom.
"You have the privilege, you have the opportunity, and you have the sacred duty to introduce your students to their Savior. … There is no better mission in the world than this mission. It's a mission given to us by Christ himself."
Father John is a native of Arlington Heights, Illinois. He joined the Jesuits in 1985 and was ordained a priest in 1996. His Jesuit training took him for graduate studies to Omaha, Rome and Boston. He completed a doctorate in Educational Leadership at Loyola University Chicago in 2006. 
A life-long educator, Father John taught high school for 15 years at St. Ignatius College Prep in Chicago and Marquette University High School in Milwaukee. He also served as principal at Marquette High for six years. For 10 years, he served as superintendent of Catholic schools for the Diocese of Joliet in suburban Chicago.
During his presentation, Father John invited educators to interact through several real-time polls by answering questions via text messages. One poll asked educators to submit one word they want everyone to use to describe their school, and responses included faith-filled, welcoming, engaging, family and fun.
Interim Diocesan Superintendent of Catholic Schools Michelle Priar thanked educators for all of the work they do every day. She discussed a culture of excellence that she's always believed is present in diocesan schools. She explained it isn't only academics, but she also sees this culture of excellence in how educators share their faith with their students, how they pray with and for their students, how they arrive early and stay late to give students any extra help they need, and how they support families.
"I really think it's important that we not take these things for granted," Priar said. "We need to focus on all that we accomplish and celebrate who we are as Catholic educators in the Diocese of Evansville. It's something we can all be proud of."