By Megan Erbacher
The Message assistant editor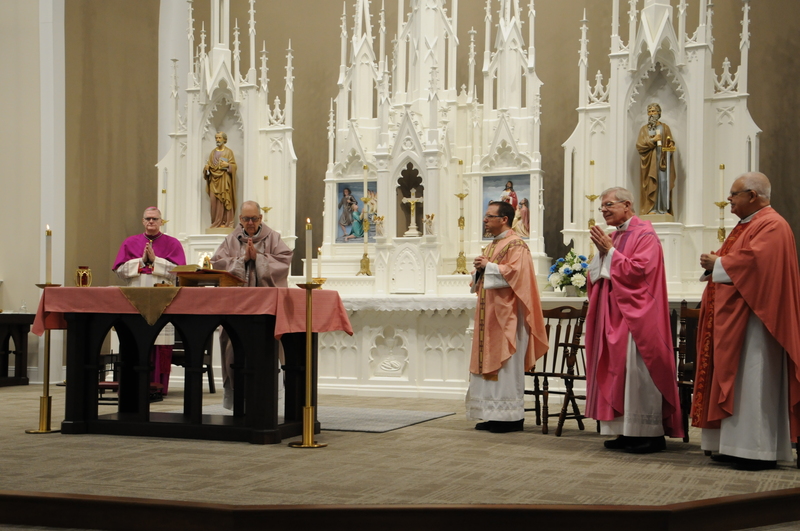 Father J. Kenneth Walker believes St. Mary Parish in Ireland gave Father Joseph F. Erbacher a "new lease on life" when he was called to oversee the new church project in 2017.
"I believe Father would say his time here as your pastor has been one of the most demanding but fulfilling times of his priesthood," Father Walker said. "There's probably not another priest in the diocese who would have been as attentive to the building process as was Father Erbacher. … I don't think I've ever seen him any happier than he's been here with all of you."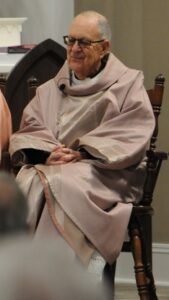 Father Erbacher celebrated his 50th Ordination Anniversary with a Mass of Thanksgiving March 27 at St. Mary Parish in Ireland. 
Concelebrants of the Mass were Bishop Joseph M. Siegel; Father Walker, Diocesan Judicial Vicar and pastor of St. John the Evangelist Parish in Loogootee; Father Brian Emmick, pastor of Precious Blood Parish in Jasper; and Father Timothy Tenbarge, senior priest of the diocese.
Father Walker served as homilist and referred to Father Erbacher as a "dedicated and devoted priest" who "truly loves his life as a priest, and in particular, as being (St. Mary's) pastor." The two met when Father Walker was a seminarian, and they've been friends ever since.
Father Erbacher was ordained March 25, 1972, by Bishop Francis R. Shea at St. Benedict Church in Evansville. His first assignment was Holy Rosary Parish in Evansville, which was followed by 18 parish assignments until his present assignment of St. Mary. He also served many years as Defender of the Bond in the Diocesan Tribunal Office.
Father Erbacher, better known by his nickname, "Effie," was born July 18, 1945, to John F. and Evelyn Jo (Wiggins) Erbacher of Poseyville. He is one of 12 children, with seven sisters and four brothers, and he was the sixth child to be born.
"Yes, he was a middle child and developed the ability to get along and to make peace," Father Walker said. "They're still a very close family who stand together and can count on one another. As a matter of fact, the Erbacher family are very loyal and devout Catholics."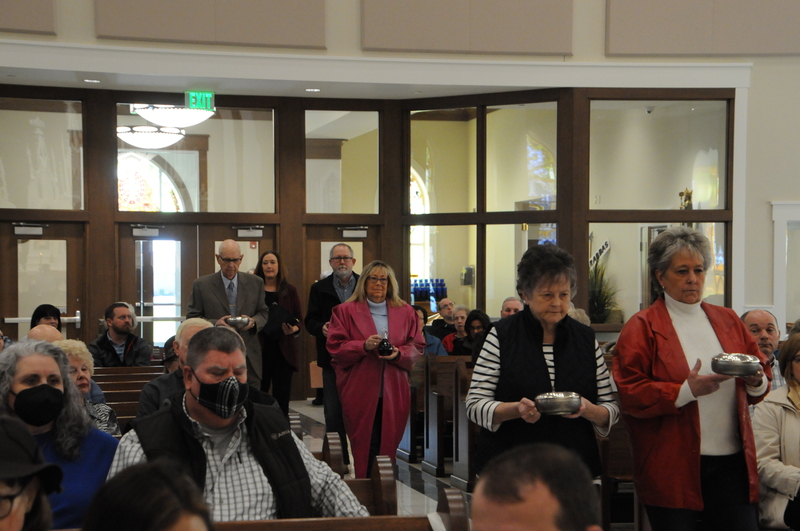 He attended the following schools: St. Francis Xavier Grade School in Poseyville; St. Meinrad High School in St. Meinrad; Rex Mundi High School in Evansville; St. Mary's College in St. Mary, Kentucky; Notre Dame Seminary in New Orleans, Louisiana; and the Pontifical College Josephinum in Columbus, Ohio.
Father Erbacher's time at Notre Dame can be attributed to his "great love" for New Orleans, Father Walker said, and graduating from the Pontifical College Josephinum in Columbus, Ohio, was the "high point" in Father Erbacher's educational career.
Father Erbacher smiled and said he was amazed by Father Walker's homily.
"We've been the best of friends for many, many years," he said.
Father Erbacher thanked everyone who helped him celebrate, including his nephew from Colorado, Chris, and his wife, Pam.
"Chris's dad, my uncle earl, was my Godfather," Father Erbacher said. "It goes back to the line of Catholic faith that our family all has been brought up in."
Father Erbacher said he felt fortunate that then-Bishop Charles C. Thompson asked him to oversee the new church project at St. Mary Parish.
"I just had the honor, my brothers and sisters and parishioners, of putting the package together and bringing this all about," he said. "You had been working very, very hard to do this. Another honor, for me, is being pastor here at St. Mary. Maybe it's because I'm from such a large family, but I just love all of our kids. I absolutely love them, and they have been the joy of my life.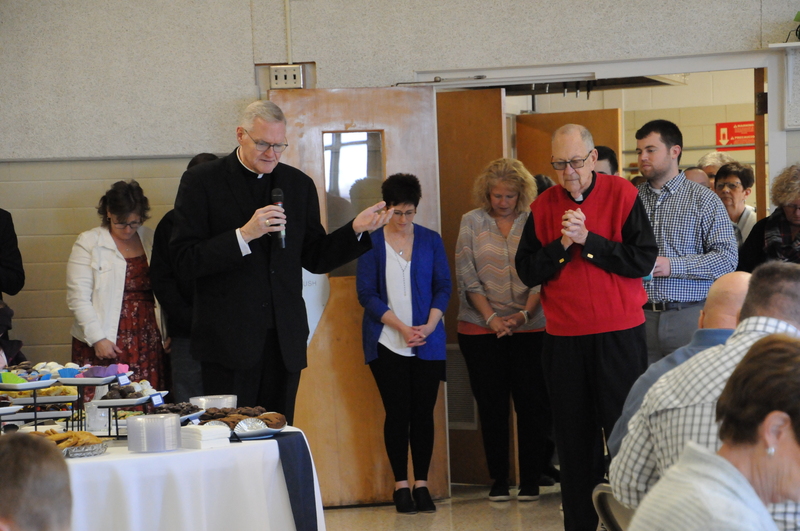 "I've had the privilege of serving through all of our bishops of the diocese, including our present bishop. Thank you, Bishop (Siegel), I've enjoyed very much working with you."
At the end of his homily, Father Walker congratulated his friend on "50 years well done." Father Erbacher then received a standing ovation for his priestly service.
After Mass, the parish choir surprised him with an Irish blessing song, "May the Road Rise Up to Meet You." An open house followed Mass in the St. Mary Community Center Cafeteria.