By Megan Erbacher
The Message assistant editor
Flaget Elementary School teachers and staff were a little confused why they were asked to stay late on Aug. 26, a Friday afternoon, but they quickly learned that Principal Samantha McClure had a surprise to share with them.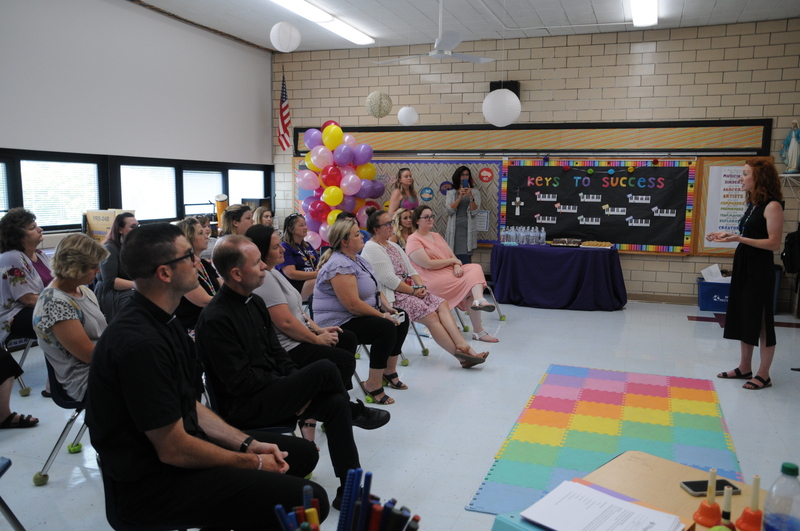 McClure excitedly announced that Flaget is one of only eight schools in Indiana selected as a Get Your Teach On Collaboration School, which is a partnership between the Indiana Department of Education and GYTO founders Wade and Hope King. To help make the surprise announcement special, GYTO sent a personalized video, sweet treats overnighted from New York City, balloons and banners.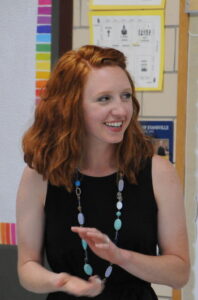 McClure is elated that Flaget was chosen to participate in this collaboration.
"The GYTO educators are dynamic and high-energy," McClure said. "Thus, receiving on-site professional development that is individualized to our staff and student needs is going to have such a positive impact on our school."
Get Your Teach On will provide Flaget administrators intensive support throughout the school year through two-day in-school training sessions. These sessions will include quarterly professional-development experiences provided on the Flaget campus. Over the course of the school year, each of the eight Indiana schools will receive guided instructional walkthroughs with GYTO leadership and school-based administration, instructional coaches and a custom school acceleration plan.
Lydia Jones, music teacher for Flaget Elementary and Rivet Middle/High schools, is eager for the collaboration to begin.
"I'm so excited to learn and just grow as an educator," she said.
The IDOE said that the collaborations with GYTO will:
Provide additional professional-development opportunities designed to ignite educators' passions for teaching and education;

Expand on current IDOE initiatives to support and elevate the educator profession, and 

Make students want to come to school and learn while developing relationships. These opportunities promote positive educational outcomes to develop the whole learner. 
In addition to founding and operating GYTO, Wade and Hope are authors of the 2018 book "The Wild Card: 7 Steps to an Educator's Creative Breakthrough."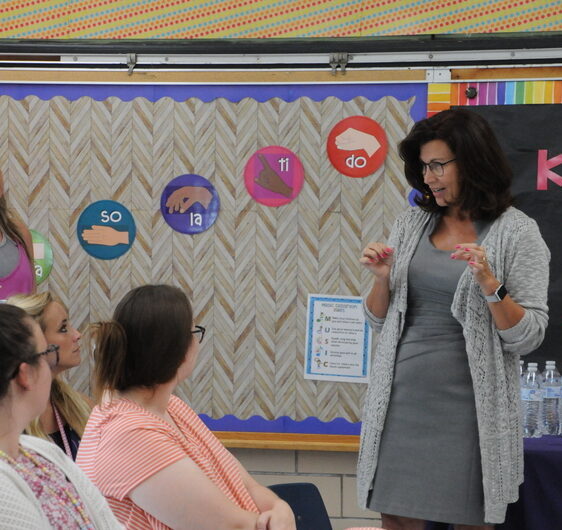 Michelle Priar, interim superintendent of schools for the Diocese of Evansville, is thrilled that Flaget was selected to receive this "amazing opportunity."
"Administrators in all 26 of our diocesan Catholic schools are always exploring opportunities to improve their abilities to form the whole person – intellectually, physically and spiritually," she said. "We congratulate Samantha and her staff for Flaget's selection as one of only eight Indiana schools in this top-flight collaboration with Get Your Teach On."
At the surprise announcement, Priar said GYTO is a national program and it's a big deal to be selected to participate in it. She hopes it will remind teachers and staff of the joy of being an educator, and give them renewed passion.
"These people are very passionate about education," she said. "I hope this will give you a chance to remember why you went into education because it's been a tough couple of years to be an educator. You all have gone above and beyond. … You work hard every day. You deserve some outside support, and you deserve some recognition for it. Thank you for what you're doing."