St. Joseph Church - Dale
"I have a dream that one day every valley shall be exalted, every hill and mountain shall be made low, the rough places will be made plain and the crooked places will be made straight and the glory of the Lord shall be revealed and all flesh shall see it together" (Rev. Martin Luther King Jr.).
Seven years before these iconic words were spoken on the steps of the Lincoln Memorial, Martin Luther King, Jr., sat alone in his kitchen at midnight. He had just received another death threat towards himself and his family; at times, up to 40 a day would come in. His wife and new infant daughter lay asleep in bed. As he later recalled – as the unlikely, reluctant leader of a growing movement – he prayed out loud, "Lord, I'm down here trying to do what's right…But Lord, I must confess that, I'm weak now. I'm faltering. I'm losing my courage."
Then, it happened; he heard a voice say:
"…And lo I will be with you, even until the end of the world…I heard the voice of Jesus saying still to fight on. He promised never to leave me, never to leave me alone. No never alone. No never alone…"
As MLK, Jr. later recalled, "Almost at once, my fears began to go. My uncertainty disappeared." He returned to bed unafraid. For the rest of his life, this experience would never leave him – even though he would die before the full fruition of his efforts for equality and justice became realized.
The temperature was 26 degrees as we took off to St. Joseph Church in Dale for the first historical visit of 2016 – on the day before the national holiday for the central figure of the civil rights movement. The Jubilee Year of Mercy had just gotten underway. The priest presiding this day was Father John Brosmer. As recalled by one of our travelers, Larry Osborne, Father John had spoken at a Christ Renews His Parish retreat in 1999 at our home parish of Holy Redeemer. The subject of his talk centered on his growing sense that he was being called to be a priest. Almost 17 years later, we sat there listening to him recall his reluctant pathway to ordination, and how he repeatedly found himself telling God that he did not think he could handle what was being asked of him. Over time, though, he described the sense that he must let go and trust God to lead him the right way, the better way, one much more meaningful and rich than he could have imagined.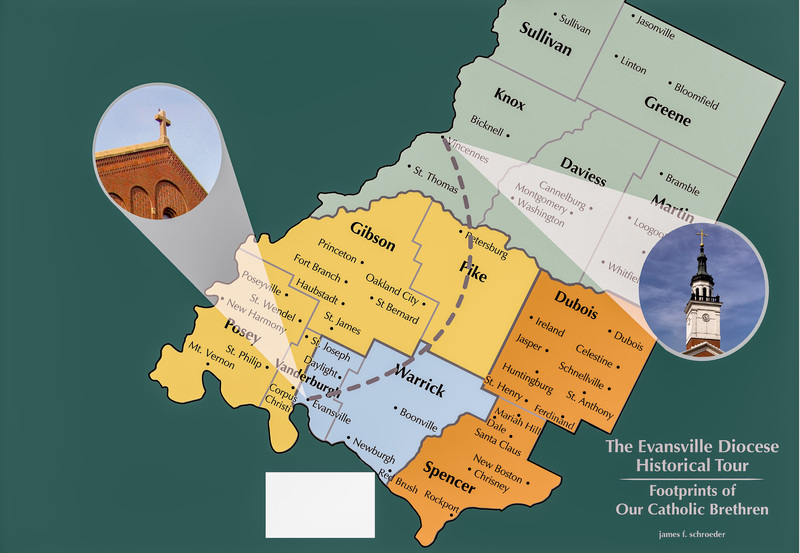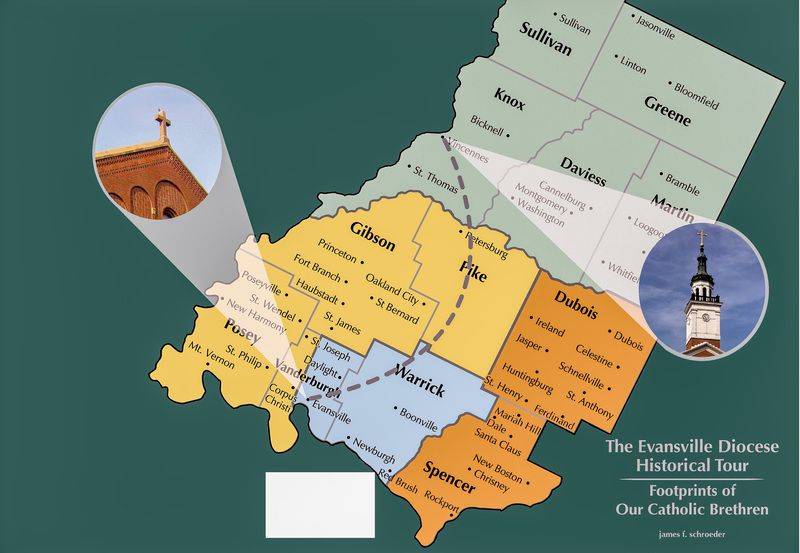 Sitting just a few yards away, the late Cisco Lloveras listened intently. Just minutes later, his deep, booming voice would rise to the rafters in a spiritual embrace. Born in Puerto Rico of a Hispanic background, Cisco and his family of five children had been living an austere existence in a monastery in Northern Arkansas. Faced with the need to make a decision for the betterment of his family, he found himself in Dale, Indiana, interviewing for the musical director position for the newly formed three-church parish of St. Francis of Assisi. Desperately in need of a bilingual musical presence, he suddenly felt called to a new community who embraced the gifts he brought. As noted by one lifelong parishioner, the spiritual sounds emanating from his soul had never been rivaled and the parish had been transformed.
Editor's note: Cisco died unexpectedly in April 2018 at the age of 43. Survivors include his wife Marisol and six children. May he rest in peace.
As Father John spoke to the crowd that day about the Gospel reading regarding the wedding at Cana, he recalled the words spoken to the bridegroom by the head waiter after the water had been changed to wine:
"Every man serves the good wine first, and when the people have drunk freely, then he serves the poorer wine; but you have kept the good wine until now" (John 2:10).
Father John emphatically began to chant and encouraged the parishioners to sing, "Yes Lord, Yes Lord, Yes, Yes, Lord. Yes Lord, Yes Lord, Yes, Yes, Lord."
The best was yet to come.
This reflection is from Jim Schroeder's book "The Evansville Diocese Historical Tour: Footprints of Our Catholic Brethren." Jim, his wife, Amy, and their kids live in Evansville.  They are parishioners at Holy Redeemer Parish.  Jim is a pediatric psychologist and Vice President of the psychology department at Easterseals Rehabilitation Center.  "The full story, including illustrations, is available on Amazon or with his other books and articles at www.james-schroeder.com."