By Megan Erbacher
The Message assistant editor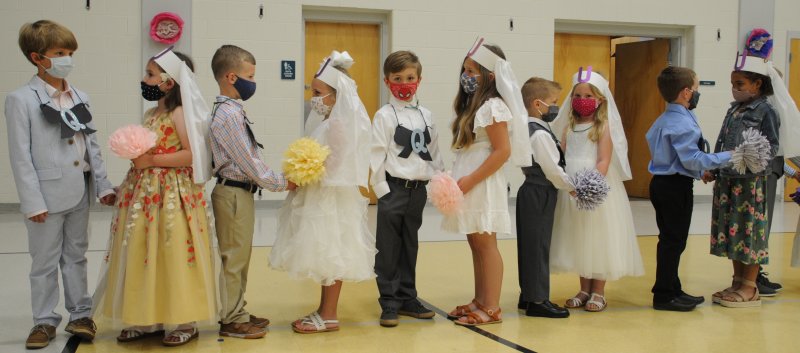 "By the power vested in us, we now pronounce you QU," Good Shepherd Catholic School kindergarten teachers Debbie Achilles and Amy Hart said in unison to their 44 kindergarten students.
On April 29, Achilles and Hart presided over Good Shepherd's annual "QU wedding" for kindergartners.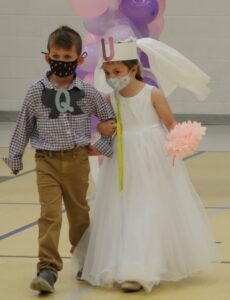 Achilles has organized the Q and U wedding for 18 years, but she said it's been going on for more than 25 years. It started in the hallway of the school without friends and family, she explained; and now, parents will ask at the beginning of the school year what the date is for the Q and U wedding.
"Those are hard letters," Achilles said. "They will not forget it. The eighth-graders who were here today can tell you today who they married (when they were in kindergarten)."
The boys and girls dressed in their Sunday best; the girls also wore veils and carried bouquets. They processed under a balloon arch and down the aisle in the gym. The boys wore the letter Q on a bowtie to symbolize Mr. Q, and the girls wore the letter U on their veil for Miss U.
Hart began the wedding ceremony for the two letters in a traditional way. "Dearly beloved, we are gathered here today to join Q and U in matrimony," she said.
Hart and Achilles said the two letters will go together forever to spell words such as quarter, quill, quiver, quiet, question, quartet, quip and quest. However, the teachers explained that Q will have to be understanding because other words may need U, such as umbrella and underwear.
The teachers asked students to join hands, as they vowed to be with each other "through spelling and reading, in quarrels and in health, forever and ever."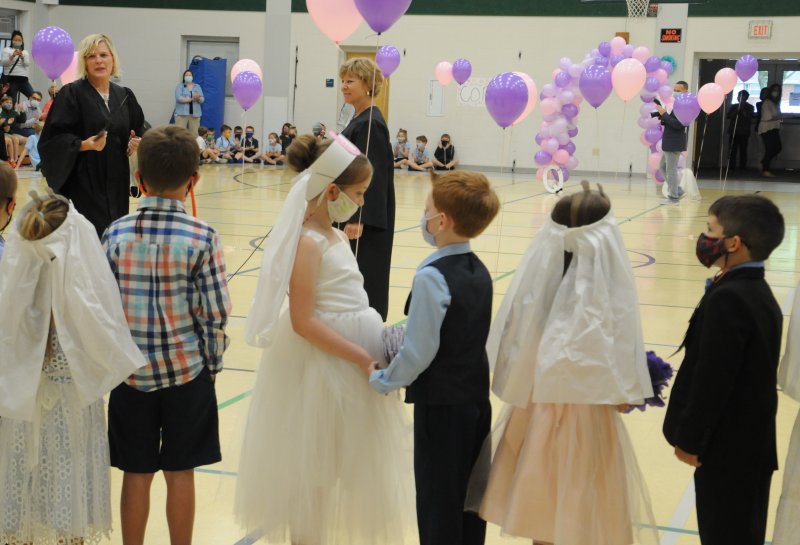 Parents, grandparents and eighth-graders attended the wedding to witness the union of the two letters. A small reception with cupcakes and music followed the ceremony.
"It helps them learn spelling," Achilles said. "My eighth-graders will say, 'When we have a spelling test, we know when there's a q we have to put a u.' Q is an unusual letter, so it kind of helps them understand that it's 'qu.' Even when we're reading, and they see a q, I'll ask what it is and they say it aloud. That's just a way they can remember it."
Achilles looks forward to the wedding every year.
"It's just such a fun time," she said. "We're just blessed to be able to do this. I couldn't be happier."