By The Message staff
The St. Joseph Parish (Vanderburgh County) Haiti Outreach Ministry is looking for another "twinned parish" in the Diocese of Evansville.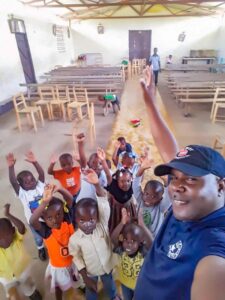 St. Joe's parishioner and SJHO member Chad Martin said, "Father Patrick Senecharles served as the associate pastor at St. Jacques Parish in Plaine de Nord, and we got to know him very well. He is a wonderful priest, and he was reassigned to serve as pastor at another parish that really doesn't have much of anything. Their Church building consists of wood poles with blue tarps to provide shade. This just goes to show you that the Church is not the buildings we worship, but the people we worship the Lord with."
Father Patrick is now pastor of Saint Roch Guasimal-Bucnabite Parish in St. Raphael, a small town less than 40 miles south of Plaine de Nord. According to Google Maps, driving that distance takes more than 2.5 hours.
Martin said, "Father Patrick is a wonderful and energetic priest who wants what is best for the children in his parish, many of whom cannot afford to go to school. Going to school in Haiti is so important – not only for education, but for the fact that if the school is lucky enough to be able to provide lunch (a bowl of rice and beans), it may be the only meal the kids eat that day."
Martin told The Message that the Parish Twinning Program of the America's, the national organization that works to twin parishes, has developed a waiting list, so he is hoping that a more direct appeal could lead to help for Father Patrick and his new parish.
If you, anyone you know or your parish is interested in helping Father Patrick and St. Roch Parish on an ongoing basis, contact the St. Joseph Parish Haiti Outreach Ministry through the parish's online portal at https://www.stjoeco.org/contact, or you can contact Chad Martin at 812-549-5256 or email [email protected] to learn more about Father Patrick.