By Megan Erbacher
The Message assistant editor
Sarah O. and her five-year-old daughter Wyllow stood on the porch of their new Habitat for Humanity Evansville home as Bishop Joseph M. Siegel offered a special blessing for the 14th and final home in St. Theresa Place.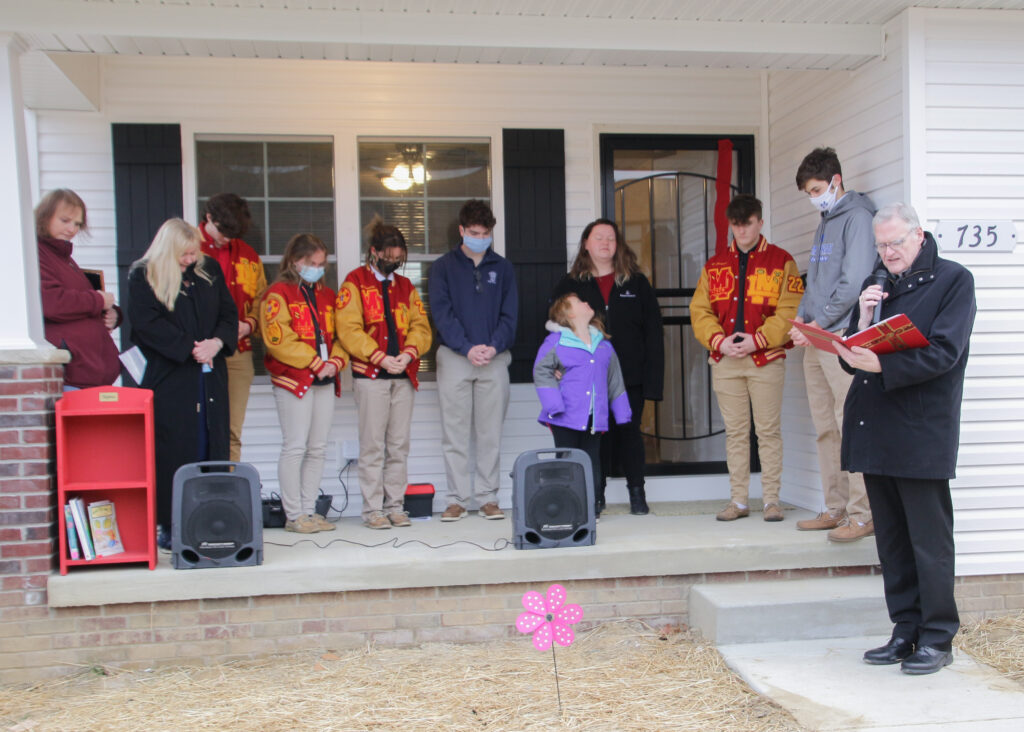 Sarah's home was dedicated Jan. 31 in the 700 block of Wedeking Avenue on Evansville's Northside. Her home marks the final completed house in St. Theresa Place, a 14-home Habitat for Humanity subdivision located in the Diamond-Stringtown neighborhood. 
Ground was broken for St. Theresa Place in August 2020. The subdivision shares the land formerly occupied by St. Theresa Parish with the new home of Catholic Charities.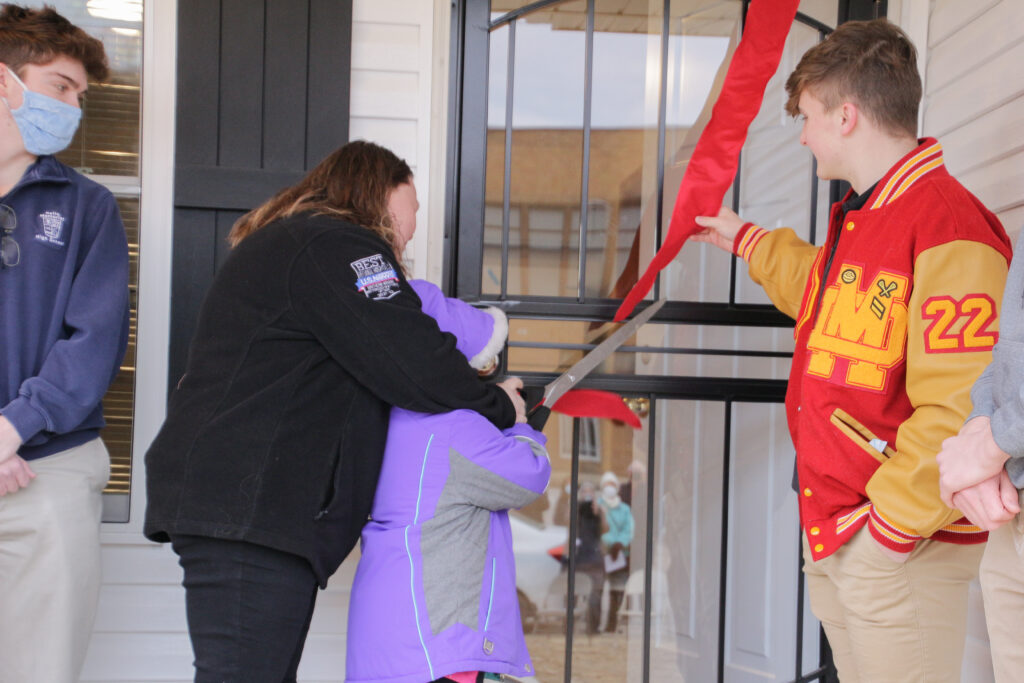 During his blessing, Bishop Siegel asked God to enter Sarah's home and bless it with his presence, he asked God to always be with Sarah, Wyllow and all who contributed to the completion of the house. He asked God to be close to Sarah and Wyllow as they move into their home. Bishop Siegel asked God to be their shelter when they are at home, to be their companion when they are away, and a welcome guest when they return.
Currently, Sarah, Wyllow and Sarah's mom live in a cramped two-bedroom townhouse. Sarah said her Habitat home is a safe place she and Wyllow can call their own.
"The (Habitat) experience is life-changing," Sarah said. "I will get to build our family's home from the ground up and pick out the colors for everything. It's so exciting! It gives us something to look forward to. … (Wyllow) will have her own room to decorate. I am also looking forward to having my own space. I'm going to make the extra bedroom a craft and playroom for us."
Beth Folz, executive director of Habitat Evansville, said a couple of words that best describe Sarah are kind and helpful.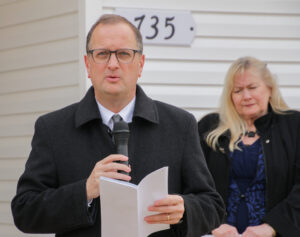 Diocesan Superintendent of Schools Dr. Daryl Hagan offered the opening prayer. Hagan thanked God for bringing everyone together to celebrate a new beginning for Sarah and her daughter.
"May Sarah and Wyllow's home be a place where love wins, where laughter prevails and where hope endures," Hagan prayed.
Sarah's Habitat home was sponsored by Mater Dei and Reitz Memorial high schools, Browning Funeral Home and Pierre Funeral Home Build. Students from Reitz Memorial and Mater Dei attended the dedication, as well as representatives from Browning and Pierre.
Christian Mocek spoke on behalf of the sponsors. He said it was the beginning of Catholic Schools Week, which is an opportunity for both high schools to celebrate the work they do in forming the next leaders rooted in faith and committed to serving their community, like volunteering for Habitat.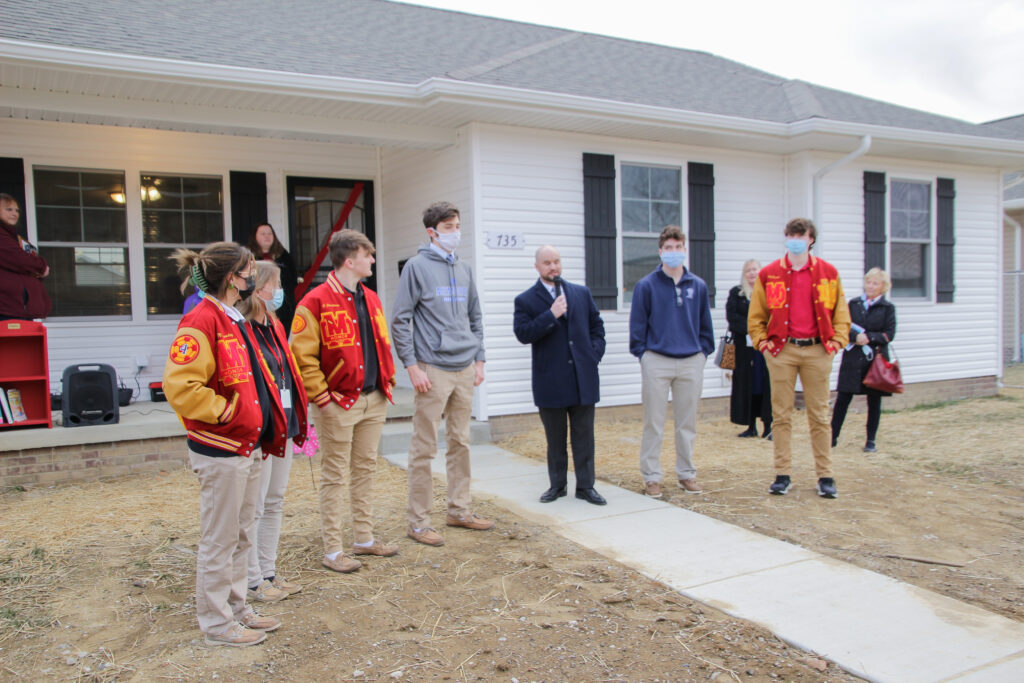 Sarah said all of the hard work house sponsors and volunteers put in to help future Habitat homeowners is amazing.
"I want to say a huge thank you to my house sponsors and the volunteers working on my home," she said. "I couldn't do this without you, and I'm very appreciative."
Looking to the future, Sarah is excited to build stability for her family, and she's considering attending college.
"This house will give me a place to come home to and study," she said. "Now, I can start really planning my future!"
Sarah's home is the 551st home built by Habitat for Humanity of Evansville in Vanderburgh and Posey counties.