By Megan Erbacher
The Message assistant editor
Dillon D. bowed his head in the living room of his new Habitat for Humanity house, with his wife and two daughters beside him, as Bishop Joseph M. Siegel offered a special blessing for the home.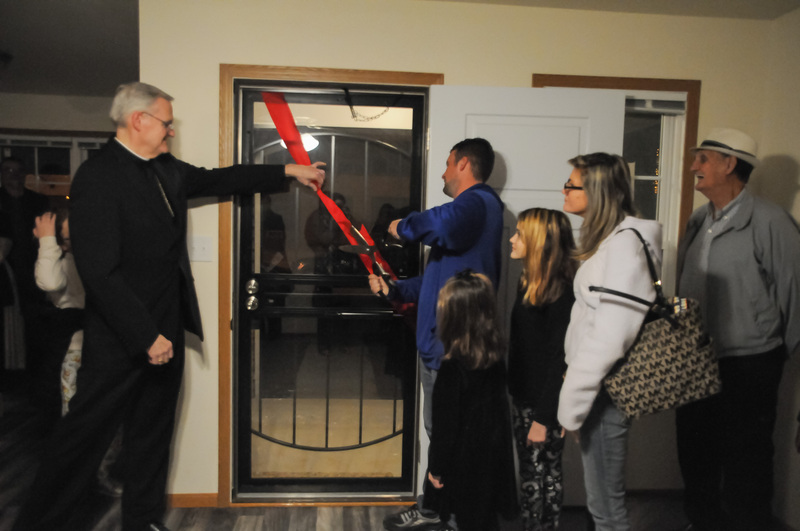 Dillon's home was dedicated Nov. 29 in the 700 block of Wedeking Ave. on Evansville's Northside. It's the 11th completed house in St. Theresa Place, a 14-home Habitat for Humanity subdivision located in the Diamond-Stringtown neighborhood.
Ground was broken for St. Theresa Place in August 2020. The subdivision shares the land formerly occupied by St. Theresa Parish with the new home of Catholic Charities.
Dillon's Habitat home was sponsored by bishops, priests and friends from St. Theresa church and school. At least 16 diocesan priests, as well as Bishop Siegel and Bishop Emeritus Gerald A. Gettelfinger, contributed to the build.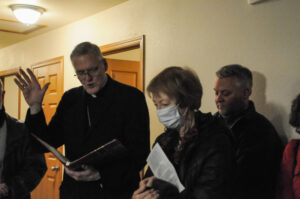 Bishop Siegel spoke on behalf of the sponsors. He said it was wonderful to see Dillon again, and he hopes Dillon will be an inspiration for others to see what's possible with hard work and the grace of God.
Bishop Siegel said the legacy of St. Theresa Parish continues through the Habitat subdivision. He said Father Ted Tempel, a former St. Theresa pastor and senior priest of the diocese, wanted a home to be sponsored by bishops and priests in remembrance of the priests who served St. Theresa Parish. Bishop Siegel said he's proud to be part of the effort.
Dillon is a graduate of Catholic Charities' Handy Helpers Home Repair, a job training program, which is how he learned about the Habitat homeownership program. Dillon loves spending time with his wife, Kaileigh, and two daughters, Makaiyah, 11, and Makenzie, 6.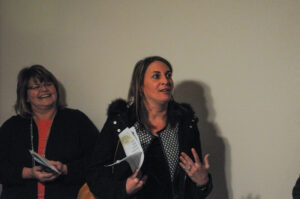 "This Habitat house will be a great place to raise our kids," he said. "We will know that we will always have a place to be a family, where we can eat dinner together as a family. We won't have to ever worry about being homeless again. It will be our home."
Beth Folz, executive director of Habitat Evansville, said a couple of words that best describe Dillon are quiet fortitude. Folz said he is an anchor for his family and an anchor for the St. Theresa Place neighborhood.
Catholic Charities Executive Director Denise Seibert Townsend, who represented the St. Theresa Place Advisory Council, reflected on the many years of love and faith from the dedicated members of the parish.
"We're grateful for their many years of stewardship for this area. ... We wish (Dillon) continued happiness," she said. "May your home and hearts be filled with love for years to come."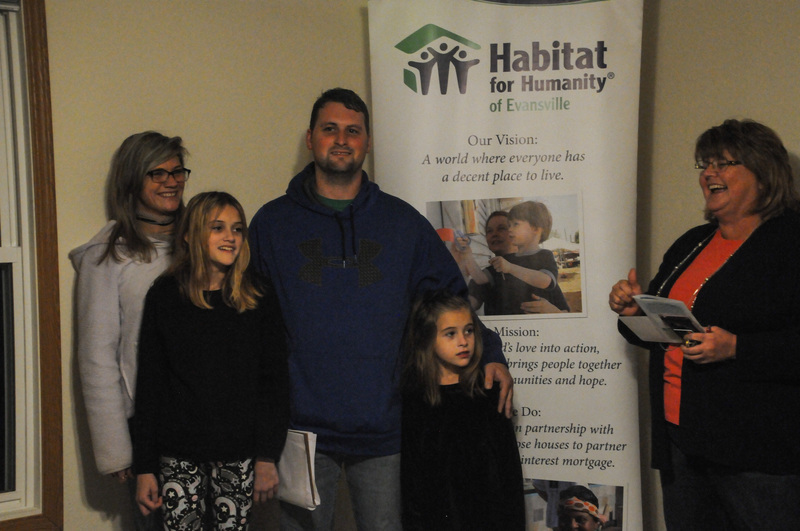 Dillon and Kaileigh said they're grateful to the sponsors and volunteers who worked on their home. 
"It is a blessing to be in this program and to have all these people helping us," they said. "We have been trying to achieve homeownership for a long time, and it means a lot for us to have a home."
Dillon has been working on the required 300 sweat equity hours while balancing his job at Goodwill Industries and family life.
"My life has changed," he said. "Things have been going in a good direction ever since I started."
Looking to the future, Dillon and Kaileigh are excited about an affordable mortgage and being able to save money. As a family, they enjoy going to church on Sundays, camping, playing outside and walking their dog.
"Overall, we are going to have a brighter outlook on our future," Kaileigh said.
Dillon's home is the 548th home built by Habitat for Humanity of Evansville in Vanderburgh and Posey counties.