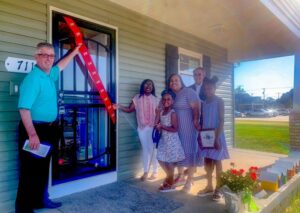 Special to The Message
A year's worth of hard work by countless individuals came to fruition on June 16 with the very first house dedication in St. Theresa Place, a 14-home Habitat for Humanity subdivision located in the Diamond-Stringtown neighborhood. The new homeowner, Brooke O., took the mic to celebrate her accomplishment and thank everyone involved while surrounded by a large crowd that included friends, family and coworkers as well as local news outlets, sponsors Dottie Schauss and Jim and Carol Havens, and Evansville Mayor Lloyd Winnecke. It was a beautiful, sunny day to celebrate a momentous milestone in Brooke's life and Habitat history, and to honor the history of St. Theresa Parish.
Ground was broken in the St. Theresa Place development in August of 2020. Brooke's home is the first to be completed in the subdivision, which shares the land where St. Theresa parishioners worshipped, learned and played for over 70 years with the new home of Catholic Charities.
Diocese of Evansville Senior Priest Father Ted Tempel, who served as pastor at St. Theresa for over a decade, was among the dedication's crowd. Father Ted has played a major role in the success of the project; he has singlehandedly raised over $1 million for the subdivision by reaching out to countless individuals and garnering their support. One of the 14 homes in St. Theresa Place is being built in his honor.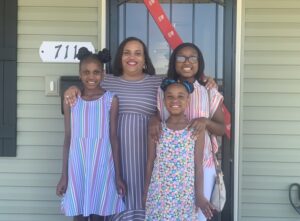 Homeowner Brooke joined the Habitat family in February 2020, unaware that just a month later, nearly everything would shut down in the wake of the COVID-19 pandemic and make completing the Habitat homeownership program much more complicated. Despite this, Brooke persevered with a resilient and determined spirit, knowing that all of her hard work would lead to a beautiful and life-transforming payoff for herself and her three daughters, Teauna, Tailynn and Ava. For a year, Brooke juggled her job with Easter Seals, raising her daughters and obtaining her 300 hours of sweat equity with Habitat. She spent time building her own home, assisted with the building of other homes, took extensive classes meant to improve financial literacy and homeownership skills, and engaged with the community doing service work.
Brooke's home is just the first. By early 2022, 14 families will call St. Theresa Place home. You can stay up to date on the St. Theresa Place project on Habitat Evansville's website, evansvillehabitat.org.
The second home was dedicated June 24, after this issue went to press. The third home will be dedicated June 30. Look for coverage in a future issue of The Message.