By Tim Lilley
The Message editor
The Merriam-Webster online dictionary defines hope, when used as a noun, as a "desire accompanied by expectation of or belief in fulfillment."
With that in mind, hope appears to be the perfect word to define the history, legacy and future of a unique parcel of land on Evansville's north side. It is bordered by Wedeking Avenue to the north, Herndon Drive to the south, North Evans Avenue to the East and Stringtown Road to the west. For seven decades, from 1947 until 2016, that land was home to St. Theresa Parish and School.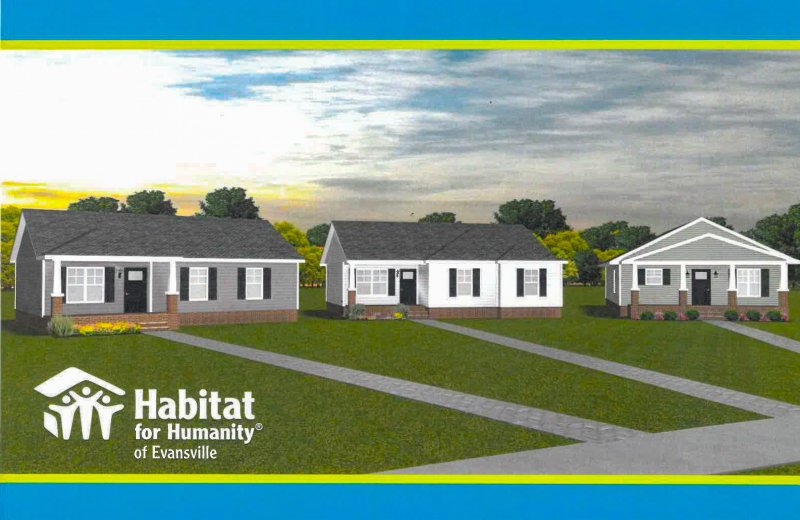 Now, its west side is the new home of Catholic Charities of the Diocese of Evansville. And at 2 p.m. CDT on Aug. 10, the east side will host the blessing, dedication and ceremonial groundbreaking for St. Theresa Place, a 14-home Habitat for Humanity subdivision – a first in Evansville. Bishop Joseph M. Siegel will lead the blessing and dedication.
"We are thrilled to become a part of the history and future of the former St. Theresa Parish and School through St. Theresa Place," said Beth Folz, Habitat for Humanity of Evansville Executive Director. "These homes represent the hope of our partner families to build the best lives they possibly can." 
As work began on this unique opportunity, Habitat for Humanity formed the St. Theresa Place Advisory Council. Its membership includes former St. Theresa parishioners and school graduates, community leaders and local residents who seek to preserve the St. Theresa legacy.
The 14 families who will live in St. Theresa Place have been approved for homeownership on the basis of need, ability to pay an affordable mortgage, and willingness to partner (300 hours of sweat equity and successful completion of Habitat's Money Management Seminar and other required homeownership preparation classes). Future homeowners will work to build their own home and the homes of others in St. Theresa Place.
Homeowners pay a 30-year, no-interest mortgage back to Habitat which, in turn, funds all Habitat operations. Every dollar given to Habitat for Humanity goes directly to building homes and helping families grow wealth and become self-sufficient through homeownership.
The St. Theresa foundation of hope
Throughout its storied life, St. Theresa Parish offered hope to all it served. Those who worshipped and attended school there, and all served by the parish and its dynamic ministries, surely experienced the hope found in a desire for eternal salvation that was accompanied by an expectation of fulfillment through faith and service to God and each other.
Serving students with special needs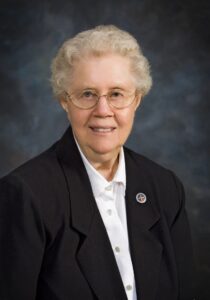 That hope expanded in a wonderful direction when St. Theresa welcomed Marian Day School in the mid-1980s. Marian Day School was established to serve students with special needs in a concentrated setting that retained the elements of a traditional school as much as possible. In many ways, Benedictine Sister Beata Mehling is synonymous with the school, having served as its principal from 1974 to 1992.
The foundation of hope for students with unique needs expanded far beyond St. Theresa in 2002 when Marian Day School became Marian Educational Outreach, an organization that provides financial support and other resources to all 26 Diocese of Evansville Catholic schools, focusing on ways to assist students with special needs and their families.
Father Ted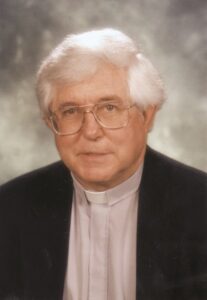 Another person who is synonymous to many with St. Theresa parish's foundation of hope is Father Ted Tempel, a retired priest of the diocese. He served as pastor at St. Theresa from 1979 to 1993, and he has worked tirelessly to generate support for the new St. Theresa Place Habitat subdivision.
Catholic Charities
After decades of calling leased office, classroom and meeting spaces home, Catholic Charities of the Diocese of Evansville now serves a diverse community from its new home on the west side of the former St. Theresa campus. Charities' motto says it all: "Advancing hope and each other."
Catholic Charities provides professional services to all regardless of race, religion, ethnicity, orientation or gender. Staff members are dedicated to leading the way in meeting the emergency needs of the poor and vulnerable. As a Catholic agency, Charities respects the dignity of each unique person so that clients feel hope and compassion as they create a life that works. 
Habitat for Humanity and St. Theresa Place
Habitat for Humanity Evansville received affiliate status from Habitat for Humanity International in 1983, and volunteers completed its first build here in 1984. Since then, more than 520 homes have been built by an ever-growing group of volunteers. One example is Catholics for Habitat Evansville, which has been active for 15 years, and has sponsored and helped build 14 homes.
The St. Theresa Place Advisory Council has identified chairpersons and "natural constituencies" for seven of the fourteen homes in St. Theresa Place. Each group will have a goal of raising $80,000 to be a Full Build Sponsor of a home in the new subdivision. This will include homes dedicated to local Catholic high schools Mater Dei, Reitz Memorial and Rex Mundi. There also will be homes dedicated to St. Theresa Parish families, priests and laity who served the parish, and bishops, priests and friends of the parish.
The Council will also work with Catholic Charities and the Catholic Diocese to create an appropriate greenspace between Catholic Charities and St. Theresa Place, a place of quiet and natural beauty which will always serve as a reminder of a sacred heritage and holy ground.
For more than 70 years, hope has shined brightly on – and from – the property that soon will become St. Theresa Place. Beginning with the first shovels of dirt during the Aug 10 ceremonial groundbreaking, that land will generate new hope again.