The Message assistant editor
Father Luke Hassler took a leap of faith, and it changed his life.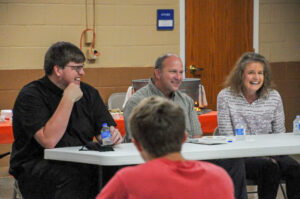 His junior year at Mater Dei High School was "very hard" as he discerned whether God wanted him to attend seminary. Two of the biggest leaps of faith for Father Luke were first saying yes to seminary and then saying yes to the priesthood. 
He simply wanted the Lord to tell him what to do; but Father Luke admitted discernment wasn't like that for him.
Father Luke and his parents, Lynn and Clare Hassler, were part of a panel discussion during a Raising Vocations event Oct. 22 at Holy Cross Parish in Fort Branch. About 35 people attended the event, which consisted of a Eucharistic Holy Hour followed by the panel discussion. It was the third Raising Vocations event held this fall.
Father Luke presided over the guided Holy Hour at Holy Cross, and Diocese of Evansville Director of Vocations Father Tyler Tenbarge preached.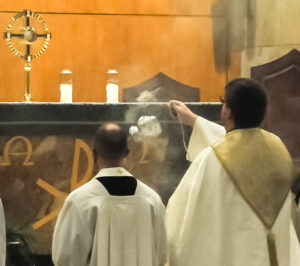 Discussion panelists included Father Luke and his parents; Roger Johnson, father of seminarian Clint Johnson; and Jeff and Amy Sellers, parents of seminarian Nick Sellers.
"It was these small moments that led to that bigger thing," Father Luke said. "I had small moments in high school, whether it was counseling my friends through a bad breakup, being with people when they were sick or helping people whenever a family member was dying; just talking people through those things.
"At the time, I really struggled with uncertainty. I wanted everything to work out. … When I decided to do it, I kind of just hit the gas and went for it."
Father Luke was ordained a priest May 25, 2019. He serves as Parochial Vicar of Holy Cross, Sts. Peter and Paul Parish and St. James Parish, both in Haubstadt.
Clare Hassler wasn't surprised when her son said he wanted to join the priesthood. However, Lynn Hassler felt differently. Even when he and Clare dropped their son off at Bishop Simon Bruté College Seminary, he assumed Father Luke would be home for good at Christmas. 
"Luke was not a real scholarly guy," Lynn Hassler said. "Well, he made it through Christmas, and he went back the next year and his grades were good. I thought, 'I guess the Holy Spirit is helping him.'"
The first time Clare and Lynn Hassler visited their son at seminary was much different than they expected.
"I thought it was going to be this quiet, hear-a-pin-drop place where everybody was whispering and stoic," Clare Hassler said. "But it's none of that. It's very happy and relaxed. They're very busy, and just to see the seminarians interact with one another, it's a brotherly atmosphere."
Lynn Hassler noted how the seminarians are never pressured into becoming a priest.
"Once they were in, they didn't slam the door and say 'OK, we got you,'" Lynn said as the room erupted in laughter. "They talked to the guys about discerning what God was calling them to be. I think that helped the guys figure out their calling."
Some of Father Luke's best memories from seminary involve playing football, Frisbee and soccer at Bruté. He said they would have movie nights, ping pong tournaments and "normal college kid" outings.
"It was really a brotherhood. … What I really enjoyed was the closeness of the community and meeting the guys, and having genuine friendships with them," Father Luke said. "It was a very unique place mainly because everybody was there for the same purpose. Everyone wanted to know the same thing; they wanted to know what God was calling them to do. To be able to share that same goal is very encouraging; it was very life-giving."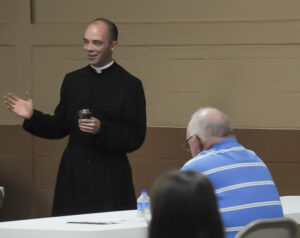 In addition to serving as Diocesan Director of Vocations, Father Tyler serves as Chaplain and Director of the Father Deydier House of Discernment and part-time Associate Pastor at Corpus Christi Parish.
"We have to pray for vocations," he said. "If we don't ask God to send laborers, he's not going to send them. If we don't open our hearts the way God has asked of us or of our children or people in our community that we know, we're not going to find what God's will is."
Lynn Hassler said it's important to love, support and encourage anyone considering the call to priesthood. Clare Hassler added that we need to pray for them.
"One thing's for sure; if you go to seminary, however long you stay in, you sure do get to know yourself and what you're all about," she said. "So what a gift that is. The people in charge (at the seminary) are very joyful, welcoming and interested in the seminarians. They show what it means to be a good, Catholic man."